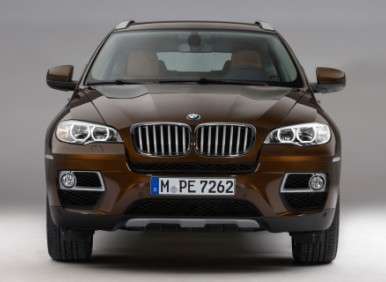 BMW has taken the wraps off of the new 2013 BMW X6 'Sports Activity Coupe,' the top-of-the-line crossover available from the luxury brand. Although there have been no significant changes to the latest iteration of the large SUV, a number of upgrades are on hand in order to help set the 2013 BMW X6 apart from its predecessor.
Perhaps the most easily identifiable difference between the old and new BMW X6 is the addition of LED lighting to both the front and the back of the crossover. The X6 now benefits from the additional clarity of LED headlights that are capable of turning with the steering wheel to help drivers better see around corners at night, while the rear of the vehicle features LED taillights. The BMW X6's fascia has also been updated to reflect the broader kidney grilles that have spread across the company's lineup over the course of the last few revisions made to its compact and mid-size sedans.
Several new colors and a fresh 19-inch wheel design round out the tweaks that have been made to the vehicle's overall look. Inside the 2013 BMW X6 maintains the status quo in terms of overall appearance, although buyers can now specify a rear bench seat that allows the SUV to haul up to five passengers - a nod to the lack of utility associated with its formerly exclusive 2+2 seating arrangement.
Under the hood, the 2013 BMW X6 starts out with the same 3.0-liter, inline six-cylinder engine, one that produces 300 horsepower and 300 lb-ft of torque, with the option of moving up to a much more robust twin-turbo V-8 engine that churns out 400 horses and 450 lb-ft of twist from its 4.4-liters of displacement. All-wheel drive and an eight-speed automatic transmission are included with each power plant.
For those seeking a bit more performance from the heavy but surprisingly nimble X6, BMW is now offering an M Performance package that offers a bump in output for both available drivetrains. The six-cylinder BMW X6 sees its horsepower boosted by 15 ponies and its torque increased by 30 lb-ft, while the V-8 gains 40 horses and matches the 3.0-liter's 30 lb-ft jump in the torque department. The M Performance package doesn't make any changes to the vehicle's suspension or other running gear, but it does dress up the exterior of the crossover with larger 20-inch wheels and a number of small trim changes designed to communicate to the cognoscenti that this is no ordinary X6.