BMW Sending 30 Copies of the 30th Anniversary Edition M5 to U.S.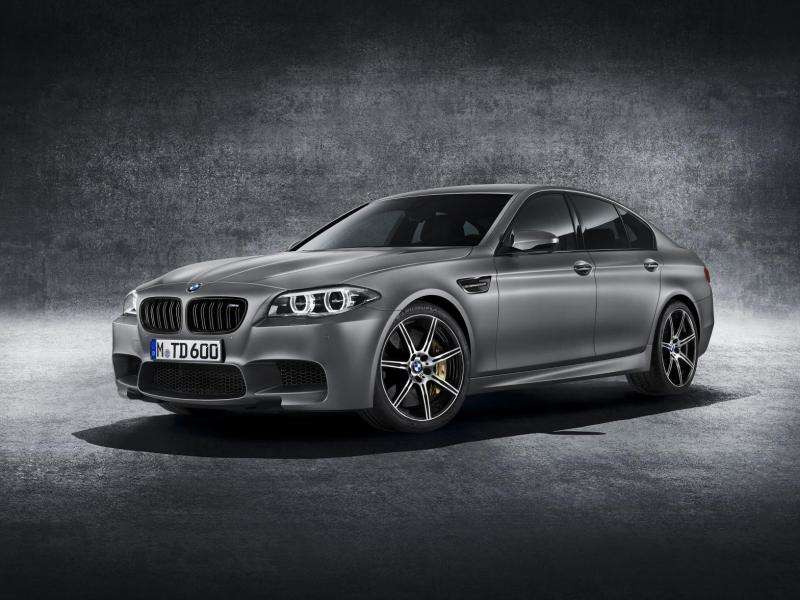 This year marks the 30th anniversary of the BMW M5 and to celebrate, the company has announced the 30th Anniversary Edition M5.
The 30th Anniversary Edition M5 is the most powerful version yet with 600 horsepower and 516 pound-feet of torque (up from 560 horsepower and 502 pound-feet in the standard M5). This is thanks to increased pressure for the turbocharger and enhancements to the engine control module. Also getting some changes is the Active M Differential, which receives new software allowing it to react sooner and improve traction when exiting corners. Other mechanical changes include the Competition Package's stiffer springs, dampers, roll bars, lower ride height, and recalibrated stability control system; along with a revised electric power steering system.
On the exterior, the 30th Anniversary Edition M5 is dipped in frozen dark silver metallic paint and features exterior badging reading "30 Jahre M5" (30 years of M5) on the kidney grill surrounds, the front fenders, and door handles. The 30th Anniversary model also sports twin dual exhaust pipes, and twenty-inch bi-color M light-alloy wheels. Inside are embroidered M multifunction seats, black Alcantara and leather, and a 1/300 identification plate.
Wrapping up the 30th Anniversary Edition M5 is a one-day M Driving School at The Thermal Club in Palm Springs, California, which will take place sometime this fall.
The pricetag for this special edition M5? $138,275, which includes destination charges. BMW says they will be producing 300 30th Anniversary Edition M5 models. Of that, 30 of them will be going to the U.S., with 29 being up for grabs. The 30th model will be heading to BMW of North America.
Ordering, however, is not that simple. Buyers must have a special phone number to order, which BMW will be revealing in a unique way. Starting on Saturday, May 17th, BMW of North America's Instagram channel will be releasing portions of the number over the course of five days. Along with the reveal of the number, BMW will reveal facts regarding the five generations of the M5. You can follow BMW of North America on Instagram by searching for @BMWUSA.