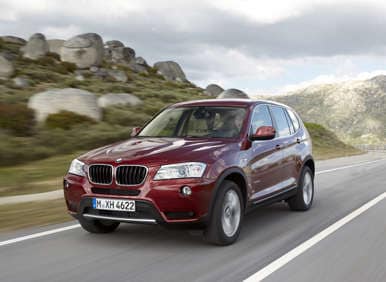 The end of a BMW lease can be a trying time: Not only are you saying auf wiedersehen to one of the best driving experiences available today, but you also have to deal with the stress of wondering if you've incurred any extra charges for  damage to the vehicle. Unless, of course, you buy into BMW's new Lease Protection Program (also available for MINI lessees).
"Our new BMW Lease Protection product, which some might refer to as extended-wear-and-tear coverage, virtually eliminates the potential out-of-pocket costs of common repairs at lease-end , thus making the leasing experience that much more pleasurable," explained Lisa McPherson, BMW Financial Services general manager of insurance. "This is our latest program to make leasing a BMW (or a MINI) a pleasurable experience and minimizing issues surrounding wear and tear, tire and wheel problems and minor dings and dents which may become apparent when the vehicle is returned at the end of the lease."
BMW Lease Protection Plan—What it Covers
 Membership in the program must be purchased at delivery and is completely integrated into the BMW leasing experience. The $1,275 MSRP of the BMW Lease Protection Program, for example, can be rolled right into monthly lease payments, and at lease end, any claims for covered damage are handled entirely behind the scenes by BMW. Many third-party lease protection programs require the driver to submit a claim for coverage and wait to be reimbursed.
All told, the program covers up to $3,750 in excess wear and tear for items like:
Dents and dings
Tires and wheels
Upholstery, including rips and tears
Glass
Exterior lights, including headlamps (even Xenon units), fog lamps and tail-lamp assemblies
Bumpers, step bumpers and surrounding trim
Navigation/display screen
Factory-installed entertainment system
Convertible tops
Carpets
Mufflers and tail pipes
Rubber door seals
Mirrors, mirror covers and housings
Name-plate badges and hood ornaments
Moldings and trim, including metal and chrome
Missing parts (up to $300 per occurrence)
"One of the reasons people lease cars is for a virtually worry-free driving experience, one which enables them to enjoy their vehicles for the life of the lease and then either walk away or move into their next BMW or MINI," added McPherson. "We understand this and are continually upgrading the BMW Ultimate Lease to make the experience that much more pleasurable and rewarding for the BMW Financial Services customer.
"Taking the costly surprises out of the lease experience by providing BMW-level protection is the obvious way to do just that."
BMW Ultimate Protection for Purchasers
Of course, it's not just lease customers who benefit from BMW's satisfying approach to the ownership experience: Drivers who purchase a BMW (or MINI) also have access to the comprehensive BMW Ultimate Protection Program, including:
—Ensuring covered repairs are performed only at authorized BMW repair shops, using only original BMW replacement parts, with 24/7 BMW Roadside Assistance thrown in for good measure.
—In case the vehicle is totaled, this coverage fills in the gap between the fair market value of the vehicle—all that is usually covered by most insurance companies—and any outstanding loan balance, plus the insurance deductible.
—Cosmetic damage isn't covered, but nearly everything else is, including damage to wheels and/or tires from metal, nails, glass, potholes, blowouts and more. And note, damaged tires aren't fixed, they're replaced. (Coverage also includes up to $100 in towing costs.)
—This coverage builds on the tire and wheel program by keeping that protection and also including paintless repair for minor dings and dents, with no deductible.
—For the widest coverage, this plan includes both Tire & Wheel Protection along with Presence Protection, then also covers repair and replacement of the vehicle's windshield.