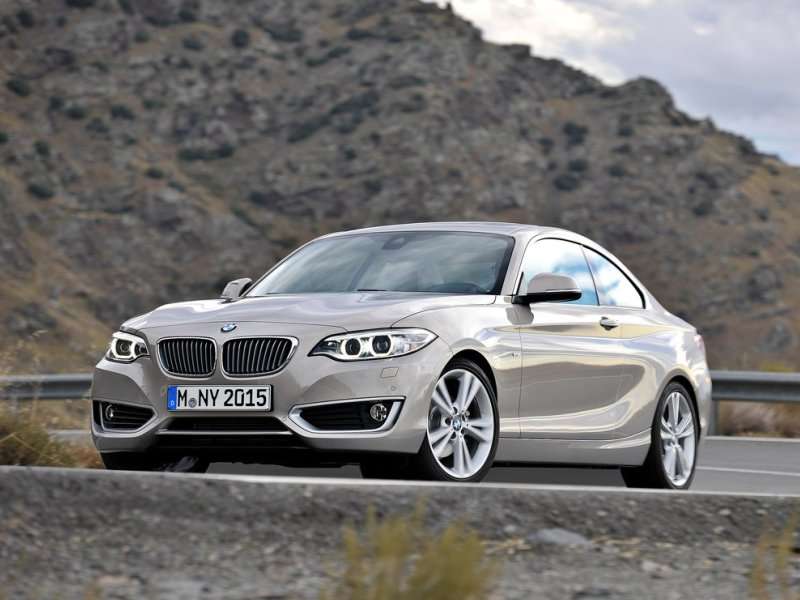 BMW has taken the 1-Series, added 1 to it, and created the new 2-Series. Okay, maybe we simplified that process a bit, but BMW has introduced the new 2-Series Coupe which takes the place of the 1-Series Coupe. Why 2-Series? It deals with BMW's change in their naming system. Models such as the 3, 5, and 7 are reserved for sedans and wagons. The new 2, 4, and 6 are reserved for coupes, convertibles, and four-door coupes.
The new 2-Series coupe has a bit more aggression in its design than the outgoing 1-Series thanks to a wider Kidney grille, domed hood, sculpting along the side, and a discreet rear spoiler. The 2-Series is also a bit larger. Compared to the 1-Series, the 2-Series is about 2.8 inches longer, 1.3 inches wider, and rides on a wheelbase that is 1.3 inches longer.
On the interior, the new 2-Series shares a similar design as the 3-Series with a driver-oriented dashboard and a large 6.5-inch screen mounted on top of the center stack that allows a driver to access media, navigation, and other features via iDrive.
Power for the 2-Series comes in the form of two turbocharged engines. The base is a 2.0L turbo-four that is found under the hood of the 228i. The 2.0L rated at 240 horsepower and 258 pound-feet of torque. Then there is the 3.0L turbocharged inline-six that is found under the hood of the M235i. That engine is rated at 322 horsepower and 332 pound-feet of torque. Both engines come with a eight-speed automatic transmission as standard, but a six-speed manual is a no-cost option.
Performance figures for the 2-Series is as followed:
228i: 0-60 MPH - 5.4 Seconds, Top Speed - 130 MPH, MPG - 23 City/35 Highway
M235i: 0-60 MPH - 4.8 Seconds, Top Speed - 155 MPH, MPG - 22 City/32 Highway
The M235i gets some added goodies such as M Adaptive suspension, unique steering calibration, Michelin Pilot Super Sport tires, and upgraded brakes.
The 2-Series Coupe will make its world premiere at the Detroit Auto Show in January. Sales of the 2-Series will begin in the spring with the 228i starting at $32,100 and the M235i starting at $43,100. Both prices include a $925 destination charge.