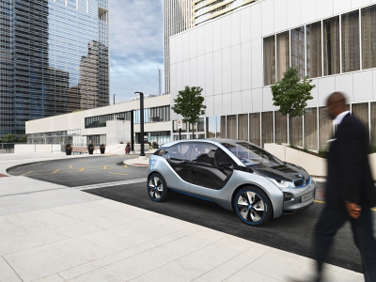 BMW will be bringing the BMW i3 electric car to market in 2013, but that distant release date hasn't prevented the brand from bringing the car to the 2011 Los Angeles Auto Show where it dazzled curious onlookers with its forward-looking styling and promise of pure electric operation. The BMW i3 is a departure for the brand, which is known in North America primarily for its luxury and performance designs and not its environmental consciousness or frugal fuel consumption.
Still in "concept" form, the BMW i3's styling will undoubtedly be toned down once it eventually reaches production. The i3 on display in Los Angeles featured BMW's trademark twin kidney grilles as one of its few anchors to the German automaker's current design language. An extensive greenhouse, with transparent door panels and enormous rear windows provides a clue to the presence of the vehicle's unorthodox suicide doors, which open more than 90 degrees to offer easy entry into the B-pillarless subcompact design. Inside, the BMW i3 is capable of accommodating up to four passengers in relative comfort.
According to BMW Blog, The 2013 BMW i3 will be powered by a 170 horsepower, battery-powered motor that features a range of up to 100 miles on a single charge. The power plant, which also offers 184 lb-ft of torque, is a good match for the i3's lightweight design, which makes extensive use of recycled aluminum and plastics in order to further increase the vehicle's green quotient. BMW is claiming that the i3 will be able to hit 60 miles per hour from a standing start in just 7.9 seconds, keeping it more than competitive with traditional gasoline-powered vehicles in its class.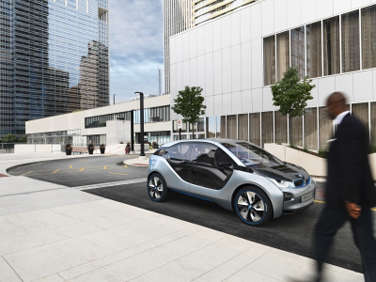 The upcoming BMW i3 will also make a range-extending gasoline generator available as an option with the small hatchback, which will give buyers living in areas where recharging stations are few and far between an additional incentive to consider the battery-powered subcompact. Despite the generator option, BMW is primarily marketing the i3 as a "city car," a vehicle which is intended to be used within the confines of a major urban area where its 100 mile range would most likely never become an issue over the course of a single day's driving.
Will BMW buyers be interested in swapping luxury for green cred? Although the company is sure to attract a new group of potential owners with the introduction of the i3, it will also undoubtedly seek to convert current BMW drivers into electric car fans as well. Although moving from a premium gasoline vehicle to a limited-range electric as a daily driver could be a hard sell, BMW could achieve great success in convincing existing family members to add the BMW i3 to their stables as a commuter or occasional-use automobile to complement their more traditional German hardware.