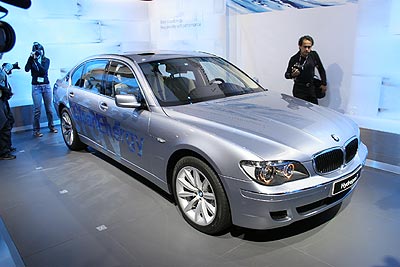 BMW Hydrogen 7 – Fuel Cell Concept: Say it ain't so: the Ultimate Driving Machine has gone the way of the tree hugger. The automaker that has made a name on the sweet music of automotive power and grace has indeed jumped into the hydrogen game – but has done so in their own BMW way. Instead of building a fuel cell car that gets lousy performance and carries a weird, futuristic interior, BMW hollowed out a 760i and stuffed it full of a bunch of new technology, namely a 12-cylinder engine that runs on gas and hydrogen. Then they bolted on a nice high tech tank to hold the hydrogen, washed their hands, had a sandwich and went out for a drive in their new Hydrogen 7 Concept car.
Why it matters
With news at this year's LA Auto Show that the Hydrogen 7 sedan will be made available to selected users, BMW has joined the hydrogen party in style. Often, emerging automotive technology starts in the luxury class and works its way to the mainstream as the affordability of the components increases. In this case, BMW has done the fuel cell differently by building an engine that can run on gasoline or hydrogen, one that offers the benefits of a fuel cell – no emissions – with performance, and is wrapped inside a BMW 760i. As a dual-mode car, the Hydrogen 7 introduces fuel cell power to the luxury class of vehicles. After a round of real world testing, we may discover that BMW's engine is a significant development in the race for a new vehicle powerplant.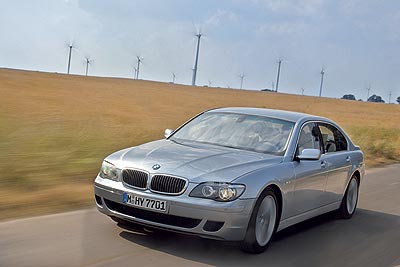 What's under the Hood
BMW's Hydrogen 7 sedan has a dual-mode engine, one that can drive on hydrogen with a range of 125 miles, or gasoline, with another 300 miles at the ready. The vehicle has two tanks, and boasts performance of up to 260-horsepower from its 12-cylinder engine and acceleration from standing to 62 mph in 9.5 seconds. Top speed is limited electronically to 143 mph, and boasts a dual-mode power unit controlled at the touch of a button that can switch from hydrogen to conventional premium gasoline. The BMW Hydrogen 7 comes with a 16.3 gallon gasoline tank and an additional fuel tank taking up approximately 17.6 lbs. of liquid hydrogen. And just think: all this, with the creature comforts of a BMW 760i all around you.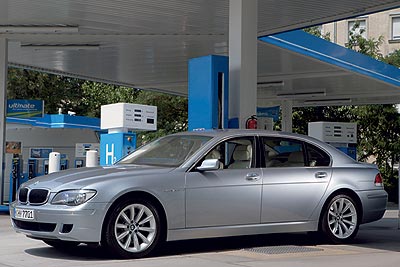 How it Drives
We briefly drove the BMW 7 Series Hydrogen in downtown Los Angeles and with the exception of the reduction in horsepower and a slightly louder and less refined engine note, the driving experience is no different than running on gasoline. Range is limited to about 125 miles, and to make room for the hydrogen fuel tank trunk space is cut in half and rear seat leg room is reduced, but otherwise this is the capable 7 Series that America's upper class has come to know and love. Driving the 7 Series Hydrogen is a more conventional experience than driving the Honda FCX. But then, with this car, that's the point. –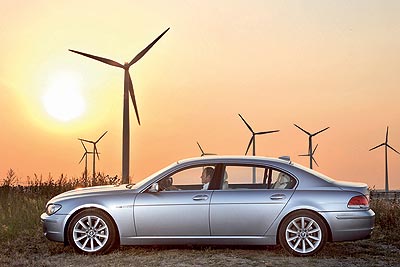 What BMW Says
Nothing beats BMW execs crowing about technology, and at the LA Auto Show, they were in fine form, claiming that the "BMW Group is laying down a marker for sustainable mobility" and that the BMW Hydrogen 7 "will play a pioneering role in driving forward hydrogen technologies." They're probably correct, and who knows – maybe they are going to invent the ultimate vapor mobile.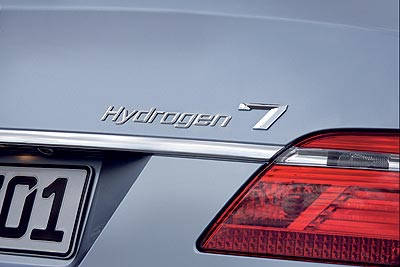 What We Think
If adopting hydrogen as the new fuel means driving around in a BMW 760i, sign us up pronto. Wven with the limited trunk space and loss of rear seat legroom, this is still the more powerful and luxurious hydrogen car – by a long shot. Who cares if the prototype has its limitations -- today is one thing, tomorrow another, and it will surely bring with it new developments in the size, heft and range of their hydrogen technology, making this a remarkable, trend-setting vehicle. Then again, BMW may give a few to celebrities on lease and then quietly shove the whole program in the closet. Instead of that, we hope to see hydrogen dual-mode powertrains available on virtually all BMW models one day.
Photos courtesy of BMW of North America