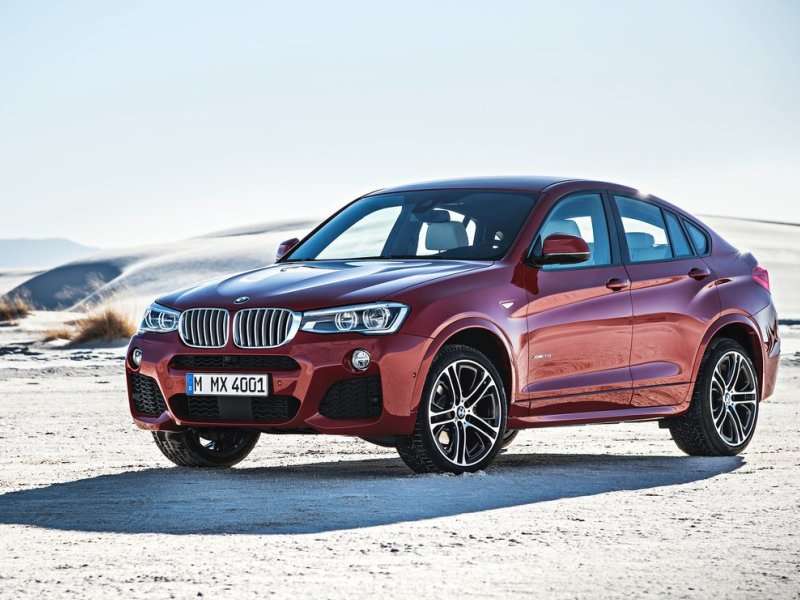 In an effort to earn the title as the manufacturer with the most models that cause people to scratch their heads, BMW has introduced their latest SUV-Four Door Coupe-Crossover thing. Meet: the 2015 BMW X4.
At first glance, the 2015 X4 looks to be an X6 that's been in the dryer a bit too long. But aside from the similar silhouette, the X4 does actually feature some different design details. The front end is more reminiscent of the 3/4-Series with larger air intakes and different headlights. Compared to the X3, the X4 is about a half-inch longer and 1.5 inches lower.
If you have ever seen the interior of the X3, then you know what the X4's interior will look like with high quality materials throughout and BMW's iDrive infotainment interface. The difference between the X3 and X4's interior is in seating position and cargo space. Passengers in the X4 sit lower than they do in the X3 - 0.8 inches up front and 1.1 inches in back, to be precise. This is in an effort to make passengers feel like they're in a coupe. As for cargo space, the X4 has 17.7 cubic feet of space with the rear seats up and 49.4 cubic feet of space with the seats down. This falls well below the X3's 27.6 cubic feet of space with the rear seats up and 63.3 cubic feet of space with the seats down. But then again, someone who is buying an X4 doesn't have cargo space as a top priority.
The 2015 X4 will be offered in two different flavors. The base xDrive28i packs a turbocharged 2.0L four-cylinder with 240 horsepower and 260 pound-feet of torque. The upper level xDrive35i uses a turbocharged 3.0L inline-six with 300 horsepower and 300 pound-feet of torque. Both models come equipped with BMW's xDrive all-wheel drive system and an eight-speed automatic transmission.
The 2015 BMW X4 makes its global debut next month at the 2014 New York Auto Show, with sales beginning shortly thereafter. In the U.S., the X4 xDrive28i will start at $45,625 and the X4 xDrive35i will start at $48,925. Both prices include destination charges.