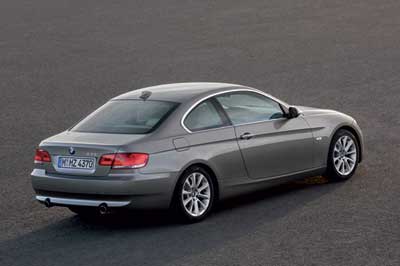 BMW 3 Series Coupe: Preview – There's only one problem with building and selling the Ultimate Driving Machine – you've made it seemingly impossible to unveil an improved model. Ultimate suggests that what you're looking at right now is the best of the best, the culmination of the greatest automotive design and engineering – time to head home kids cuz that there is the grand finale. Or is it? As is the case with every other saleable good, the automotive market is a fluid entity, meaning your place among the ranks changes as each competitor releases a new or enhanced product. Over the past several years, BMW has had to grow tougher and smarter to defend itself from Acura, Infiniti, Jaguar, Lexus, Mercedes-Benz, and others. Through it all, buyers have reaped the rewards. Among entry-level premium and luxury cars the car to beat has long been the BMW 3 Series, a model with exceptional handling, smooth and refined powertrains, and outstanding brand awareness. A new 3 Series signaled success for young professionals. The new-and-improved 2007 3 Series Coupe does its part to protect the family badge by offering two powerful engines, styling that is upscale yet stands alone, and enough handling and braking hardware to offer even the most inept driver a semblance of control. Look for the 2007 BMW 3 Series Coupe to arrive at dealerships this September.
Why it matters
There's a reason BMWs, are considered ultimate driving machines – they offer confident handling, capable powertrains, overall refinement and precision, and brand prestige that is envied by the best in the business. The model range runs the gamut from high-powered roadsters to brute SUVs, but by and far the most appealing to the masses is the classic 3 Series. It's a model that, try as the competition might, has yet to be dethroned by Acura, Infiniti, Jaguar, Lexus and countless other luxury contenders. As BMW's entry-level model, keeping the 3 Series fresh and relevant while maintaining the car's unique and sporting character is vital to the company's continued success. In particular, the coupe offers an added dose of style for buyers not interested in the space and practicality of the 3 Series sedan.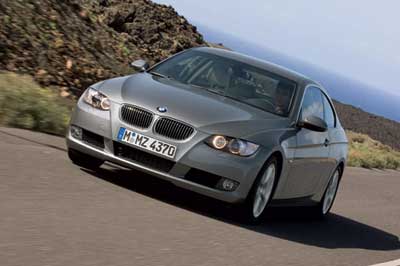 What's under the hood
In the early days of the BMW 3 Series, an unfortunate decision was made to include weak four-cylinder engines within the lineup. Since then, it seems that there's been some overcompensating going on to eradicate that horrible memory from the pages of history. To that end, the 2007 BMW 3 Series Coupe is available with two mighty powerplants. The 335i, replacing 2006's 225-horsepower 330ci, houses a twin-turbocharged, 3.0-liter, inline six-cylinder engine generating 300 horsepower and availing 300 lb.-ft. of torque at only 1,400 rpm. BMW, claims a 0-60 mph time of 5.3 seconds and an electronically-limited top speed of 150 mph. For buyers requiring all the style with a bit less power, a 230-horsepower 328i model will be available for 2007, filling the role formerly occupied by 2006's 184-horsepower 325ci. In addition to the impressive horsepower, the 328i provides 200 lb.-ft. of torque and reaches 60 mph in a brisk 6.2 seconds. Both 2007 BMW 3 Series Coupe models come standard with a six-speed manual transmission that pushes power to the rear wheels. A six-speed Steptronic automatic is available across the line, but BMW's xDrive all-wheel-drive system can be ordered only with the 328i. When equipped with an optional sport package, the 335i features paddle shifters on the steering wheel. Other technical and mechanical bits for the 2007 BMW 3 Series Coupe buyer include a double-pivot front and five-link rear suspension; larger disc brakes; Active Steering for increased response at higher speeds; Dynamic Stability Control that can be completely deactivated; run-flat tires; dual-stage LED brake lights; and a host of braking features offering an extra level of protection for emergency situations.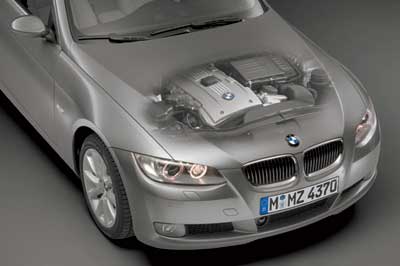 What's inside
Matching the 2007 BMW, 3 Series Coupe's smooth exterior styling is an attractive, four-passenger interior outfitted with upscale appointments and plenty of modern technology. Among the features you'll find are front-side and side-curtain airbags, pearl gray chrome interior accents, a redesigned gauge cluster, an oil temperature gauge, a tire pressure monitor, and a supple leather-wrapped steering wheel. With their sloping rooflines, coupes are often scorned by rear-seat passengers because of limited head room. To alleviate this problem, BMW engineers placed the rear buckets lower than in the 3 Series Sedan, ensuring riders in back enjoy as much space as possible.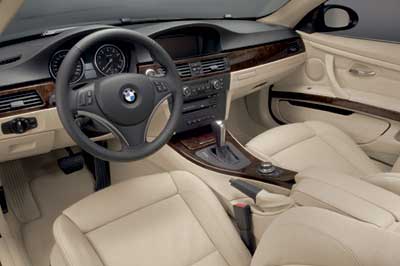 What we think
In presenting the 2007 3 Series Coupe, BMW had this to say: "With totally new looks, the newest BMW coupe once again sets the benchmark for elegant design, luxury, and value." Referring to the 335i Coupe, BMW said: "In true BMW tradition, it also establishes a new standard of performance and driving dynamics with the introduction of an exceptional engine." With plenty of 3 Series seat time behind our belts, we're willing to bet that the engineering upgrades available on the 2007 model will be like forbidden candy to motoring enthusiasts. Styling, though subtle, is a highlight for this car, and is thankfully more balanced than other BMW products. That leaves the issue of value, which is hard to determine without the benefit of pricing, though it's fair to assume that the upgrades make the 2007 BMW 3 Series Coupe a mid-$30,000s to -$40,000s proposition. Seems like a fair price to pay if this newest Bimmer is indeed the best of the best.
Photos courtesy of BMW