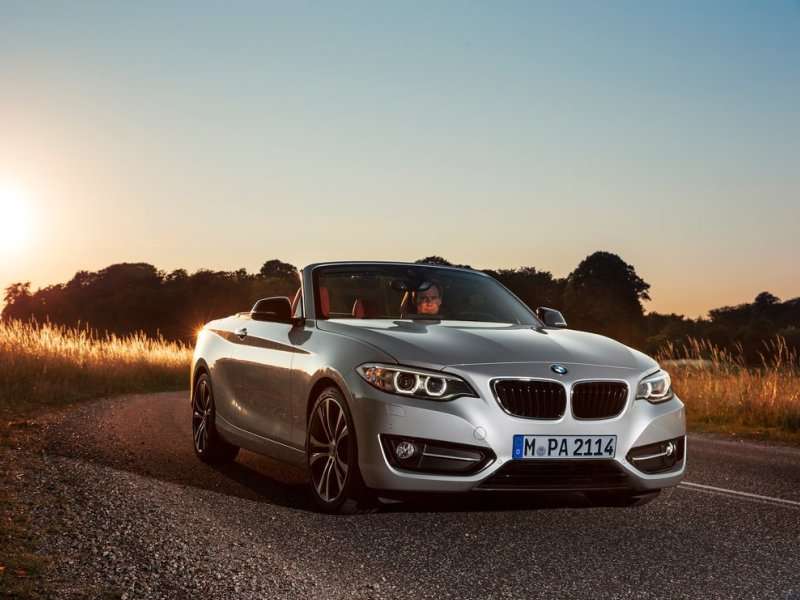 2014 bmw 2 series
BMW went a year without a convertible version of their new 2-Series, but they plan on rectifying that for 2015. The German automaker has revealed the new 2015 2-Series Convertible.
The 2-Series Convertible is basically the same as the coupe, until you get to the roof. The soft-top roof is soundproofed and insulated. As for folding, BMW claims it takes twenty seconds for the roof to be stowed away behind the rear seats. It takes the same time for the top to be folded up. As for putting down or up the roof while at speed, BMW says you can do it up to 30 MPH.
Powertrains are shared between the coupe and convertible, which means the 228i gets a 2.0L turbocharged four-cylinder producing 240 horsepower and 255 pound-feet of torque. This is paired up to an eight-speed automatic transmission. No mention of a six-speed manual, sadly. Optional is BMW's xDrive all-wheel drive which can send all of the engine's power to the front or rear wheels. 0-60 MPH takes 5.7 seconds for the rear-drive model and 5.6 seconds for the xDrive model.
Next up is the M235i which packs turbocharged 3.0L inline-six with 320 horsepower and 330 pound-feet of torque. This can be paired up to a eight-speed automatic or a optional six-speed manual. The automatic can hit 60 MPH in 4.8 seconds, while the manual is 0.2 seconds slower.
The 228i can be equipped with the Sports Package which adds eighteen-inch wheels, sport suspension (except all-wheel drive) and an M Sport aerodynamic body kit; or the M Sport Package which adds a ten millimeter suspension drop, ops the suspension 10 millimeters (rear-wheel drive only), lightweight M Sport wheels, large front air intakes, unique M Sport side skirts and a rear diffuser.
For those who like technologies along with their vehicles, they will be interested in the over-the-air update system for BMW's navigation system. Using a LTE data connection in the vehicle, the system will update maps automatically and regularly behind the scenes to keep directions and road information current.
Pricing for the 2-Series Convertible is as follows:
228i: $38,850
228i xDrive: $40,650
M235i: $48,650
All prices include a $950 destination charge.
BMW will premiere the 2015 2-Series Convertible at the Paris Motor Show later this month. Folks in North America will have to wait until the L.A. Auto Show in November for the official debut.