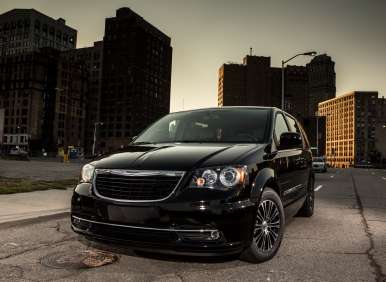 It might surprise you to learn that Blu-Ray video systems hadn't migrated to minivans before now, but it shouldn't be much of a shock to find out that the first entries with the technology are from the automaker best known for its minivan milestones. That would be the Chrysler Group, of course, which recently announced that the 2013 Dodge Grand Caravan and 2013 Chrysler Town & Country would each offer Blu-Ray-compatible rear-seat entertainment systems for the new model year.
The systems actually will be able to play both Blu-Ray discs and traditional DVDs, and also feature new nine-inch, hi-res screens that are four times sharper than those in the company's previous minivan entertainment setups. Other features integrated with the systems include an HDMI gaming port, two USB ports, a conventional RCA input, a 115-volt power inverter for charging cell phones and other digital devices, a standard 120-volt outlet, two wireless headsets, and a wireless remote.
"This new Blu-Ray DVD system raises the bar in minivan rear-seat entertainment systems, and is the latest in a long line of innovations like Stow 'n Go seating and a selectable fuel-economizer mode," according to Joe Veltri, vice president of Product Planning, Chrysler Group LLC.
The 2013 Dodge Grand Caravan and 2013 Chrysler Town & Country are on sale now.