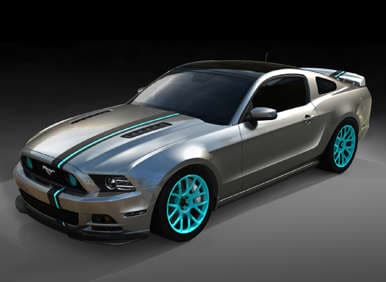 While guy gearheads certainly outnumber their female counterparts, the latter are just as passionate about their projects as the former. And that passion—along with plenty of Ford Mustang goodness—will be the focus of the SEMA Mustang Build Powered by Women, a partnership between the Ford Motor Company and the Specialty Equipment Market Association (SEMA).
This unique collaboration was "designed to shine the light on women working in the automotive aftermarket and encourage more women to pursue careers in the industry." More specifically, it will follow the creation of a 2013 Ford Mustang GT show car built using a vehicle donated from the automaker and put together by members of the SEMA Businesswoman's Network (SBN)—with creative assistance from Mustang lovers across the country.
Pictured: Chromatic Exterior by Jennifer Seely
SEMA Mustang Build: Online Design Contest
The annual SEMA show in Las Vegas is a hotbed of radically designed concept vehicles and the latest aftermarket goodies, which means the Mustang in question will need some serious mods if it's to generate the kind of buzz the team expects. And to make sure it gets them, top female designers from the Blue Oval are working with the SBN to create three initial renderings of the finished project.
Online muscle-car enthusiasts then get to vote for their favorite by visiting websites like HotRod.com, AutomobileMag.com, MustangMonthly.com and MuscleMustangsFastFords.com, all of which are owned by another project partner, Source Interlink Media. In fact, voting kicked off today, and will end on June 3, 2012.
Pictured: Mustang exterior design by Theresa Contreras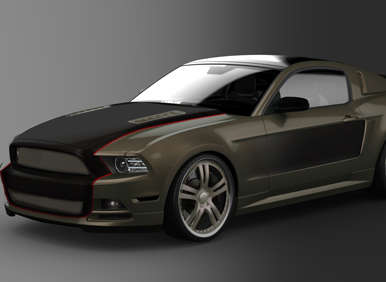 SEMA Mustang Build: Supporting the Future
The winning design will be revealed on June 5, with the car itself set to appear at this year's SEMA show from October 30 to November 2. Afterward, the Mustang will be auctioned to support the SEMA Memorial College Fund.
Said Mike Spagnola, a member of the SEMA Board of Directors and president of Street Scene Equipment: "I am convinced, as are many of SEMA's executive staff that this project car will … ignite a whole new wave of women ready to make a statement with the vehicles they drive. I applaud the wisdom of all involved to broaden the appeal of vehicle customization among women, and for raising revenue for the SEMA Memorial Scholarship Fund to help foster our next generation of industry leaders."
Pictured: High Gear Mustang design by Jennifer Seely