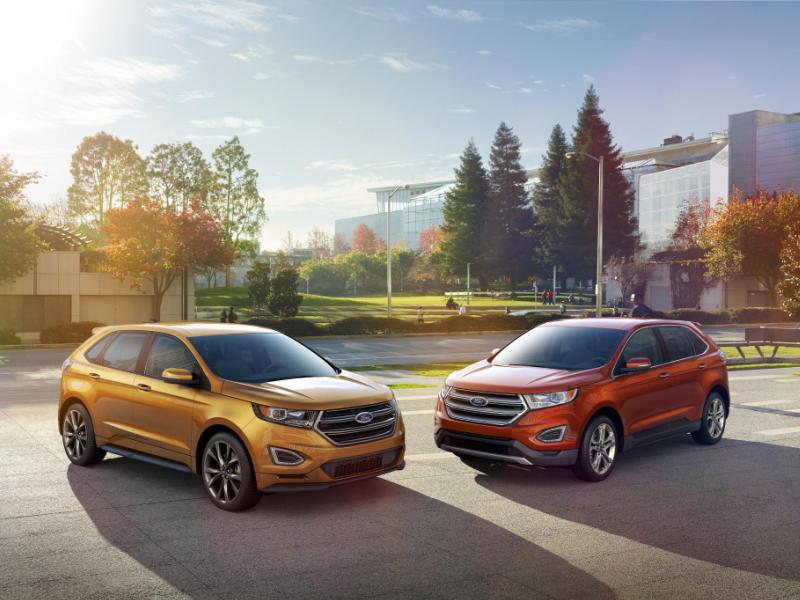 Photo by Ford Media
Putting a more dynamic spin on the original's distinctive proportions, the all-new 2015 Ford Edge made its public debut recently and will go on sale in the first quarter of next year.
Much like its predecessor, the new model will be a fairly premium package, too. Positioned as "a showcase of Ford innovation," the Edge will be available packed with all of the automaker's current technologies, including the latest Sync with MyFord Touch setup, a full suite of driver-assistance measures, a hands-free liftgate, and inflatable seatbelts. Then, for the next selling season, the 2015 Ford Edge introduces:
Adaptive steering, to provide less resistance during low-speed maneuvers, a firmer feel at higher velocities and superior performance in all driving
A front-view, 180-degree camera with wiper, available as a complement to the standard rearview camera in the 2015 Ford Edge
New airbag protection for the front passenger, courtesy of an active knee airbag incorporated into the glovebox
A pair of new engines have been added to the powertrain menu as well, with the 2015 Ford Edge offering three powerplants in total. Among them is an upgraded 2.0-liter, four-cylinder EcoBoost engine that is estimated to deliver 245 hp, 270 lb.-ft. of torque and a max tow rating of up to 3,500 lbs., and that unit actually will be standard. Providing an athletic upgrade for the 2015 Ford Edge Sport is another fresh entry from the EcoBoost family: a 2.7-liter V6 that is expected to make more than 300 hp and an unknown amount of torque. Combining that output with a significantly enhanced suspension, the latest Sport model is projected to be the best-performing Edge ever. (Ford's veteran 3.5-liter, naturally aspirated V6 also will carryover as an optional powerplant.)
All engines will be paired with a six-speed SelectShift automatic transmission with standard paddles, and a start-stop system also can be added to the 2.0-liter EcoBoost powertrain.
2015 Ford Edge: Design Brief
In terms of design, well, the 2015 Ford Edge already has caught some flak for not advancing its exterior design far enough, but a close look shows a noticeably more detailed appearance enhanced by a contemporary Ford-family face and a rather unique hood treatment. Eschewing any sort of faux "power bulge," the result is subtle, if a bit reminiscent of late-model Land Rovers. No photos were available of the standard cabin yet, but video of the Sport model, along with the new range-topper—the 2015 Ford Edge Titanium—show a driver-oriented cockpit with plenty of upscale ambiance, highlighted by a "dashboard and center console ... carefully designed and shaped to look like one thin, streamlined piece."
Added Kim Cape, marketing manager for Ford Large Cars and Utilities: "We really focused on meeting the highest craftsmanship standards in developing the all-new Edge. The idea was to create not just a high-quality exterior and interior, but to give the customer a holistic, premium experience."
It's further worth noting that, despite its familiar proportions, the 2015 Ford Edge has grown a bit to provide more customer satisfaction. Longer and taller than the 2014 model, and riding on a longer wheelbase, the next-gen Edge offers more room for both people and packages. For example, front-seat occupants gain 1.9 inches of legroom, those in the rear seat benefit from an extra inch, and all occupants enjoy one more inch of headroom. Then, the 2015 Ford Edge serves up 7 extra cubic feet of cargo space with the rear seats up, for a total of 39.2 cubic feet; cargo volume with the rear seats folded also rises by 4.5 cubic feet, enabling owners to stuff the 2015 Edge with up to 73.4 cubic feet of gear.
More information about the 2015 Ford Edge, including details about pricing, will be released later this year.