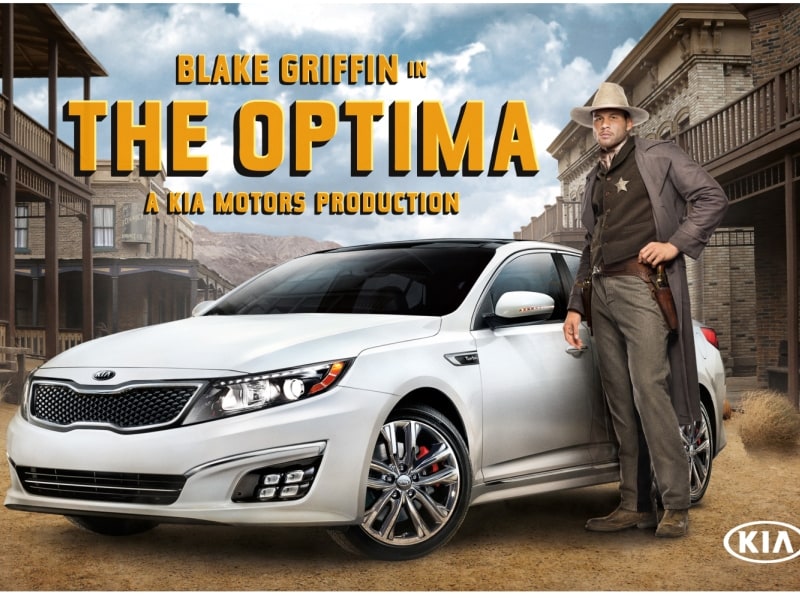 2015 kia optima
The 2015 Kia Optima is about to bring home a fourth straight annual sales record for the Kia brand's mid-size sedan, and it's probably no coincidence that Blake Griffin—power forward for the NBA's Los Angeles Clippers—also is about to star in his fourth straight ad effort for the car.
Explained Tim Chaney, vice president of marketing communications for Kia Motors America: "The Optima has been Kia's most popular vehicle since the time when our partnership with Blake began, and he has helped us foster connections with basketball fans across the country, increase awareness and enhance our brand image."
This time around, Griffin will headline three different spots, each of which positions him as the star of a big-time action flick who is ready to flip the script on his expected choice of transportation. For example, the first effort, called "Showdown," has Sheriff Griffin riding into town to take on the Busted Wheel gang, but he's in a 2015 Kia Optima instead of on a four-legged ride.
"I ditched that old nag," boasts Blake. "My Optima has 274 horsepower."
Then, in later commercials, the NBA all-star will make the same sort of switch while playing a gladiator and a fighter pilot.
And remember, all this is just part of Kia's long-standing relationship with the NBA. Along with Griffin's new spots for the 2015 Kia Optima, the brand also recently signed LeBron James as a luxury ambassador for the new Kia K900 flagship sedan, while further extending its overall sponsorship activities yet further.
Said Emilio Collins, NBA executive vice president for Global Marketing Partnerships: "Kia is deeply integrated into the NBA experience year round—from Kia NBA Tip-Off, NBA All-Star, the monthly and season-ending Performance Awards, and the WNBA—through a variety of unique content offerings and promotions. Building off of Kia's equity in our prestigious end-of-season Kia NBA Performance Awards, we're excited to continue to grow the platform with a season-long fan engagement program that gives them a voice around some of our most exciting content."