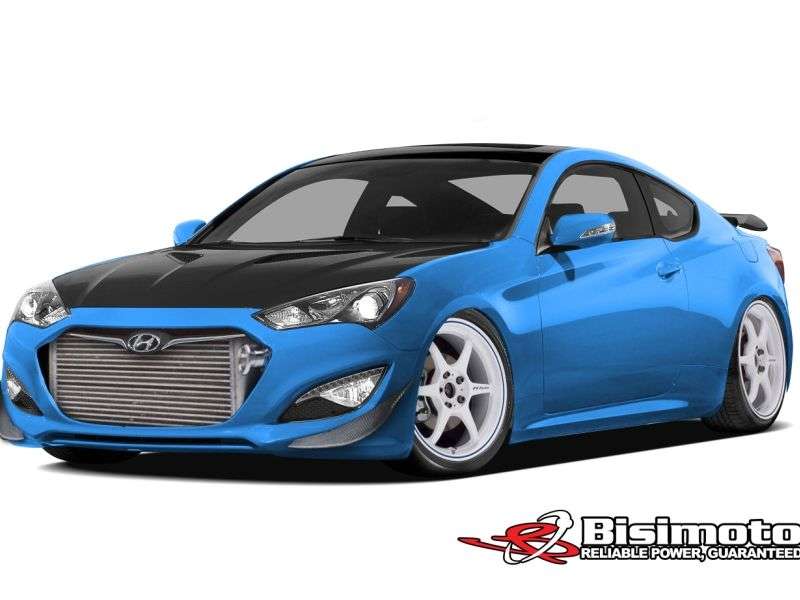 For some folks, fall means football season and the World Series; others get geeked for Halloween or visits to the cider mill; but for U.S. auto enthusiasts, the autumn action is highlighted by the annual SEMA Show, where vehicles like the 2013 Hyundai Genesis Coupe introduce some of the coolest custom mods in the industry. This year's event will take place from November 5-8 in Las Vegas, with Hyundai's presence highlighted by a particularly high-horsepower edition of that Genesis Coupe, enhanced by Bisimoto Engineering.
That starting point was a stock 2013 Hyundai Genesis Coupe 3.8 R-Spec, but Bisimoto added a twin-turbo set up and exclusively developed engine components to squeeze an extra 650 hp or so from the car's powerplant. The new output of 1,000 horses is a vital part of the Bisimoto vision, and the Genesis Coupe's proven V6 is, in turn, a vital part of developing that kind of power.
"The key to producing reliable, high-horsepower engines goes well beyond the design, engineering and fabrication of performance parts," according to Bisi Ezerioha, owner of Bisimoto Engineering. "The core powerplant must be strong enough to withstand advanced modifications. The Genesis Coupe's 3.8-liter Lambda engine is a thoroughly robust powerplant, and Bisimoto Engineering is excited to develop it to its full potential for the rigors of competitive motorsport."
To help complement its power upgrade, Bisimoto's 2013 Hyundai Genesis Coupe also showcases a plethora of other modifications, including:
NGK's Iridium spark plugs
Arias' forged pistons
Bisimoto's uniquely spec'ed Action Ironman clutch
Drive Shaft Shop's 5.9 axles and driveshaft
Toyo's R888 R-compound tires
Incurve's 20-inch aluminum wheels
Buddy Club's racing seats and harnesses
Then, for a SEMA-friendly appearance, Bisimoto applied a striking Electric Blue finish, set off by Dematic graphics as well as an ARK hood, carbon-fiber decklid spoiler, and a Burns stainless exhaust.
Can't make it to the trade-only SEMA Show? The Bisimoto 2013 Hyundai Genesis Coupe will certainly hit the hot-rod circuit after its Vegas debut and the production model, of course, is at dealerships now.