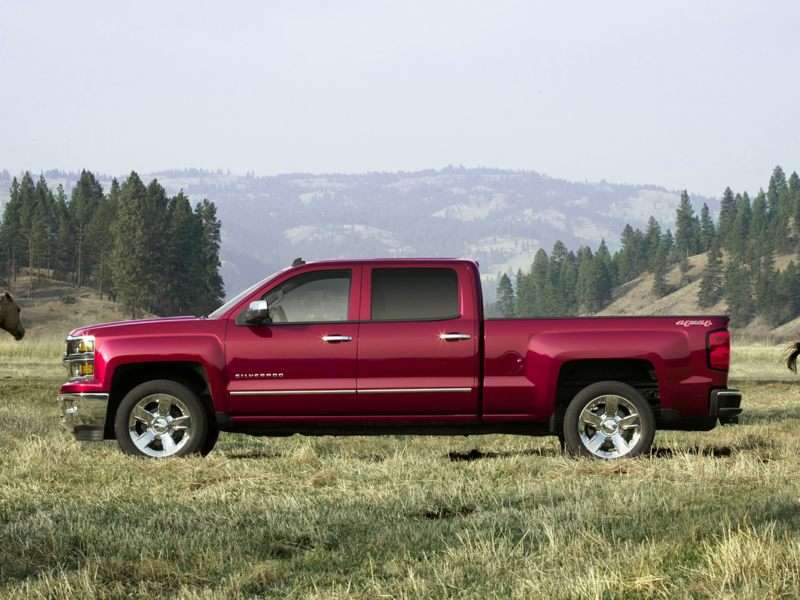 You might have thought that full-size pickups would have been able to earn 5-star Overall Vehicle Scores from the government before now, but apparently such wasn't the case: The 2014 Chevrolet Silverado and GMC Sierra have become the first pickups of any size to receive a top overall safety grade from the National Highway Traffic Safety Administration (NHTSA), at least since the group updated its evaluation process for the 2011 model year.
More specifically, it was the crew-cab models of the 2014 Chevrolet Silverado/GMC Sierra that garnered the 5-star ratings, which works out pretty well for GM, since the company expects that configuration to represent about 60 percent of the segment's sales mix. For comparison's sake, all of the other full-size crew-cab entries are currently 4-star NHTSA performers. On the Top Safety Pick front, the Insurance Institute for Highway Safety hasn't started testing the 2014 trucks yet, but for what it's worth, for the 2013 model year, the only fullsize pickups to earn the designation were the Ford F-150 and Toyota Tundra.
Yet it's clear that the next-gen 2014 Chevy Silverado and GMC Sierra have both upped their games when it comes to safety, not only with their improved NHTSA safety scores, but also by debuting some new driver-assistance measures to the segment:
Forward collision alert, able to warn drivers if they're approaching another vehicle too quickly
Lane departure warning, to alert drivers if they're drifting out of their lanes (at speeds of more than 35 mph)
GM's Safety Alert Seat, which uses vibrations on different sides of the driver's seat to warn the driver of the relative location of a "potential traffic danger"
Note, too, that the 2014 Chevy Silverado and GMC Sierra also match the competition with their own rearview camera systems with dynamic guidelines.
The party line from Gay Kent, GM's general director of Vehicle Safety and Crashworthiness: "Safety is as important to truck buyers as it is to car buyers. Silverado and Sierra set a benchmark for pickup truck safety by offering a full array of advanced features designed to protect occupants before, during and after a collision."