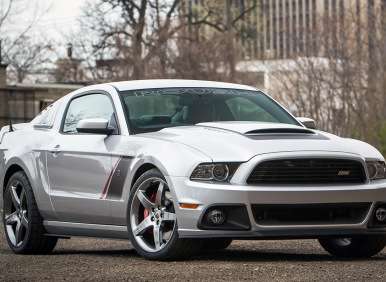 A Roush-readied 2013 Ford Mustang for $26K and change? Believe it, because that's the brief for the new Roush RS package, which delivers an affordable performance and appearance upgrade to the V6-powered member of the Mustang family—direct from one of the biggest names in the Mustang aftermarket.
"The RS opens a new niche for Roush Performance," according to Gary Jurick, general manager of the legendary performance-engineering house, "offering great fuel economy, a good level of power, at an economical price, while still embodying Roush spirit of performance." 
And it does so with an MSRP that starts at $4,000. Combine that with the fact that a 2013 Mustang V6 is stickered from $22,200—$110 lower than for the 2012 model—and you can enjoy a true Roush driving experience that offers 30 more horsepower and a $300 lower MSRP than a Hyundai Genesis Coupe 2.0T R-Spec.
2013 Ford Mustang V6: Roush's Recipe
Leveraging the same passion for Ford performance that goes into cars like the 565-hp Roush Stage Three Mustang, as well as the NASCAR Ford Fusions driven by the likes of Matt Kenseth, Carl Edwards and Greg Biffle, Roush Performance starts its work on the new Roush RS Mustang with a proprietary lowering package that reduces the car's height by about an inch both front and back. The result is a lower center of gravity that enables quicker, more responsive steering while transmitting more feedback to the driver.
The car then rides on the same 19-inch painted aluminum wheels and performance rubber found on the Mustang GT with the Brembo package, while wearing a bodykit that draws from the aero enhancements to Roush's "Stage" cars. Among them: high-flow upper and lower grilles, a front chin splitter and side rocker splitters, and a rear decklid spoiler. Also highlighting the exterior of the Roush RS Mustang are the company's signature "R" badges and a "Roush" windshield banner, and an assortment of other goodies, like a hood scoop and unique graphics, are available.
Inside, drivers will enjoy embroidered floor mats and billet performance pedals, and be able to customize the cabin with options like leather Roush sport seats, a ball-style shifter knob, a suede-wrapped performance steering wheel and Roush sill plates with ambient lighting.
True, Roush left the Mustang's engine untouched, but with that advanced V6 already able to boast 305 horses and an EPA rating of 31 mpg highway, there was apparently no need to mess with success.