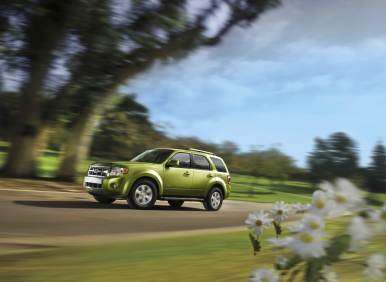 Crossovers don't come in a single size, with both large and small vehicles now claiming the combination of SUV and sedan-like features that attract family shoppers seeking a comfortable, spacious and useful daily driver. There are benefits to being "big" (interior volume, ride comfort) and positive aspects to being "small" (fuel mileage, handling), which means that the crossover option that is the best fit for a given driver is largely dictated by their own specific needs.
Let's take a look at "bigs" and "smalls" - eight crossovers that deliver regardless of the tale of the tape.
01. 2011 Ford Escape Hybrid
The 2011 Ford Escape Hybrid is the most fuel efficient compact crossover vehicle on the market. In fact, it's the least thirsty SUV period when it comes time to fill up at the gas pump. The Ford Escape Hybrid makes use of a 2.5-liter, four-cylinder engine that together with a battery-powered electric motor generates a total of 177 horsepower. The hybrid system makes possible a city EPA rating of 34-mpg, backed by a 31-mpg highway rating. A continuously-variable automatic transmission handles the shifting dues for the Escape Hybrid, and all-wheel drive can be ordered as an option. The crossover also manages to acquit itself admirably in terms of practicality, with the ability to transport up to five passengers or house as much as 66 cubic feet of cargo with the second row of seating folded forward.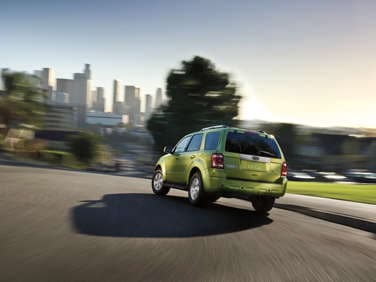 02. 2010 Jeep Commander
The 2010 Jeep Commander is still available at many dealerships around the country, and the full-size, three-row crossover makes an intriguing choice for buyers who need a high capacity people mover but who also love to break trail on the weekends. The Jeep Commander features seating for seven as well as 69 cubic feet of cargo space for hauling camping gear and other supplies into the bush. When it comes time to handle off-road obstacles the Commander also features the choice of three optional four-wheel drive systems (Quadra-Trac, Quadra-Trac II and Quadra-Drive II).
The 2010 Jeep Commander offers a 210 horsepower, 3.7-liter V-6 that also generates 235 lb-ft of torque as its base engine. A 5.7-liter Hemi V-8 can also be installed under the hood, and this unit is good for 357 horsepower and 389 lb-ft of torque. A five-speed automatic transmission is included with either power plant, and fuel mileage for the two engines is surprisingly identical (15-mpg city / 20-mpg highway for the V-6, 14-mpg city / 20-mpg highway for the V-8).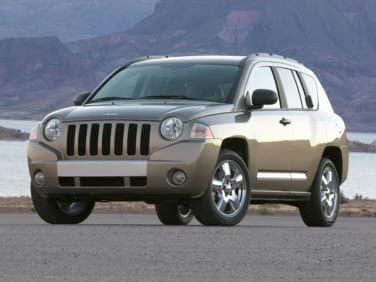 03. 2011 GMC Terrain
The 2011 GMC Terrain proves that small can equal upscale when it comes to crossovers. The GMC Terrain can be had with equipment such as automatic climate control, heated leather seats, a power tailgate, a navigation system that responds to voice commands and a parking assistance system. Add in five passenger seating and 63.7 cubic feet of space and the Terrain's practical dimension shines alongside its comfort-focused nature.
The 2011 GMC Terrain can be ordered with either four-cylinder or six-cylinder power. Its entry-level 2.4-liter unit squeezes out 182 horses and 172 lb-ft of torque while offering fuel economy figures of 20-mpg city and 29-mpg highway. Its available 3.0-liter V-6 improves to 264 ponies and 222 lb-ft of twist and returns fuel mileage of 17-mpg around town and 25-mpg on the highway. Each version of the Terrain features a six-speed automatic transmission as well as the choice of either front-wheel or all-wheel drive.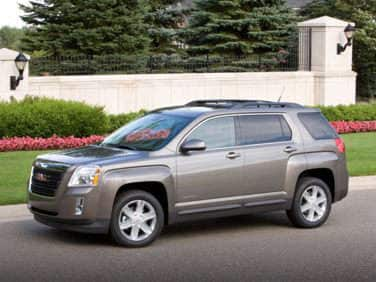 04. 2011 Chevrolet Traverse
Not everyone who wants to carry as many as eight passengers at a time is interested in getting behind the wheel of a minivan, which is where the 2011 Chevrolet Traverse steps in. The Chevrolet Traverse marries the functionality of a van with the handling of a large sedan and the styling of a sleek crossover, giving it a certain cachet amongst full-size SUV buyers. In addition to its copious passenger room, the Traverse can also handle up to 116.4 cubic feet of cargo and tow a respectable 5,200 lbs.
Contributing to the 2011 Chevrolet Traverse's appeal is its 3.6-liter V-6 engine. Tuned to produce up to 288 horsepower and 266 lb-ft of torque (in the top LTZ trim), the Traverse offers fuel economy of 17-mpg in stop and go driving and 24-mpg during highway cruising. All-wheel drive is optional with the crossover, and a six-speed automatic handles the vehicle's shifting duties.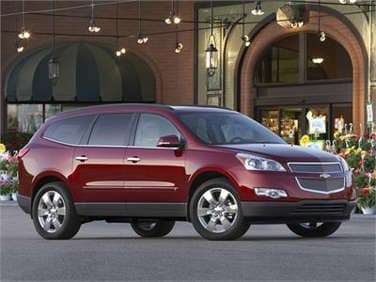 05. 2011 Mazda Tribute
The 2011 Mazda Tribute is a value-oriented compact crossover that can be had in a well-equipped base model (power windows and door locks, remote entry, air conditioning, CD player) or loaded up with features such as a leather-wrapped steering wheel, heated leather seats and a sunroof. The Mazda Tribute can accommodate five passengers and also offers 31.4 cubic feet of cargo space with the both rows fully loaded - a figure that expands to 67.2 cubic feet with the rear seats folded forward.
The 2011 Mazda Tribute features a thrifty 171 horsepower, 2.5-liter four-cylinder engine as its base motor. Also capable of generating 171 lb-ft of torque, this unit's fuel mileage checks in at 22-mpg in city driving and 28-mpg on the highway. Transmission choices for the four-cylinder Tribute include a five-speed manual and a six-speed automatic. The crossover's 3.0-liter V-6 generates 240 horsepower and 233 lb-ft of torque, and thanks to a standard six-speed automatic it returns fuel economy of 19-mpg city and 25-mpg highway. All-wheel drive can be added to the Tribute as an option.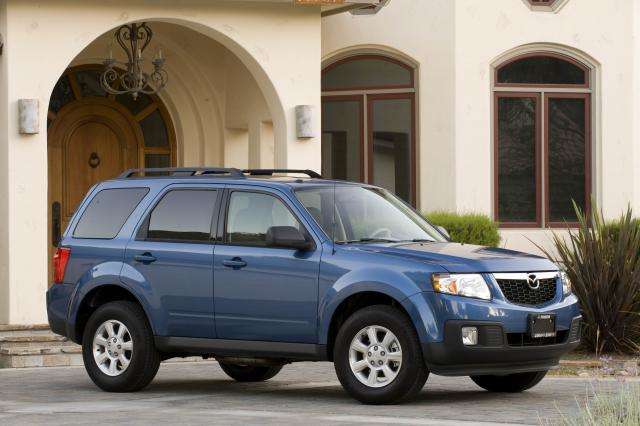 06. 2011 Land Rover LR4
The 2011 Land Rover LR4 drips with luxury - but it also manages to provide polite on-road manners and exceptional off-road acuity. The Land Rover LR4 coddles its up to seven passengers with available features such as dual automatic climate control, a heated steering wheel, heated leather seats, a DVD entertainment system and front and rear sunroofs. The vehicle also comes with 90 cubic feet of total cargo space and a full-time four-wheel drive system that is buttressed by a hill start assist and hill descent control system.
All versions of the 2011 Land Rover LR4 leave the factory with a 5.0-liter V-8 engine between the front fenders that puts out 375 horsepower and 375 lb-ft of torque. Fuel mileage for the eight-cylinder LR4 is listed at 12-mpg city and 17-mpg highway, and a six-speed automatic transmission is standard with the crossover.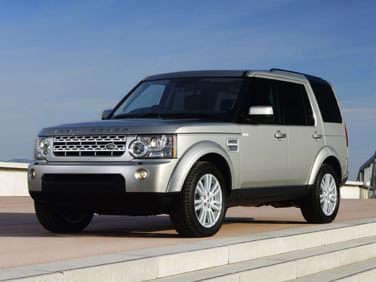 07. 2011 Chevrolet HHR
The 2011 Chevrolet HHR is a crossover that defies convention by combining elements of retro styling with a tall wagon design that enhances its extremely useful nature. The Chevrolet HHR provides 58 cubic feet of total storage space with the rear seats folded forward, and as many as five passengers can count on the HHR to carry them from point A to point B with car-like comfort and quiet.
The compact 2011 Chevrolet HHR's 2.2-liter, four-cylinder base engine is good for 155 horsepower and 150 lb-ft of torque. A somewhat stouter 2.4-liter, four-cylinder motor is also available, and it puts out 172 horses and 167 lb-ft of twist. The pair share the same fuel economy rating in the HHR - 22-mpg city and 30-mpg highway - and each can be matched with either a five-speed manual or six-speed automatic transmission.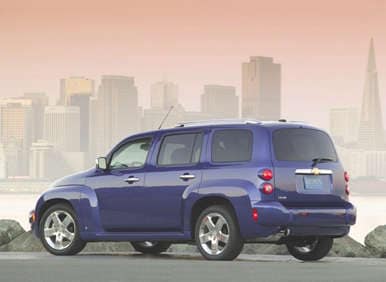 08. 2011 Land Rover LR2
The 2011 Land Rover LR2 shrinks down the British brand's premium packaging to create a nimble crossover that manages to maintain a degree of trail-driving prowess despite being tuned to maximize the comfort and smoothness of its sedan-style platform. The Land Rover LR2's interior can accommodate five passengers or 58.9 cubic feet of gear, while a number of options packages can add items like a navigation system, HID headlights, high grade leather seats and a surround sound system to the mix.
The 2011 Land Rover LR2 stands fast with a single 3.2-liter, six-cylinder engine option, one which has designed provide 230 horsepower and 234 lb-ft of torque. This output is sent through a six-speed automatic transmission to all-four wheels, and fuel economy for the small crossover is rated at 15-mpg around town and 22-mpg on the highway.