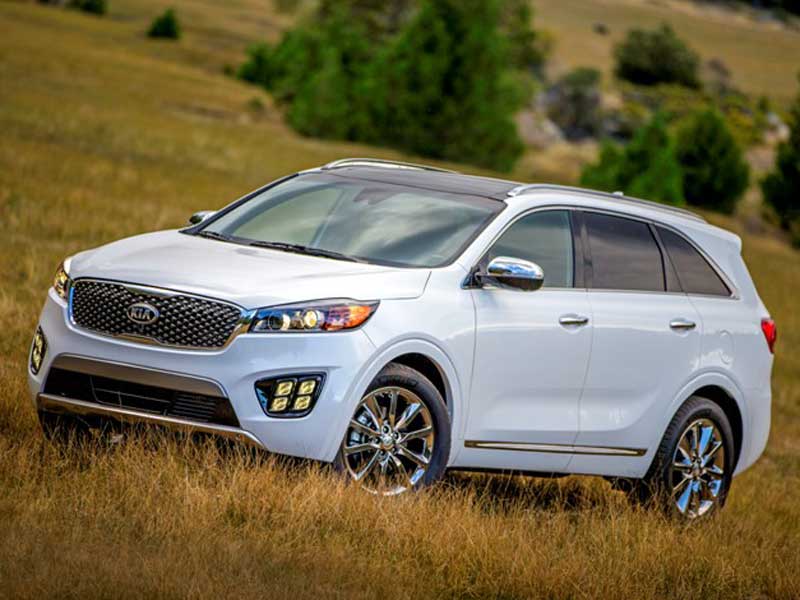 2016 kia sorento ・ Photo by Kia
After premieres in both South Korea and Paris the new 2016 Kia Sorento will make its first live appearance in this hemisphere at the 2014 Los Angeles Auto Show (which opens to the public on November 21).
Now, Kia probably will wait until then to start providing exact specs for the U.S. version, but thanks to the wonders of the Internet, we can peek at the global catalog for the new Sorento and make some good guesses about what to expect—starting with another advancement in style.
Particularly noticeable is a more detailed front end that's enhanced by wraparound headlamps and a large, carved-out pocket for its quad-style front fog lamps. The flanks of the 2016 Kia Sorento are more sculpted as well, and the overall packaging is noticeably longer, lower and wider. The change in dimensions is especially important because the 2016 KIa Sorento plays the role of largest crossover in the Kia lineup and was designed to seat up to seven; the global model is offered in both two- and three-row configurations.
The cabin was likewise designed to accentuate the wider dimensions of the 2016 Kia Sorento and, at least in the Euro-spec models, provides a more premium feel, with more soft-touch materials and a new "human-machine interface" that draws its inspiration from Swiss watches.
2016 Kia Sorento Global Highlights
The 2016 Kia Sorento will be upgraded with a number of modern-day must-haves, too, and then also moves up near the head of the class with features such as:
"Speed Limit Information Function" that determines and displays local speed limits
A hands-free, legs-free automatic power liftgate
A multi-angle around-view monitor
Technology that can take over steering duties in certain parking scenarios
And that's in addition to those more expected features in the 2016 Kia Sorento, like blind spot detection, rear cross-traffic alert, lane departure warning and advanced smart cruise control.
Engineers also have made notable improvements in refinement and driving dynamics, even developing a new electric motor-driven, rack-mounted power-steering system that "provides greater steering feel and quicker response, ensuring the new Sorento will be among the more agile and sporty vehicles in its segment."
It does look like the 2016 Kia Sorento will continue to rely on its current 2.4-liter four-cylinder powerplant, as that unit is the only gas-powered engine mentioned for the international models; on the other hand, those versions will provide a pair of diesel engines, in 2.0- and 2.2-liter displacements, and it's not out of the realm of possibility that one of those could show up on our shores some day.
More information about the 2016 Kia Sorento will be available after its Los Angeles introduction.