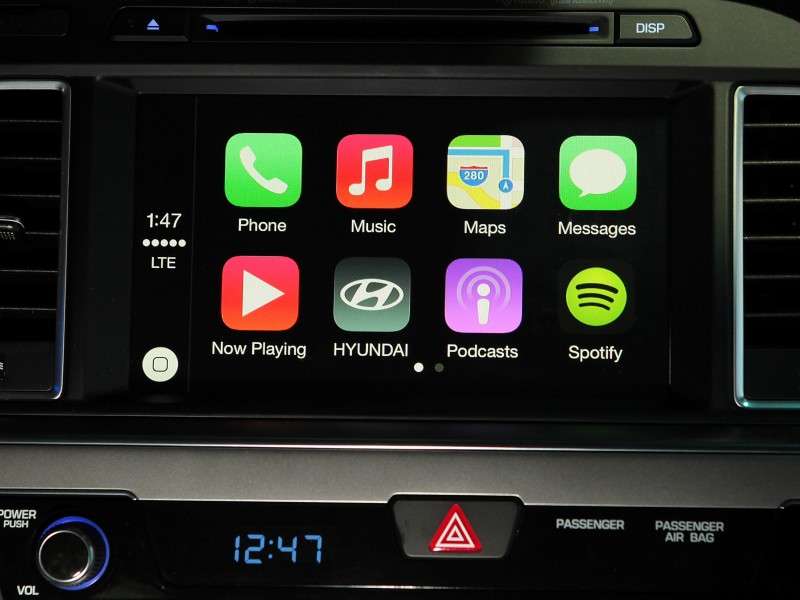 Setting new standards in the mid-size sedan segment has never been tougher, but the 2015 Hyundai Sonata will attempt to do just that by offering Apple's CarPlay functionality when it goes on sale in the near-ish future—per the automaker, the feature will be available "later in the 2015 model year."
The CarPlay system will complement the Sonata's 8-inch touchscreen by leveraging the power of Siri, Apple's virtual valet, for eyes-free calling and music management, as well as access to Apple Maps and messages. The system is easy to use, too, since drivers only have to press a "Voice" button that's been carefully integrated within the multi-function steering wheel of the 2015 Hyundai Sonata. Of course, a compatible iProduct and Lightning connector, available from your local Apple retailer, also are required.
But as a further bonus from the Hyundai technology department, the touchscreen mentioned above has been re-engineered for improved sensitivity, along with split-screen capability for navigation and music info. Other sonic upgrades for the 2015 Hyundai Sonata include two premium audio systems, including one from Dimension Audio and, at the top of the range, a 400-watt Infinity setup. Support for SoundHound and Pandora, HD and satellite radio, and SiriusXM Travel Link and next-gen Blue Link telematics then help fill out the multimedia menu for the Sonata.
For more information about the 2015 Hyundai Sonata, checkout Autobytel's recent preview here: http://www.autobytel.com/hyundai/sonata/news/2015-hyundai-sonata-preview-2014-new-york-auto-show-123656/.