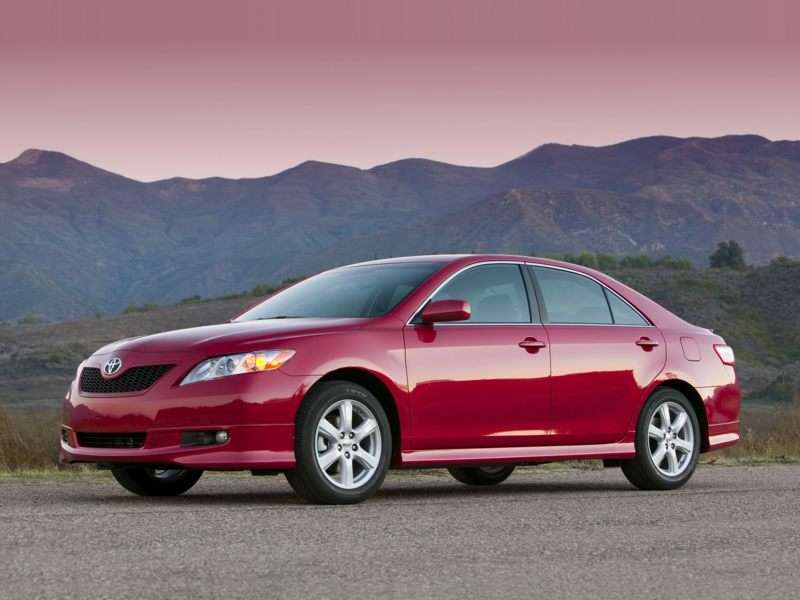 2009 toyota camry red
In the 1980's, Ford wowed the entire American auto industry with their inexpensive and well-designed Ford Taurus. At the time, the market was unprepared for a vehicle like the Taurus which threw away design conventions of the day and ushered in a new era of vehicle styling, setting a very high standard for both domestic and Japanese car companies.
Toyota was certainly competitive during the decade of the Taurus, and they not only took notice of the improvements found in the Ford sedan but they did their best to incorporate as much as they could learn from that vehicle into their own four-door offerings. It wasn't long before their rapid design and implementation strategies saw the popular Camry leap-frog over the Taurus, taking away its best-selling title in the mid 1990's and never again surrendering it to the crew from Dearborn. Along the way, the same technologies and breakthroughs that were applied to the Camry found their way down into some of their entry level vehicles. Toyota also decided to replace their aging Cressida full-size sedan with a more modern, front-wheel drive platform. This fast-moving approach caught many car companies flat footed, and Toyota was able to build up a sizeable sales advantage while they attempted to react to this wave of new products.
By the end of the 1990's Toyota enjoyed a practically unassailable market position when it came to reliable, well-built four-door sedans. With nary a chink in their armor from compact on up, it was difficult for automotive critics and buyers alike to deny the fact that Toyota had become the face of daily transportation in North America. Try as they might, neither the Big Three nor the combined might of Nissan and Honda could dislodge Toyota from their lofty perch. In fact, it almost seemed as though Toyota's most serious competition came from their own used vehicles, which held up so well that buyers had little reason to upgrade to something new.
This article examines three of the best used Toyota sedans available. It is difficult to narrow this list to only three, as there are so many compelling vehicles wearing the Toyota badge. However, the sedans detailed here represent the best of the least expensive, mid-range and top of the line offerings from the Japanese automaker. Each of these vehicles would be well suited for anyone looking for a dependable and capable four-door vehicle that can fit perfectly into their lives.
2003 was a big year for fans of the Corolla sedan as it saw a major re-styling that gave it a more youth-oriented appearance that marked a departure from the more stolid four-door design of years past. A curvy front end was matched by the availability of a sporty S edition which featured a fairly aggressive body kit meant to evoke the aesthetic of the street racing scene. Toyota's intention was to revive the Corolla name and help it to compete with the Honda Civic, traditionally purchased by a much younger demographic.
The 2002-2004 Corollas come with a 1.8-liter, 4-cylinder engine which generates 130 horsepower. This 16 valve unit was bolstered in 2005 with the availability of a 170 horsepower 1.8-liter in the XRS performance model - the evolution of the original S trim. Until 2005 all versions of the car were outfitted with a standard 5-speed manual transmission which could be exchanged for a 4-speed automatic, while the XRS comes with a 6-speed manual in order to increase its appeal with the sport compact crowd. When trying to choose which engine to target in a used Corolla, it helps to keep in mind that the newer and more powerful 4-cylinder still gets a great 32 miles per gallon in the city and 40 on the highway.
Like many of the new breed of compact cars, the 2003 - 2006 Toyota Corolla feels big on the inside, thanks in part to a high roof and extended chassis which adds more leg room for both front and rear occupants. Dash gauges are large and easy to read, and this plus-size style is continued on the radio and heating controls, making them simple to operate even in traffic. Leather seats are available on the highest trims of the compact, but the Corolla is better suited as a commuter car rather than a luxury vehicle, and this is in general reflected by the decent but not top shelf materials used to finish the vehicle's interior.
The 2003 - 2006 Toyota Corolla is a strong seller on the used sedan market, and it makes a good alternative to the Civic or the Neon with its excellent reliability and edgier styling.
While it is hard to imagine the best mid-size sedan available in North America as being able to improve with each subsequent generation, the relentless innovation and pursuit of excellence is apparent in the engineering that Toyota imbued into the 2002 - 2006 Toyota Camry. This version of the venerable sedan brought the model fully into the new century and gave it a look which would help it better ward off competition from the attractive Honda Accord and resurgent Ford Taurus.
Toyota has recognized that most people opt for the base model of the vehicle and upgrade it with a la carte options instead of choosing a higher trim level to begin with. The entry-level Camry offers power door locks and windows, cruise control and air conditioning, with buyers being able to add nicer seats, a louder stereo and a number of different interior trim packages. The Camry's interior is still very functional, eschewing frills to instead present a straightforward collection of knobs, buttons and gauges that drivers will have no trouble reading or manipulating. Passenger comfort is competitive with other mid-size sedans, and the Camry is well suited for carrying four adults for as long as necessary to reach their destination.
Most 2002 - 2006 Toyota Camrys on the used market will be outfitted with a 157 horsepower, 2.4-liter 4-cylinder engine and either a 5-speed manual or 4-speed automatic transmission. Early V-6 cars were 3.0-liter units that made 192 horsepower, a figure later upped to 210 through subtle engine tweaking as the model continued to evolve. A 5-speed automatic transmission also appeared on the scene in 2005. The 4-cylinder's popularity is largely due to its fuel economy, posting 24 miles per gallon in stop and go traffic and 33 miles per gallon on the freeway.
When attempting to choose a used mid-size sedan that does everything well and has no discernible faults, it is hard to ignore the 2002 - 2006 Toyota Camry. Even second hand vehicles display the traits that have drawn more buyers to this model than any other sedan in its class for the last several years.
For a protracted period of time, the Toyota Avalon floated along in a sea of anonymity as Toyota's full-size, semi-luxury option. Bland styling and a lack of any real consumer image held the sedan back from achieving greatness. Not anymore. The 2005 - 2007 Avalon is a quantum leap forward for the big four-door in terms of personality, as it adopts a brand new, chiseled style evoking a more confident feeling that helps to finally highlight its otherwise stellar attributes.
The Avalon is still understated and quietly competent in terms of driving dynamics, but this works in the sedan's favor. While it is difficult to pinpoint any aspect of the car that stands out when sitting behind the wheel, it is equally hard to find fault with the car's design in any way. The seats are comfortable, simple to adjust and look great. The car's 280 horsepower, 3.5-liter V-6 is easily the equal of any other 6-cylinder engine found in a front-wheel drive sedan, and when combined with its 5-speed automatic transmission it seems to always be in exactly the right gear for the current road situation. The Avalon is a car that favors calm and collected driving over tire-chirping performance but when pushed the four-door accelerates with authority. The suspension is firm without affecting comfort, making it an excellent touring or highway car.
Each of the Avalon's four trim levels is well equipped, even the base XL model, with a number of standard features befitting a full-size vehicle like this one: keyless entry, dual climate controls, cruise control and a tire pressure monitor. Buyers can add heated power leather seats, a moon roof, in-dash 6-CD changer and a host of other improvements should they wish to deck out their Avalon to the gills with luxury frills.
The 2006 - 2007 Toyota Avalon is hard to match on the used market when it comes to a well thought out driving experience that delivers optimum comfort and performance with a minimum of driver engagement and great interior room.