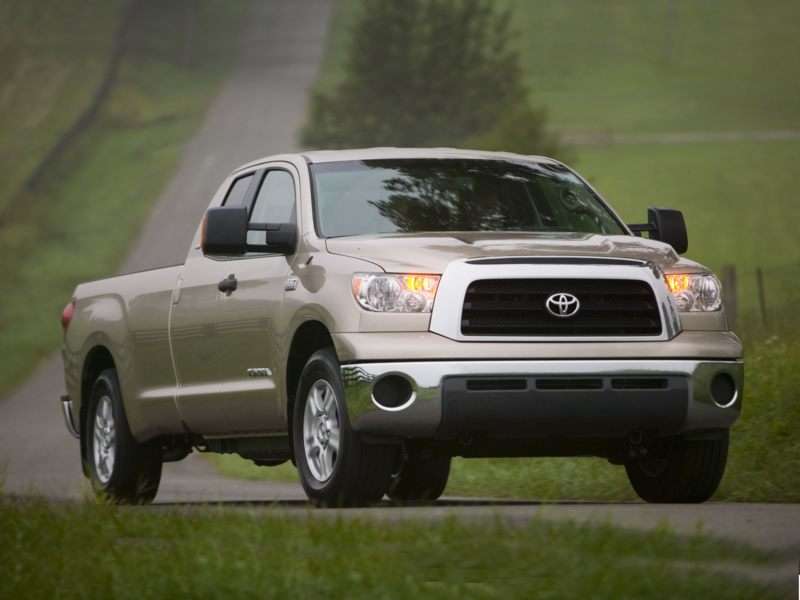 For many years it seemed as though the dominance of domestic automakers in the full-size pickup truck market was absolute. Ford, Dodge, Chevrolet and General Motors had split North America's pickup buyers between them, and while imported trucks regularly squared off against their compact offerings, these four companies had nothing to worry about when it came to their larger vehicles. Try as they might, companies like Toyota and Nissan were not able to come close to threatening the established full-size hegemony throughout the 1980s and 90s.
In the mid-90's however, Toyota began to dump a serious amount of money and expertise into solving the American pickup market. The introduction of the Tundra in 2000 to replace the aging T100 was their first step in attempting to get a handle on what buyers were really looking for in a big-bodied truck. The first generation of the vehicle was derided by critics as being an 'almost' full-size pickup, lagging behind the competition in almost every important category: horsepower, towing capacity and interior room. The most glaring difference between the first generation Tundra and other large pickup trucks was size. When parked side by side, it was clear to everyone that the Toyota had yet to adopt the dimensions required to attract truck owners looking for maximum utility and road presence in a pickup.
In 2007, Toyota took these criticisms to heart and put out a new version of the Tundra that not only addressed each of the concerns that had been raised about the outgoing model but almost seemed to over-compensate for these perceived inequities. The new Tundra wasn't just big, it was enormous. It didn't just receive a more powerful motor, it was outfitted with the most advanced V8 to hit the market. At long last, Toyota had produced a truck which not only matched up toe to toe with the Ford F-150 and Dodge Ram, but it actually pushed the boundaries of what was to be expected in terms of technology and innovation in a full-size pickup. This was in stark contrast to Japanese competitor Honda, which had decided that what pickup owners needed was a vehicle that was more like a car - strategy that struck a chord with a certain section of the overall market, but which didn't help them move thousands of entry-level work trucks to those who needed the no-frills practicality of a regular cab long box.
The 2007 Toyota Tundra is the largest, most capable and most powerful pickup ever sold by the Japanese manufacturer. The Tundra bears a bold and bulky appearance that is a complete reversal from the more sedate lines of the full-size Toyota trucks which preceded it. The Tundra stacks up quite well when parked beside such champions of pickup style as the Dodge Ram and the Ford F-150, and strikes an imposing figure on American streets.
Backing up the truck's attention-getting good looks is an equally impressive lineup of engines. The base 4.0 liter V6 makes 236 horsepower, with the next step up being a 4.7 liter V8 that makes 35 more. However, both of these engines are eclipsed by the technological tour de force that is the 5.7 liter, 381 horsepower V8 available as the top of the line motor in the Tundra. 401 lb-ft of torque are also harnessed and tamed by a 6-speed automatic transmission that can be paired with optional 4-wheel drive to create a beast of a truck that is difficult to top on the trail or at the job site. Fuel economy for the workhorse 5.7 liter is excellent, at around 17 miles per gallon in highway driving, proving that with the application of intensive engine development even large-displacement motors can be made more efficient.
Inside, the 2007 Toyota Tundra can be configured with a wide variety of seating arrangements, cabin sizes and comfort levels. Those looking for a meat and potatoes work truck will do well with the V6 single cab configuration, while the four-door, up to five passenger edition with leather seats and DVD entertainment system feels like a home away from home that not only provides a commanding view of the road but also offers many of the amenities typically found only in full-size sedans.
The 2007 Toyota Tundra is one of the most advanced used full-size trucks available, and the brand continues to find itself parked in a large number of driveways as second owners take advantage of the great value of this pickup.