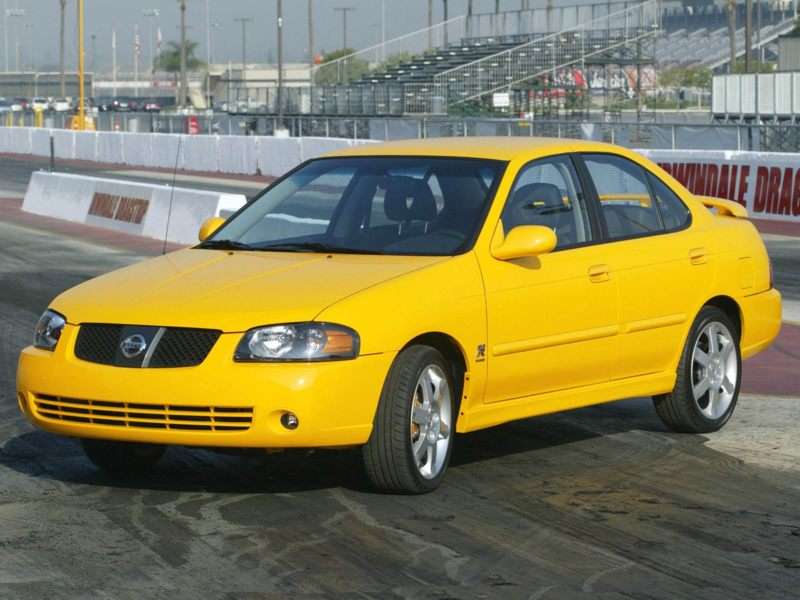 2006 nissan sentra yellow
The world of Japanese sedans can be loosely divided into two categories. On the one side are the ultra-reliable, conservatively-styled heavyweights from Honda and Toyota, vehicles which consistently lead both sale charts and quality ratings across a wide demographic. These vehicles may be among the best built cars on the road, but they are also a bit too boring for automotive enthusiasts to ever consider owning. While competent in every way, they generally don't provide a whole lot of driving thrills.
Sitting firmly in the opposite side of the equation are the sportier offerings from companies like Mazda and Nissan. These automakers do their best to inject as much passion and fun into their sedans as possible while still maintaining a high degree of comfort and quality. They also target a younger car buyer not just for their base model compact cars, but also for their larger mid-size vehicles.
Nissan in particular has gone out of its way in recent years in order to make sure that each of their four-door automobiles would never be lumped in with the stolid Camry or Corolla and dismissed by sedan buyers more attracted to the perceived excitement of a European car. This has meant not only investment in the driving dynamics of their standard models but also providing buyers with the option to upgrade with larger motors, bigger brakes, tighter suspensions and more performance-oriented transmissions. Nissan has managed to combine this sporty spirit with some of the roomiest interiors and most technologically advanced transmissions on the market.
While the experience offered by a four-door Nissan may not be quite up to par with that of a BMW or Audi, for the price it is difficult to find fault with the level of care that Nissan has taken with each sedan in order to provide a fun ride. The company also offers a much wider range of vehicles than any of its German competitors, ensuring that even those who are shopping at the entry level can choose to benefit from a responsive sedan that is a step ahead of most econo-boxes.
This article takes a look at three of the best used sedans from Nissan to have hit the secondhand market over the past few years. Each vehicle's drivetrain, interior options and overall package are examined in order to provide used sedan buyers with an accurate picture of Nissan's solid four-door lineup.
Long a mainstay of Nissan's entry-level lineup, the Nissan Sentra was re-designed for 2000 in order to give the vehicle a bigger, more modern platform upon which to compete with stalwarts such as the Toyota Corolla and Honda Civic. The compact Sentra is much sleeker looking than in the past, with an available monochromatic exterior package which greatly increases the sedan's curb appeal over the outgoing model.
The 2000 - 2006 Nissan Sentra offers a number of different drivetrain configurations designed to please those looking for either economy or sporty driving. The base Sentra makes use of a 1.8 liter, 126 horsepower 4-cylinder engine, while those interested in a bit more fun can opt for a 145 horsepower 2.0 liter unit. Both engines can be had with either a 5-speed manual transmission or a 4-speed automatic. The Sentra SE-R adds a 165 horsepower, 2.5 liter 4-cylinder which gains an extra 10 horsepower in Spec V trim - a package aimed at compact tuning enthusiasts which also comes with a 6-speed manual transmission. For those more interested in economy than performance, the entry-level Sentra provides excellent fuel mileage of 35 miles per gallon on the highway and only 28 in the city.
The Nissan Sentra can be ordered as either a feature-free, stripped down commuter car or a relatively comfortable daily driver. Cruise control, a CD player and a moon roof represent the highlights from the Sentra's list of options. The newer Sentra is larger inside than the previous generation, but it is still best suited for short trips when loaded up with a full complement of passengers. Interior materials are very much no frills, and while the Sentra doesn't feel cheap, it's clear that the vehicle is not trying very hard to reach past its humble origins.
The 2000 - 2006 Nissan Sentra, especially the SE-R model, makes for an inexpensive and reliable used sedan which can add a bit of fun to the mix without breaking the bank.
The third generation Nissan Altima allowed the nameplate to take a major step forward in terms of size, comfort and image. Longer and larger than any version of the car to have come before it. The Altima moved into the same space previously occupied by the flagship Maxima sedan. The Altima's newly re-designed good looks made it a popular choice for those who were reluctant to join the sea of Camry and Accord owners already flooding the nation's roadways.
Nissan also raised the stakes in terms of engine choice for the not-quite mid-size sedan. The base Altima bears a 2.5 liter, 4-cylinder engine that generates 175 horsepower and 180 lb-ft of torque - 20 more ponies than the 2001 edition. Not only that, but buyers can upgrade to a 240 horsepower, 3.5 liter V6 engine which places the 2002 - 2006 Altima into an entirely new performance strata. A 5-speed manual transmission or 4-speed automatic are available with either engine, while a 6-speed manual and 5-speed automatic became optional for the V6 in 2005 - along with a 10 horsepower boost for the same motor the following year. Fuel mileage for the 4-cylinder engine is only about 3 miles per gallon better than the V6, coming in at 23 miles per gallon in stop and go driving and 29 miles per gallon in highway cruising.
The 2002 - 2006 Nissan Altima has also taken advantage of its new platform to provide best in class interior room, trumping other Japanese sedans in terms of both front and rear passenger space. The vehicle isn't particularly innovative in terms of passenger compartment design, but the vehicle does offer easy to use control surfaces for the stereo and climate control systems, and the dash is well-organized with simple to understand gauges. The Altima's trunk is enormous, and will swallow more cargo than either the Camry or the Accord.
For anyone interested in a stylish, fun to drive used sedan, the 2002 - 2006 Nissan Altima offers great power matched with loads of passenger room.
The Nissan Maxima has long held the torch as the company's most luxurious sedan. Upgraded in 2004 to expand the size of the platform, the Maxima has managed to keep a good portion of its sporty character while still providing excellent passenger accommodations. The Maxima's exterior was also re-designed, and it bears a somewhat egg-shaped, thickened look when compared the previous generation of the vehicle.
The 2004 - 2007 Nissan Maxima comes with only one engine choice: a 3.5 liter V6 which is similar to that found in the smaller Altima but which produces 15 more horsepower, to the tune of 265 in total. 255 lb-ft of torque help to make the Maxima a strong performer when it comes to acceleration, as it weighs in at a svelte 3,400 lbs. The Maxima SE is available with either a 6-speed manual transmission or a 5-speed automatic, while the more comfort-oriented SL comes only with a 4-speed auto. In 2007, the Maxima was given a refreshed exterior appearance that also included the appearance of a continuously-variable transmission across every trim which replaced all three gearboxes.
Drivers who are interested in a vehicle with a stiff suspension that is more rewarding when driven hard should stick with the Maxima SE, as it can easily be upgraded through options packages to match the standard equipment of the luxury SL. This includes heated leather seats, xenon headlights and DVD navigation. Inside either edition of the 2004 - 2007 Nissan Maxima, passengers will find themselves with more than adequate room to make themselves at home, and the feeling of spaciousness is enhanced by an optional glass roof. 2007 models benefit from either brushed aluminum or wood trim and more supportive seats.
The 2004 - 2007 Nissan Maxima is an upscale car that makes a strong case for itself when it comes to attracting buyers looking for an engaging used full-size sedan.