Two Titans from Detroit and a Newcomer from Japan - The 3 Best Full-Size Trucks on the Used Market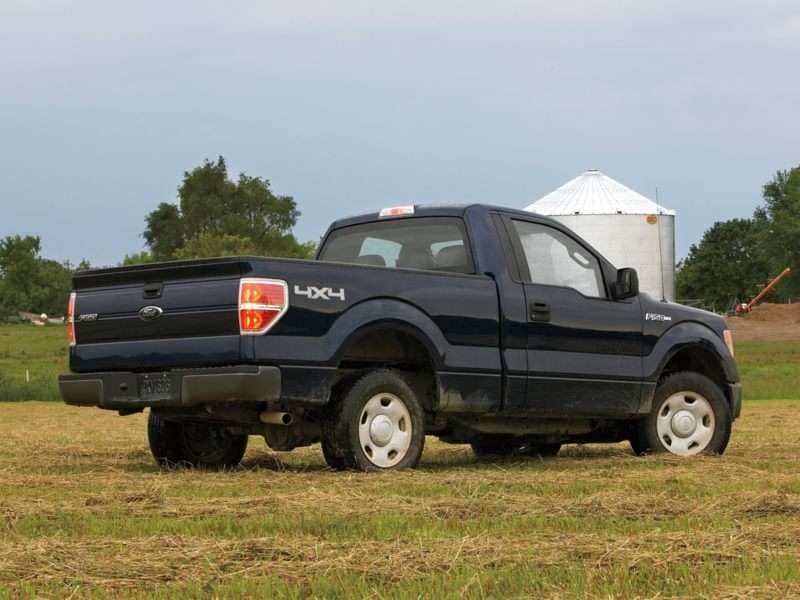 The full-size pickup truck market is one of the most competitive in North America. Each of the Big Three automakers sells more trucks than any other vehicle in their lineup. Obviously this means that the stakes are high when it comes to market share, and these flagship vehicles have fallen under increased technical and engineering scrutiny over the past 20 years. Each company has tried to refine their trucks to the greatest degree possible to balance driver comfort and overall fuel economy with impressive cargo and towing capacity.
Added to the mix is the fact that the Japanese have noticed just how many trucks can be sold in the United States. Toyota, Nissan and to a lesser extent Honda have brought their own considerable expertise to bear on building a pickup truck that will not only appeal to buyers but will also trump the quality of domestic offerings. For several years Japanese pickup trucks were known for possessing 7/8ths the size, power and capabilities of their competition from Detroit, but recently there has been a resurgence in the potency of these imported workhorses.What are some of the crucial criteria by which a pickup truck is judged? Horsepower and torque are near the top of the list, especially for those who use their truck as a work vehicle. Torque is the primary requirement for drivers who do heavy duty towing, and the availability of a diesel engine is a huge plus. Paradoxically, the same demographic that has a hankering for V8 engines in their pickups is beginning to take a serious look at fuel economy. For automakers, the answer hasn't been to produce more 6-cylinder options but rather attempt to create fuel efficient versions of their 8-cylinder lineup.Size is also an important consideration, specifically with regards to the amount of cargo space in the truck bed as well as interior room. Four-door pickup trucks have become de-rigueur, and it is unusual to see single cab trucks in the consumer marketplace as anything other than plain Jane work vehicles. Hand in hand with the interior's size are the luxury features offered for drivers. It can sometimes be difficult to have an objective viewpoint when it comes to pickup trucks. Owners are often repeat buyers who return time and again to the same brand, meaning that companies have to fight extra hard to get people to change their minds and try something new. That being said, here are three pickup trucks available on the used market that warrant serious consideration when it comes time to make a purchase.
2004 – 2007 Ford F-150
The Ford F-150 is one of the most popular vehicles in North America, having topped sales charts for almost 20 years. One of the reasons that buyers have come back to the Ford well so often is that the F-150 is a very capable truck which can be configured to fit a wide range of needs. In 2004, the vehicle saw its eleventh re-design, one which increased the beefiness of the exterior along with a deeper cargo bed and a frame that is almost 10 times stiffer than that of the previous model year. Combined with new motor and transmission options, including a 300 horsepower 5.4 liter V8 that also makes 365 lb-ft of torque, the F-150's towing capacity was upgraded to 9,500 lbs. This is in addition to the almost 3,000 lbs. of stuff that can be hauled around in the truck bed itself. A smaller V8 and a V6 are available if fuel mileage is a priority.
The interior of the F-150 has also undergone a serious improvement. A lengthened chassis means more passenger room, and an entirely new instrument panel and center console really dress up the vehicle's cockpit. Ford has made excellent use of higher quality materials that are easily nicer than anything previously installed in this line of trucks. The Lariat trim level matches top of the line Ford sedans when it comes to comfort and luxury.
When it comes to style, design, and capability, it is easy to see why the F-150 has captured such a large piece of the market for such a long time. With a strong reputation for standing up to hard use, the F-150 makes a solid buy on the used market as a truck that is well-suited for almost any task that can be thrown at it.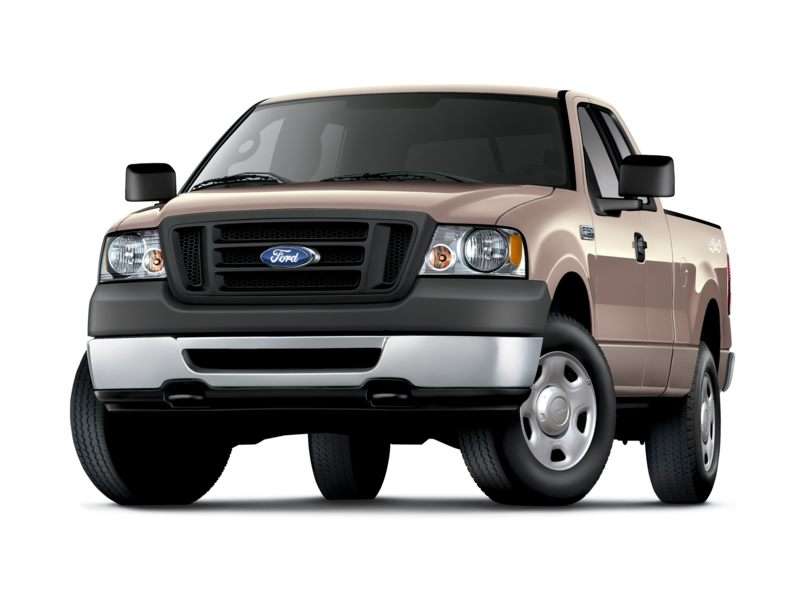 2007 Toyota Tundra
It might be surprising for some to see the Tundra place so high on the list of best used pickup trucks, for it was not that long ago that Toyota was producing full-size trucks that were just a little bit smaller and less capable than the competition. However, for 2007 Toyotareally took the gloves off and released a truck that can go toe-to-toe in terms of power, size and utility with almost any other pickup on the market.
The 2007 Tundra has grown significantly in stature when compared to the version that came before it, and with that growth it has also adopted a much more aggressive exterior appearance. This increased sized comes with a whole different attitude towards capturing the hearts and minds of pickup truck buyers. The new Tundra features an optional 5.7 liter V8 that generates 381 horsepower and 401 lb-ft of torque. Not only that, but technologies like variable-valve timing help the engine achieve fuel mileage numbers that are almost identical to the smaller 4.7 liter, 8-cylinder option – 13 miles per gallon in the city and 17 on the highway. This makes it a very appealing choice to anyone who logs significant time in their truck. Toyota has also broadened the number of choices available to buyers, claiming that up to 31 different combinations of box size, engine choice and cab style can be found on the vehicle's order form.
The 2007 Toyota Tundra stands out from the crowd in terms of exterior appearance and is packed full of useful technologies that not only squeeze every last mile out of a gallon of gas, but also help to give it a towing capacity of 10,000 lbs. The truck commands a premium on the used market, and Toyota quality is second to none, meaning that the Tundra is as easy to service and maintain as a Camry or Corolla. This is one truck which is earning hard looks from legions of dyed-in-the-wool domestic pickup owners.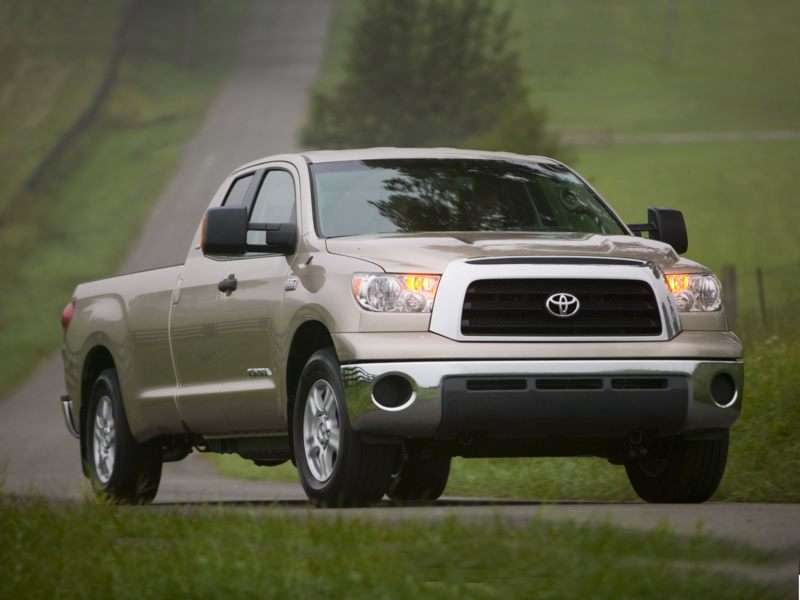 2002-2007 Dodge Ram
The Dodge RAM pickup was a sensation when it was re-designed in 1994 with a much more bulky look. When faced with the need to update the truck in 2002, Dodge decided to not only keep the steroidal exterior but to accent it, increasing the size of the Kenworth-inspired vertical front grille and puffing out the vehicle's fenders. The result was a more rounded Ram that still captured the spirit of its popular predecessor.
The Ram brings a lot to the table when it comes to power and performance. The Hemi 5.7 liter V8 makes 345 horsepower and 375 lb-ft of torque – excellent numbers that are made even more impressive by the fact that for 2006 the engine was upgraded to include cylinder deactivation technology that shuts down 4 cylinders during normal driving in order to conserve fuel. This provides a 20 percent increased in fuel mileage over the older version of the engine, giving drivers 13 miles per gallon in the city and 19 on the highway for the two-wheel drive edition when paired with a 5-speed automatic transmission.
In terms of capacity, the Dodge Ram can tow up to 9,300 lbs and carry 3050 lbs behind the driver in the truck's bed when equipped with the Hemi. A small V8 and a V6 are available, but they reduce towing capacity by about 30 to 40 percent at the low end. The Ram also features an optional full-time all-wheel drive system that is biased towards the rear wheels, giving drivers extra traction when they need it in slippery conditions while still providing a low-range mode for off-road use.
The 2002-2007 Dodge Ram is a strong looker, a strong performer, and a strong choice in the used pickup truck field. In addition to the upgraded Hemi engine, 2006 Rams also received revised headlights, minor interior upgrades and the option of a larger cab, making that model year the best buy of this generation of trucks.