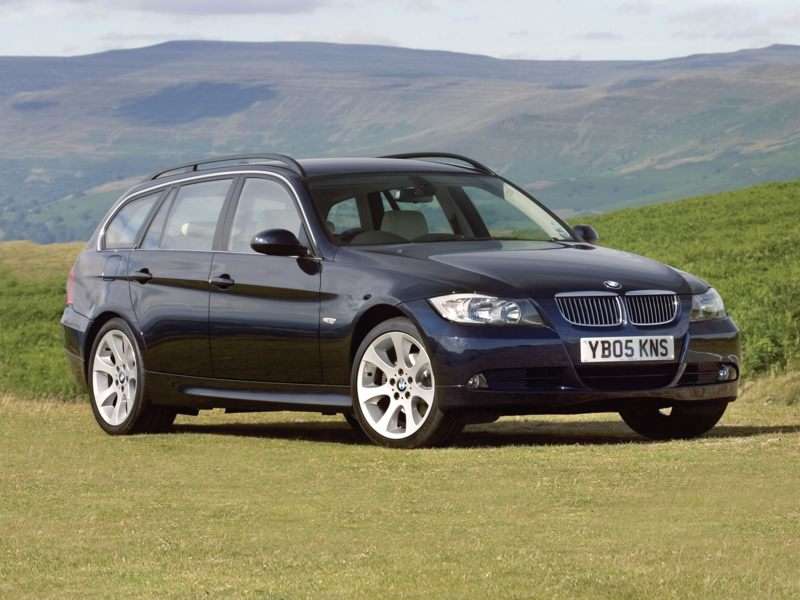 bmw 328 wagon
For many North American drivers raised on a steady stream of full-size automobiles dating back to the 1960's, station wagons represent the very opposite of sporty driving. While some have fond memories of big block wagons with high torque and great horsepower tearing up and down the street races of their youth, most people still tie wagons in with their memories of interminable family vacations involving long drives, fighting siblings and bumpy bench seats. Once minivans came along in the middle of the 1980's, a death knell was sounded for domestic wagons that would eventually see them be almost completely replaced by smaller, compact vehicles by the turn of the millennium.
Thankfully, the memo regarding the great wagon die-off never quite made it across the Atlantic, where European manufacturers continued to produce wagons as part of their general vehicle lineup. As opposed to the United States, where vans and trucks were the people movers of choice, European families associated no stigma with the use of a wagon instead of sedan as a daily driver. In fact, these vehicles were often available with exactly the same engine options and performance gear offered by their four-door stable mates, making them even more attractive by combining practicality and spirited driving. The overall smaller size of most European automobiles also helped to keep wagon dimensions from ballooning up to the land yacht sizes of their American cousins.
BMW was no stranger to wagon production, having built a very popular family version of its 3 Series sedan. However, given that the company's reputation in the United States was based almost entirely around a luxury and sporting image, they were reluctant to import any of these vehicles for fear of diluting their brand. The success of both Audi and the increasingly up-market Volvo wagons amongst affluent customers was enough to convince BMW in the 1990's that the next generation of 3 Series that made it to American shores should also include their wagon variant. This would also hold true for the larger 5 Series mid-size, which would eventually count itself amongst the largest wagons available in North America.
When a buyer is looking at both BMW's as possible used wagon options, it helps to identify the traits and characteristics that are most important in terms of making a purchase decision. The 3 Series wagon offers a sportier driving feel combined with a range of 6-cylinder engines, while the 5 Series is more oriented towards grand touring and offers the option of a V-8. This article examines both vehicles in order to help make the choice as clear as possible.
With a gracefully sloping rear roof, the 2001 - 2005 BMW 3 Series wagon is a rather attractively styled edition of the multi-purpose E46 platform. While the wagon abandons some of the sporty appearance of the coupe, it maintains the same generally pleasant look of the sedan, adding a simple hatchback that blends in well with the overall sheet metal.
For the first few years of its production, the BMW 3 Series wagon was restricted to a single power plant, a 2.5-liter straight 6 that was capable of generating 184 horsepower and 175 lb-ft of torque. This was eventually upgraded to a 3.0-liter version of the same motor in 2006, increasing power to 215 horses but leaving torque almost the same. Either motor is matched with a 5-speed manual or automatic transmission, with the option of all-wheel drive. The 3 Series wagon is somewhat heavier than the standard sedan or coupe, giving up a little in terms of acceleration, but it still provides the same fun suspension setup found across the entire platform, making it a pleasure to drive even when pushed to the limits.
The 2001 - 2005 BMW 3 Series wagon has a much more practical dimension to it than the sedan when it comes to hauling. The enclosed cargo area is 2.5 times larger than the trunk of a regular 3 Series, and with the seats folded down that space explodes to an enormous 60 cubic feet, rivaling some compact SUV's. Of course, there are few SUV's which can offer the comfort and features of the 3 Series wagon, which include niceties such as a standard leather-wrapped steering wheel, automatic climate control and leather seats.
In terms of compact wagons, the BMW makes a good alternative the Audi A4, offering the option of rear-wheel drive for those who are not interested in a front puller. The great cargo space and attractive styling make the 2001 - 2005 BMW 3 Series wagon a hit on the secondhand car market.
For bigger families or those who crave the extra space afforded by a mid-size vehicle, the 1999 - 2003 BMW 5 Series wagon is an inspired choice. An uncommon vehicle, the 5 Series wagon offers a more mature styling take on the familiar BMW kidney grille and muscular flanks. The 5 Series is not an anonymous wagon but one which stands out through the strength of its design, rather than as a result of attention grabbing body work or aerodynamic add-ons.
The flagship 5 Series wagon features a wonderful 4.4-liter V-8 engine that uses 4 valves per cylinder to produce just over 280 horsepower along with more than 300 lb-ft of torque. In wagon form this engine is available exclusively with a 5-speed automatic transmission. For those who are more interested in handling their own gearshifts, a 5-speed manual transmission is available with one of two 6-cylinder engine options: a 190 horsepower 2.5-liter found in early vehicles or a similar, slightly less powerful version of the same motor that was featured towards the end of production.
Inside, the interior room offered by the 5 Series wagon is spectacular. With cargo space that rivals that of the much larger BMW X5, the 1999 - 2003 BMW 5 Series is truly an SUV replacement for anyone who doesn't need the ride height or big bodied styling. Not only is the 5 Series big on the inside, but it provides some of the most exciting handling to be found in a large automobile. When coupled with the 4.4-liter engine, the wagon could be said to be a veritable autobahn rocket, capable of accelerating a family and all of their luggage and camping gear to triple-digit speeds with ease. All versions of the wagon are very tastefully equipped with the latest in comfort and luxury features, making the 5 Series a better choice than the 3 for those who need to be coddled by their car.
The 1999 - 2003 BMW 5 Series wagon is not only one of the best used wagons available, it is also one of the best family haulers ever built, and there are not many vehicles which can challenge its combination of practical space and blistering performance.