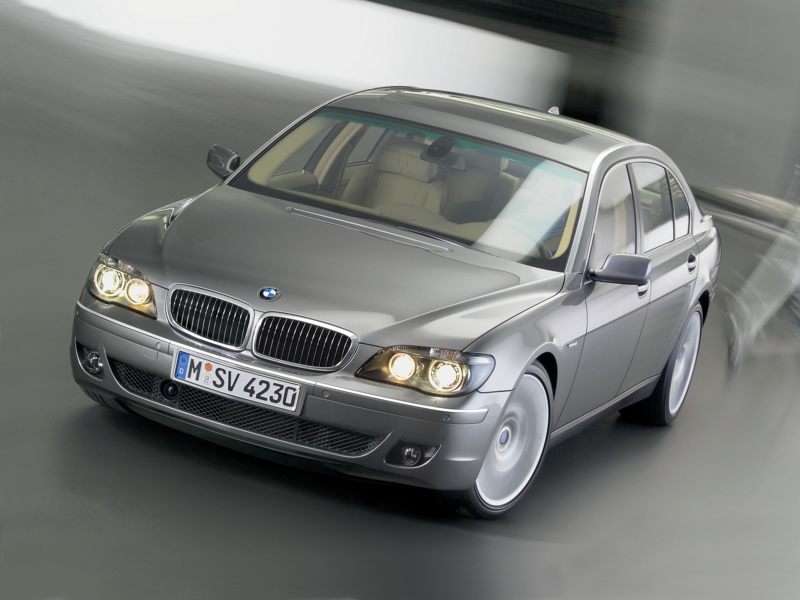 bmw 750
More so than any other part of the vehicle lineup, BMW has built their reputation on their sedans. By creating an image of vehicles that are as sporty as they are practical, the company has been able to convince buyers that their four-door sedans are at least as exciting to drive as the coupes and sports cars offered by other brands. Some would argue that the successful, relentless marketing of the phrase 'the ultimate driving machine' has helped BMW build their mythology, but the fact of the matter is that during the automotive dark age that was the 1980s, BMW managed to import sedans that stood out against the crop of bland, slow and uninspired vehicles that were being churned out by Detroit.
At first, BMW four-doors weren't taken all that seriously, but as time wore on they became not only symbols of yuppie success but also proof of concept that cars didn't have to sport huge V8 engines or sensuous curves to be exciting. The BMW 3 and 5 Series were box-shaped and upright but their clean lines defined a new style all to themselves, and in combination with a range of peppy, fuel-saving 4 and 6-cylinder engines it wasn't long before the company had found an eager contingent of German car fans eager to spread the word about the company's products.
By the time the 1990s rolled around, BMW had established a firm bulkhead in North America as not only the purveyors of fine sport sedans but also the producers of high end luxury vehicles. The full-size 7 Series had matured into a genuine long-wheel base competitor that offered more features than any vehicle available from Cadillac or Lincoln. This was combined with a much more balanced chassis and an engine lineup that would run circles around the somewhat plodding domestic sedans. In only a few short years, BMW would become the standard against which all other sport sedans were judged, performance icons that would stand up to repeated assaults from a wide range of challengers.
When deciding whether to buy a used sedan or not, it is often a good idea to compare any potential candidate against the very best that there is on the market. If performance or comfort are an important part of the purchase equation, the test driving a BMW is an excellent place to start the search. This article examines each of the company's three different used sedans, the 3, 5 and 7 Series, and helps buyers decide whether they are looking for an entry-level sports sedan, a mid-size luxury vehicle or a full-size cruiser.
When BMW decided to take their entry-level compact sedan and make it that much larger, quicker and more comfortable, critics around the world were quick to laud the effort with praise. The 1999 - 2005 BMW 3 Series raised the bar for competitors in the luxury field, keeping BMW ahead of automakers like Lexus and Infiniti and providing buyers with a hard to beat option when it came to combining performance and style.
This new generation of BMW 3 Series was outfitted with a surprising number of engines over its 6 year run. For the first two years of production, base vehicles were outfitted with a 2.5-liter inline six that was capable of 170 horsepower and 181 lb-ft of torque. Upper trim models received a more capable 2.8-liter engine that churned out 190 horsepower and just over 200 lb-ft. In 2001, both of these engines were upgraded, with the 2.5 now making an additional 14 horses and the 2.8 replaced by a 225 horsepower 3.0-liter unit. Each engine could be outfitted with either a 5-speed manual or 5-speed automatic transmission, and there was also the option of all-wheel drive. When equipped with the larger engine the 1999 - 2005 BMW 3 Series was a solid performer, more than living up to the sporty promise of its blue and white badge.
The small sedan's interior is less busy that earlier designs, and makes better use of gentle curves and soft surfaces to help bring a touch of grace and class to the passenger compartment. Supple leather is available for the seats and the steering wheel, as is a special Alcantara trim package that beautifies the vehicle's trim. Automatic climate control, cruise control and a CD player help pamper 3 Series drivers, and rear seat leg and shoulder room are very good.
When it comes to combining healthy amounts of horsepower with an upscale interior and options list, the 1999 - 2005 BMW 3 Series reigns from the top of the used luxury compact sedan market.
The 1999 - 2003 BMW 5 Series was a breakthrough design for the German car company. While it had always offered substantial performance and value in its mid-size sedans, this edition of the 5 Series was the one which truly entered the public consciousness as the most desirable family car available. Whether it was affluent executives attracted by the styling and comfort that the larger vehicle represented or performance enthusiasts charmed by the vehicle's optional V-8 and manual transmission combo, the 5 Series would made it obvious to everyone that BMW had finally arrived in the consciousness of the American car-buying public.
Like the 3 Series, there are two distinct engine ranges offered by the 1999 - 2003 BMW 5 Series, depending upon which year is being scouted. In 1999, the base model received a 190 horsepower 2.8-liter straight six, while the upper trim benefited from a 4.4-liter V-8 that produced over 280 horsepower and around 300 lb-ft of torque. Both could be had with a 5-speed automatic, while the V-8 received a 6-speed manual transmission option as opposed to the lesser motor's 5-gear unit. In 2001 the 2.8-liter would be dropped in favor of two other 6-cylinder engines, a 184 horsepower 2.5-liter and a 225 horsepower 3.0-liter. The V-8 continued on as the most exclusive, fastest, and most desirable engine in the 5 Series stable.
The 1999 - 2003 BMW 5 Series has been so well received that automotive critics have almost run out of superlatives to describe its driving dynamics. A similar situation exists with regards to the vehicle's interior. Heated leather seats, beautiful wood trim and luxury features such as a radio with speed sensitive volume control and integrated hands free telephone help to make drivers feel as though the premium paid over the 3 Series is well worth it. Space is much more generous than in the small sedan and front seats features 10-way power adjustment.
The 1999 - 2003 BMW 5 Series, especially in V-8 form, is one the best executed used sedans to be found on the secondhand market.
BMW's full-size luxury sedan has been competing against the Mercedes-Benz S-Class and Audi A8 for many years, and has managed to carve out its own niche when faced with these two tough opponents. By maintaining a dose of the same sporty driving feel as can be found in smaller BMW four-doors, combined with a decadent amount of luxury features, the BMW 7 Series has proven to have lasting charm amongst automotive connoisseurs with deep pockets.
There are four trim levels available for the 1999 - 2001 7 Series. The 740i is outfitted with the same 282 horsepower V-8 found in the 5 Series. This model is also available as an extended-wheelbase car called the 740iL. The much rarer 750i and 750iL makes use of a 5.4-liter 12-cylinder engine which features 326 horsepower and 361 lb-ft of torque. Both of these motors are matched with 5-speed automatic transmissions. The primary difference between the two engines is smoothness - while the V-12 may not be blisteringly faster than the V-8, it does provided effortless, almost endless highway acceleration. The short-wheelbase versions of the 7 Series drive like a much smaller vehicle, giving pilots enough confidence to tackle each successive corner a little bit faster than the previous one.
The 1999 - 2001 BMW 7 Series is loaded with gadgets, technology and comfort options. Heated front power seats, voice activated cell phone integration, one touch up and down windows at all four corners and an elaborate trip computer and vehicle information center are all situated in a passenger compartment that is incredibly spacious, comfortable and well-appointed. A 14-speaker sound system combined with a 6-CD changer located in the trunk to provide all occupants with hours of beautifully reproduced music that should drastically shorten the perceived time of any extended road trip.
As full-size luxury car, the 1999 - 2001 BMW 7 Series is a worthy combatant in the battle for used German sedan supremacy.