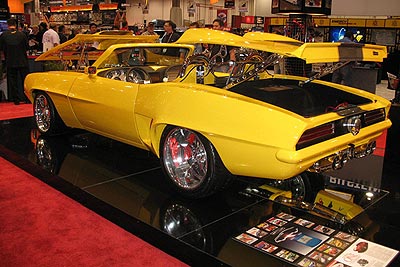 Best of SEMA, 2006 – Photo Gallery: What in the world is SEMA, anyway? For the unaware, this annual Las Vegas pilgrimage for car enthusiasts it's complicated. Give your imagination a palette of sound, color, metal and rubber, see what you come up with, hire a model and put it under spot lights. That's SEMA, multiplied by thousands of people with their own palettes and their own vision of what makes a cool car, well, cool.
How we did it
For forty years it's been pretty much the same: a flea market and a party, a town hall meeting for car guys all around the world. This year seemed especially vibrant with the excellent work of customizers and restorers, so we've put together a list of some of our favorites. From the Radster to a baby blue 'Slade, the Freakshow and the OCC Silverado, it's SEMA, baby, and it's the craziest kind of chaos a car guy can ever hope to have.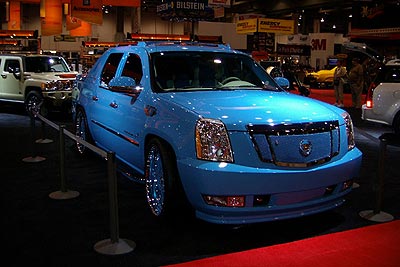 Classic Reflections Coachworks 62R
Good news: you can get your own Classic Reflections C5 Corvette Roadster, just like the one in the picture. Classic Reflections Coachworks is a conversion company – you bring in your 'Vette, and they make it look like this, as long as the check clears. Unique features include side marker lights, cold air induction, engine compartment venting, ducted disc brake cooling, LED back-up lights, a third tail light and optional HID headlights.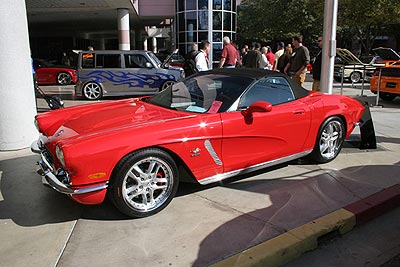 The Dreamsicle
Based on a 1937 Ford Roadster, the Dreamsicle is, indeed, dreamy like a creamsicle – but with more power, thanks to a GM ZZ4 crate engine.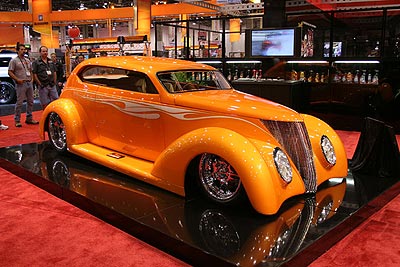 Dale Earnhardt's 'Big Red' Silverado
It doesn't stop at 37-inch wheels, blown-out fenders and a deep and wonderful red paint job. Dale's Big Red Silverado also has a train horn and, as an added bonus, there's an "8" on the rear diff. Yeah. Just so you know whose dust you're eating. And check this out: Dale's name is lightly embossed on the outside. Man, it must be good to be the King. Or the Junior, in this case.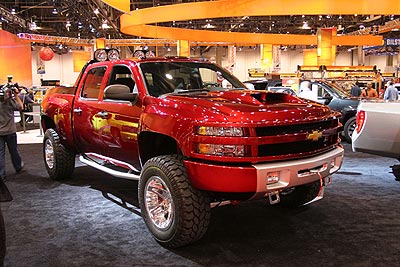 M67 Mustang
Gray top, blue racing stripes, it's all a Mustang oughta be. Powered by twin turbos and a 281 cubic-inch Quad-cam engine, rated at a jaw-dropping 839 horsepower and 622 lb.-ft. of torque.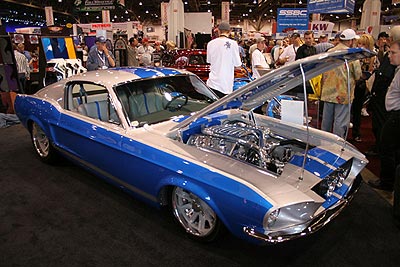 Evolve Volvo C30
Formula One meets Volvo, which means the Evolve will be really safe and very fast. Think of it as a 507 horsepower beast torquing up at 468 lb.-ft. of torque, thanks to twin turbos and a six-speed manual transmission. Note the fenders in back: they've been pushed out six inches in order to accommodate the exhaust.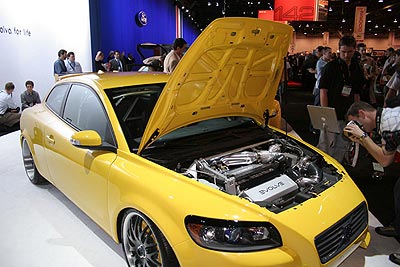 The Radster
Known as the Iowa Radster, it looks like a movie star car. It's glam, bubba, so much so that one would be afraid to dirty its tires with asphalt. As beautiful as it is, rods are supposed to have at least a little grit, right? Based on a 1935 Ford Roadster, this is a museum piece that pulls 550 horsepower connected to a six-speed manual transmission. That's more than enough to blow the doors clean off that museum.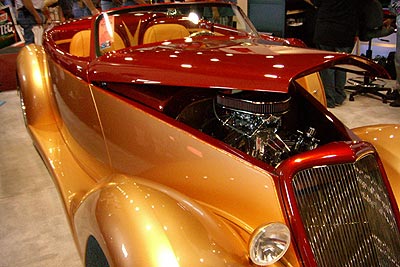 Chip Foose's Hemisfear
The father of the Prowler is at it again, this time with the Hemisfear – a coupe version of the Prowler. Beautifully bad to the bone, the Hemisfear is powered by a 392 cubic-inch Hemi good for 540 horsepower. Total curb weight is around 2,300 lbs. Is that fast enough for ya?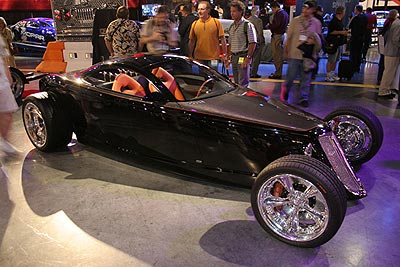 Radurra Clear Wheels
Made by D'Vinci Forgiato Radurra, these wheels are made out of thick polycarbonate. Heck – if you've got it, flaunt it, as long as you can afford the $2,000 price tag. Available in 20, 22 and 24-inch size.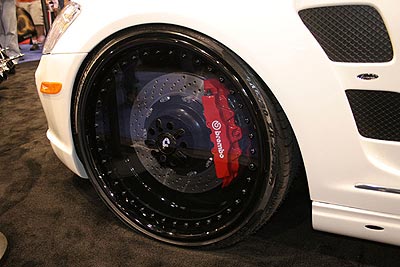 SSC Ultimate Aero TT
SEMA isn't just about looking good, it's also about going fast – real fast – and the SSC Ultimate Aero gets to 60 mph in just 2.78 seconds, thanks to a twin turbo 1180-horsepower V8 engine. It also generates 961 lb.-ft. of torque. Seen on the cover of the DuPont Registry, the Ultimate Aero TT will be at the record top-speed competition in Wolfsburg, Germany in May 2007.