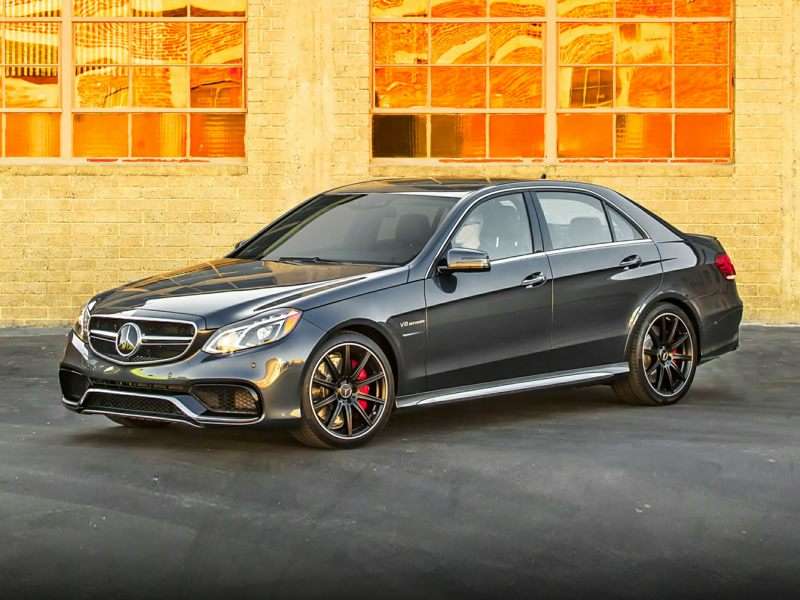 When it comes to finding today's best midsize sports cars, we'll start with a perhaps unexpected source: the EPA. Better known for its fuel-economy ratings, the U.S. Environmental Protection Agency also has vehicle-size guidelines that it uses to provide information to consumers. And according to those criteria, a midsize car is one that serves up a combined passenger and cargo volume (including trunk space) of between 110 and 119 cubic feet; to put that into context, a traditional sports car like the 2016 Chevrolet Corvette offers 67 cubic feet of interior volume. Of course, the Corvette is a two-person coupe, while the entries here, to earn that "midsize" moniker, all supply two rows of seating. That means they don't carry quite the same sports-car credibility as the Corvette and its ilk, but rest assured, these are all serious high performers that no one will mistake for a mere mainstream midsize sedan.
Mercedes-AMG E63 S
With an EPA-certified 111 cubic feet of interior volume, the 2016 Mercedes-AMG E63 S barely edges onto our list of best midsize sports cars if you focus on size, but enthusiasts should have no issue with its athleticism. After all, it can sprint from 0-60 in a mere 3.5 seconds, thanks to a hand-built 5.5-liter bi-turbo V8 that cranks out 577 hp and 590 lb.-ft. of torque. Yet the E63's engine is only one part of a full AMG performance package that also is highlighted by an adaptive sport suspension, an AMG-tuned 4Matic all-wheel-drive setup, adaptive braking, and AMG's seven-speed "SPEEDSHIFT" transmission with multi-clutch technology. Needless to say, drivers can further enjoy much in the way of Mercedes luxury, leveraging the likes of heated and ventilated 14-way adjustable front seats, COMAND navigation, Bang & Olufsen audio, LED lighting and an extensive array of safety measures.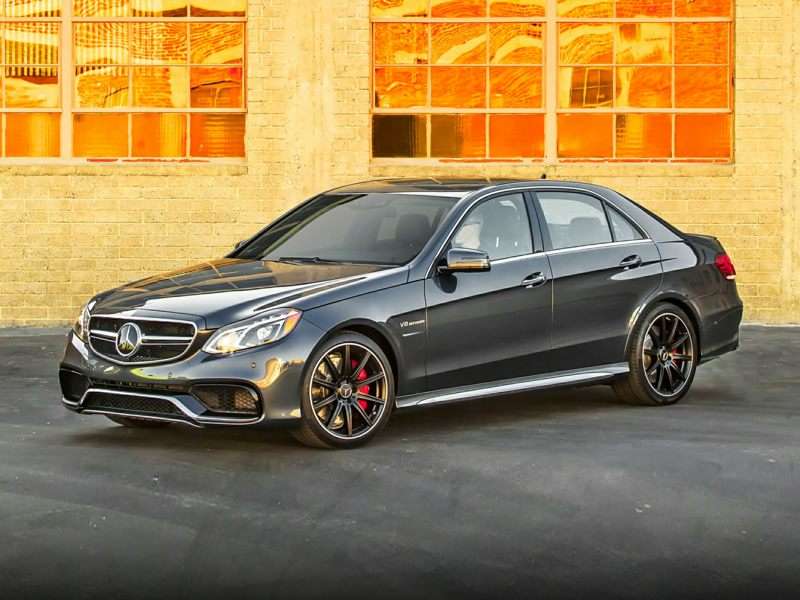 BMW M5
Although it's nearly four inches shorter in length than the four-door M6 Gran Coupe, the 2016 BMW M5 sedan manages to squeeze in an extra 7 cubic feet of combined cargo and passenger volume, for a total of 116. Meanwhile, the M5's 4.4-liter twin-turbo V8 squeezes out 560 hp and 500 lb.-ft. of torque, which drivers can then use for 0-60 times as low as 4.2 seconds.  The M division additionally empowers owners with a full slate of transmission, suspension and braking upgrades, highlighted by an available 7-speed double-clutch automatic transmission and exclusive Dynamic Damper Control technology. The result, clearly, is one of the best midsize sports cars in the country, and it gets a little better for 2016, too: The new model year brings more revised packaging and more standard content, from a power trunk-lid to enhanced USB and Bluetooth functionality, now with voice control for managing music and phone contacts.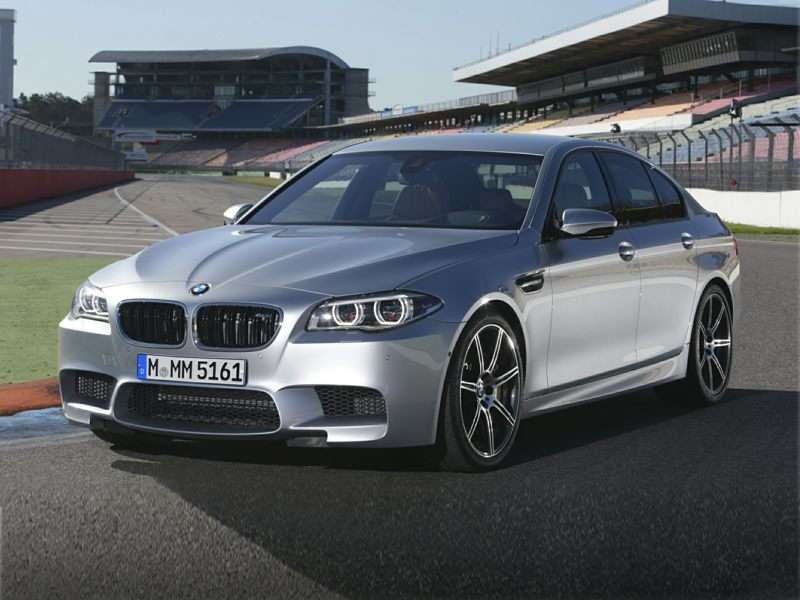 Photo by BMW
Nissan Maxima
The 2016 Nissan Maxima is positioned as the brand's "4-Door Sports Car," so we're not going to argue with that claim. In fact, we'll extend it, by also considering the Maxima as one of the nation's best midsize sport sedans. The tale of the tape here: 98 cubic feet of passenger space, 14 cubic feet of luggage volume, 300 hp and 261 lb.-ft. of torque, with that output coming from a 3.5-liter V6. Nissan further improves driving dynamics with a beefed-up suspension, backed by ZF Sachs dampers and robust stabilizer bars, and the upper-range Maxima SR also adds a Performance Chassis Damper and its own, specifically tuned suspension components. Even the car's continuously variable transmission has been enhanced for performance, with Nissan noting that, because of "its lack of fixed ratios, [the CVT] affords the specific advantage of always being in the right gear at the right time."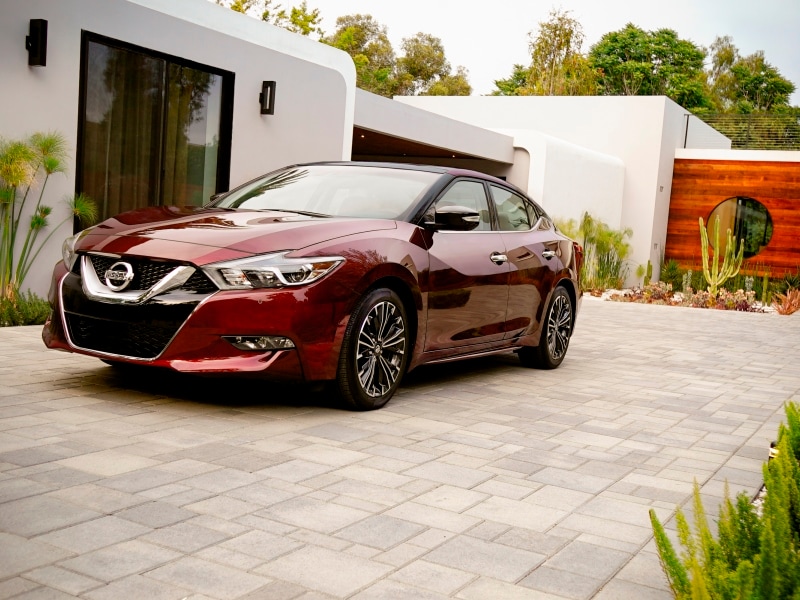 Cadillac CTS-V
The 2016 Cadillac CTS-V will deliver "true track capability" to go with its blistering power, relying on features like a hi-po Brembo braking package, third-generation Magnetic Ride Control, and a supercharged 6.2-liter V8 to help get the job done. Indeed, with that engine able to furnish 640 hp and 630 lb.-ft. of torque, the CTS-V can sprint from a standing start to a mile a minute in 3.7 seconds, and it can keep right on running until it reaches a top speed of 200 mph. That kind of performance—and 110 cubic feet of interior volume—make the CTS-V a lock as one of the best midsize sports cars currently available. It looks the part, too: A carbon-fiber hood is standard and can be complemented by aero-enhancing carbon-fiber pieces including a front splitter, hood vent, rear spoiler and rear diffuser.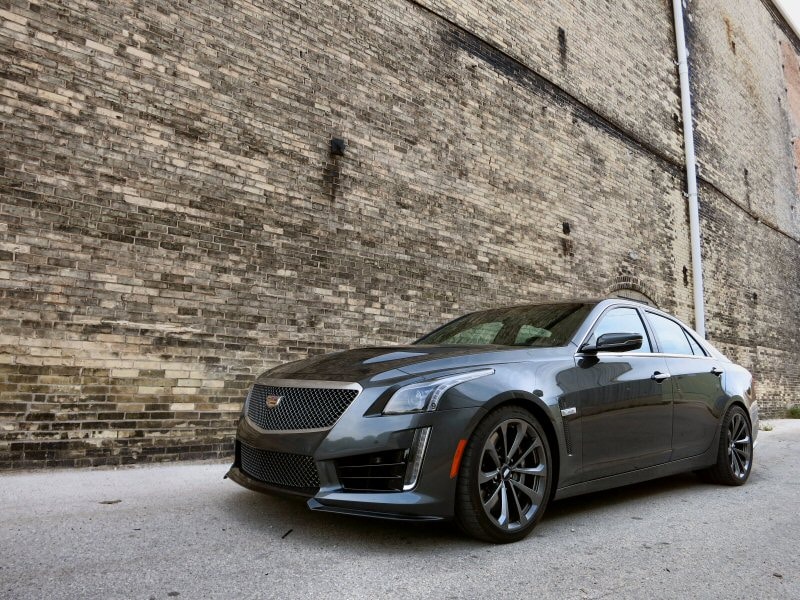 Photo by Benjamin Hunting
Dodge Challenger
At first glance, the 2016 Dodge Challenger may seem like it doesn't quite fit in with the rest of the top midsize sports cars, and in some ways, it doesn't: The Challenger is noticeably bigger than most of the other choices here, with an outside length that stretches 197.7 inches—that's almost six inches longer than a Ford Fusion. Yet the Challenger's two-door body style limits interior volume to 110 cubic feet, and that barely makes the grade for midsize volume. The dynamic Dodge earns top marks for power, though, courtesy of the incredible Hellcat edition that can unleash 707 hp and 650 lb.-ft. of torque. It's also worth noting that the Challenger recently won its segment in both the J.D. Power 2015 Initial Quality Study and in Power's Automotive Performance, Execution and Layout (APEAL) Study, and the car led its class in the AutoPacific Vehicle Satisfaction Awards as well.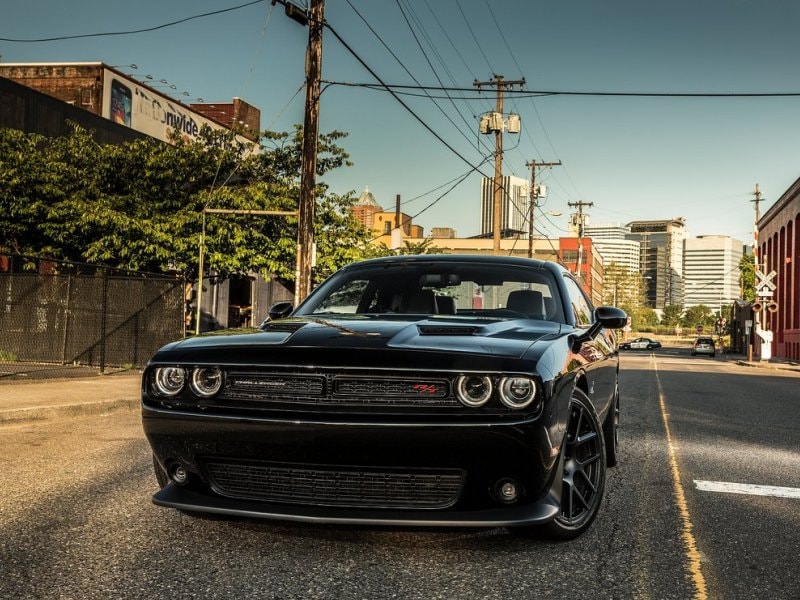 Jeep Grand Cherokee SRT
The 2015 Jeep Grand Cherokee SRT is a midsize SUV that thinks it's one of the world's best midsize sports cars, and unsurprisingly enough, so do many of its drivers. Which makes sense once you get a look at its specs: Bolstered by a 6.4-liter HEMI V8—that can belt out 475 hp and 470 lb.-ft. of torque—the Grand Cherokee covers the quarter mile in the mid 13-second range, rolls from 0-60 mph in 4.8 seconds and tops out at 160 mph. It also features hi-po hallmarks like standard launch control, a dedicated "track" mode and Brembo brakes for superior stopping power. As a mark of the latter, the Grand Cherokee SRT also showcases a 60-0 stopping distance of 116 feet. But beyond that, as a mark of its all-around capability, it can do the 0-100-0 exercise in 16.3 seconds, then tow up to 7,200 lbs.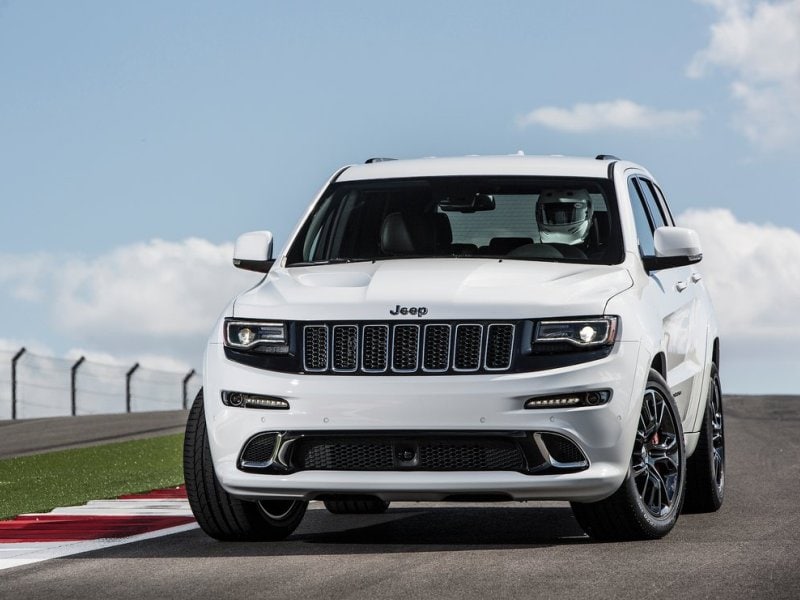 Ferrari FF
Performance-wise, the FF is all Ferrari, packing a 6.2-liter V12 engine that produces 651 prancing horsepower, 503 lb.-ft. of torque and a top speed of 208 mph—a mark that makes the car one of the fastest four-seaters ever to pound the pavement. And on its way to said terminal velocity, the 2015 Ferrari FF reaches 60 mph in fewer than 3.7 seconds, and it's approaching 125 mph just more than 7 seconds after that. Moreover, FF fanatics benefit from a brand-new Ferrari-patented four-wheel-drive system engineered specifically for this application. But for our purposes, the big difference-maker is the FF's design, since it incorporates a very versatile hatchback that enables 20 cubic feet of cargo space, 112 cubic feet of total interior volume and certain inclusion on the list of enthusiasts' favorite midsize sports cars.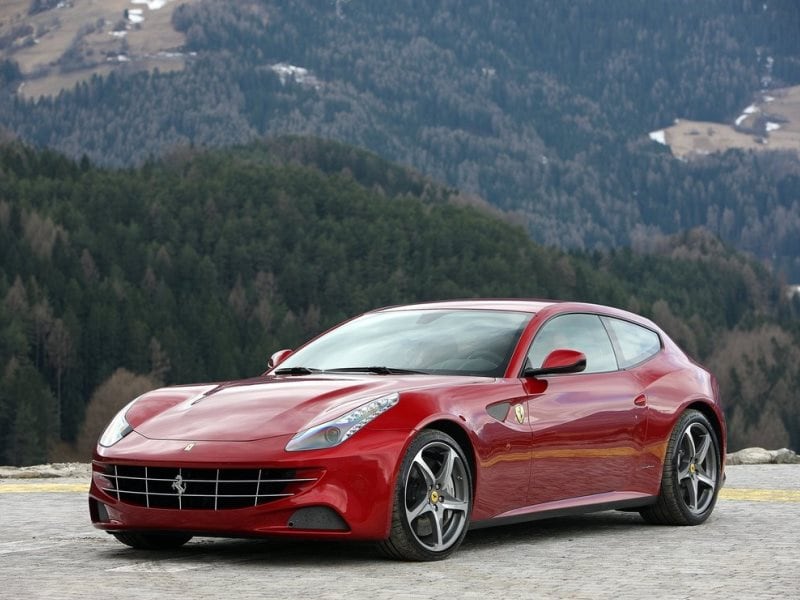 Audi RS 7
The 2016 Audi RS 7 is a high-end sleeper among the best midsize sports cars, but don't be lulled into complacency by its luxurious features and sleek styling. The current RS 7 also happens to be the most powerful hi-po "RS" model ever sold in this country by the four-rings brand, with an electronically limited top speed of 174 mph and enough thrust to race from 0-60 mph in 3.7 seconds. Getting down to the details, the RS7 relies on a 4.0-liter turbocharged V8 that can vent some 560 hp and 516 lb.-ft. of torque, while further taking advantage of Audi's exclusive "quattro" all-wheel-drive technology for truly gripping performance. That being said, the RS 7 does combine its premium performance with equally premium amenities, including new-for-2016 upgrades such as next-gen MMI infotainment technology with 4G LTE mobile wi-fi capability.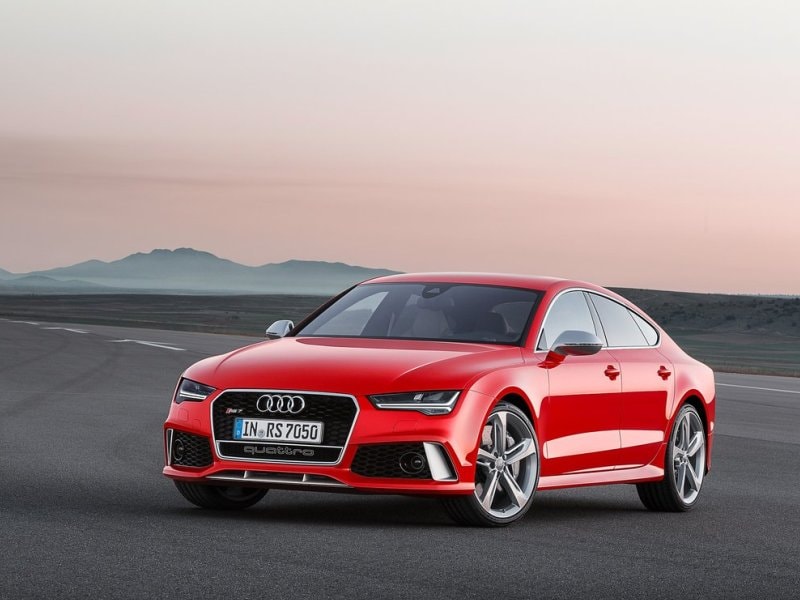 Photo by Audi
Porsche Cayenne Turbo S
Well, if the Grand Cherokee SRT can earn votes as one of today's top midsize sports cars, so can the 2015 Porsche Cayenne. Neither, obviously, is anyone's idea of a "car," but they do boast impressive performance resumes, led by the Cayenne Turbo S. That midsize crossover/SUV makes a healthy 570 hp and 590 lb.-ft. of torque from its turbocharged 4.8-liter V8 engine, then routes that output through a Tiptronic S eight-speed automatic transmission, and a Porsche Traction Management all-wheel-drive system, to enable a top track speed of 176 mph; meanwhile, moving the Cayenne Turbo S from 0-60 requires just 3.8 seconds. The Cayenne isn't lacking for luxuries, either, as prospective Porsche customers can choose from standard and available amenities like 18-way power-adjustable adaptive sport seats, heated front- and second-row seating, 14-speaker Bose audio, the Porsche Communication Management infotainment bundle, LED headlights and the proverbial much, much more.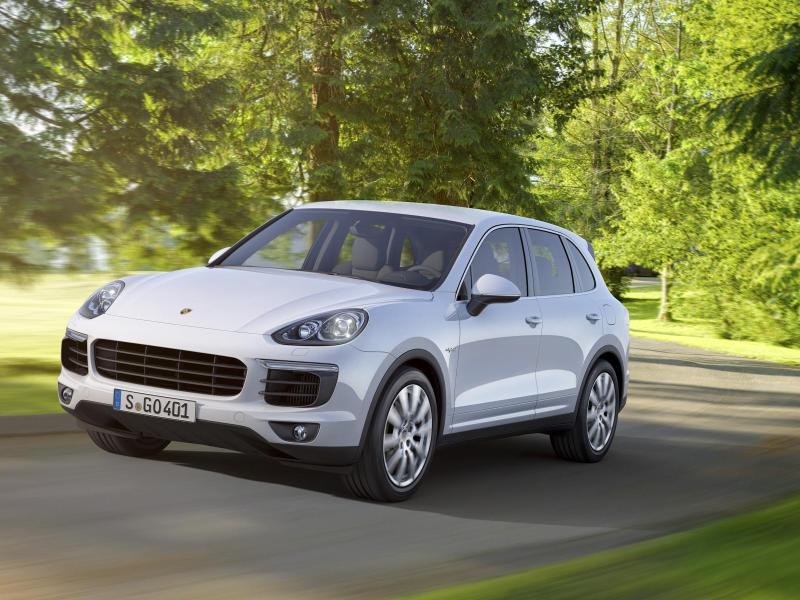 Photo by Newspress USA
2016 Buick Regal GS
The 2016 Buick Regal GS is the final choice for our best midsize sports car, but its selection is no mere afterthought. Remember, this bodacious Buick was created specifically for performance-oriented purchasers, so it supplies a six-speed manual transmission, a dedicated hi-po driving mode, a sophisticated suspension with the brand's HiPer Strut technology, computer-controlled damping, and a power-dense turbocharged engine. That unit can extricate 259 hp and 295 lb.-ft. of torque from 2.0 liters of displacement and can be complemented by a Haldex all-wheel-drive system to enhance the car's hot handling even further. (Note: An automatic transmission, with paddle shifters, also is available for drivers who don't care for DIY shifting.) Lastly, the Regal GS is among the many GM vehicles now offering a standard wi-fi hotspot and 4G LTE connectivity, providing an important product differentiator for tech-savvy shoppers.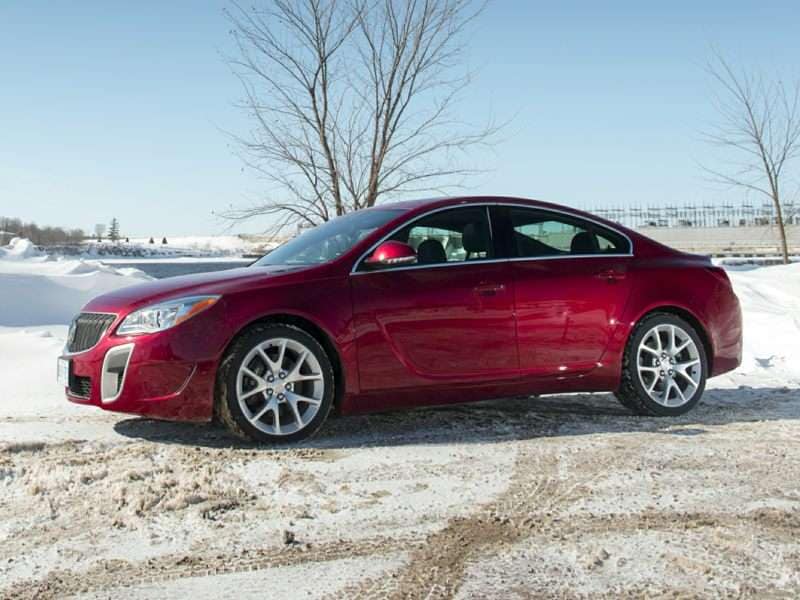 Photo by Buick