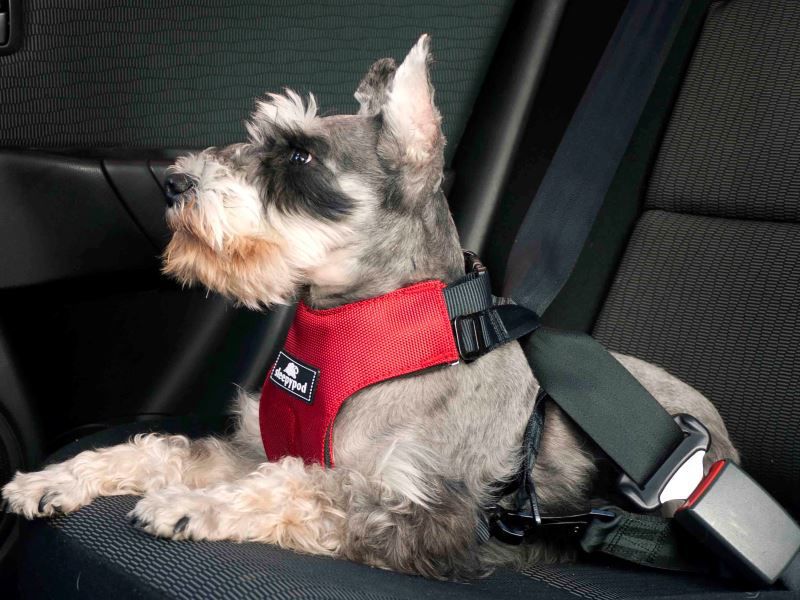 sleepypodutilityactionsized
The family pet is a beloved member of the household. We buy them special outfits, provide them with a healty diet, clean up their messes, and take them everywhere we go.  Why then, do we not care enough to adequately restrain our beloved family members in the car? We strap our children into car seats, but leave our dog free to roam the cabin, slober on the console, and stick its head out of the window.
So, what are the best products available for traveling safely with our canine kids? Surprisingly, there are only two harnesses on the market that have been crash tested and approved by the animal watchdog group, Center for Pet Safety - the Sleepypod Clickit Utility and the Sleepypod Clickit Sport. We met up with some dog rescue organizations with some dog-friendly cars from Subaru and Kia - both known for making cars that are easy for dogs to get in and out of - and tested out the sleepy pod products for ourselves. 
According to Lindsey Wolko, founder of CPS, most restraints sold in major pet stores will not keep pets safe in a crash. In fact, 25 of 29 restraints that CPS tested failed the crash test study.
Beyond Sleepypod's high safety standards, these products include many features that actually simplify the experience of traveling with your dog in the car. 
Collin, who is posing in front of the new 2016 Kia Sedona, is an 11-month-old mixed lab in need of a home. For his adoption information, visit Labradors and Friends Dog Rescue.
Thanks go out to Labradors and Friends Dog Rescue and the German Shepherd Rescue of Orange County for bringing us these wonderful fashion models.
Clickit Sport: Lighter and easier to install.
The Sleepypod Clickit Sport improves on the normal harness in a number of ways. The unique looping design (as you will see later) makes it easy to buckle your dog into the car. An impressive amount of engineering went into the design of this product to properly distribute the forces that occur in a traffic accident. Since it comes in a variety of sizes, the Clickit Sport is comfortable and can be adjusted to fit nearly any dog, no matter the size or shape. And this 2016 Kia Sedona, with ample and accessible seat belts in its second row, makes it easy to attach the Sleepypod Clickit Sport without a struggle.
Kobe is a 5-year-old mixed lab awaiting a home. He is waiting for someone to adopt him at Labradors and Friends Dog Rescue.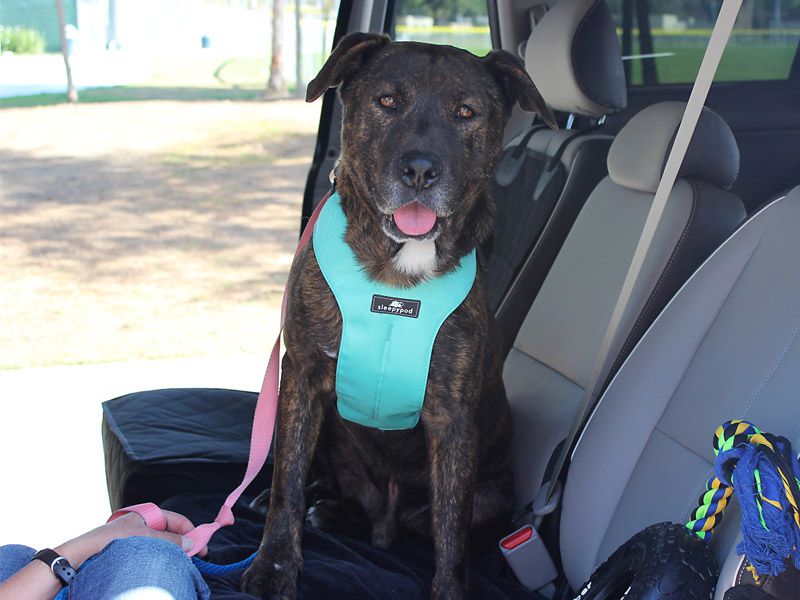 Photo by TJ Keon
Clickit Utility: Extra safety with LATCH compatibility.
What really separates the Sleepypod Clickit Utility from the Clickit Sport is the added LATCH attachments that come with the Utility. LATCH is an acronym which stands for Lower Anchors and Tethers for Children. These are anchor points that all car manufactures are mandated to have on new vehicle sold here in the U.S. These tether points add an extra layer of safety to the dog car harness. Totally comfy in the back seat of a Mazda CX-5, Scotty is ready to safely go for long ride.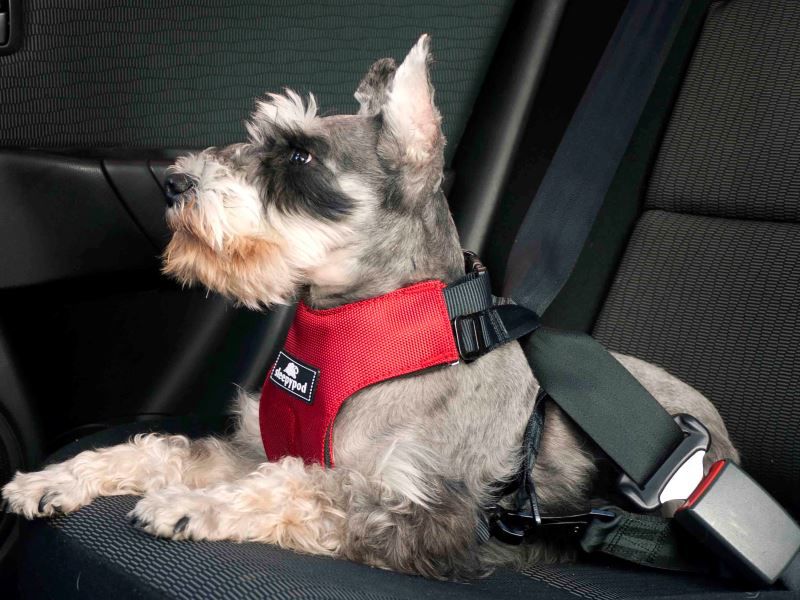 Heavy Duty
As we tested the strength of our Sleepypod in front of the Kia Sorento, a dog-friendly crossover, the first thing we noticed was the weight. This product is built to withstand the forces generated in a car accident and the product's high quality and attention to detail is easily seen. 
A 2016 Kia Sorento with projector headlights is shown in the background of the Sleepypod Clickit Sport.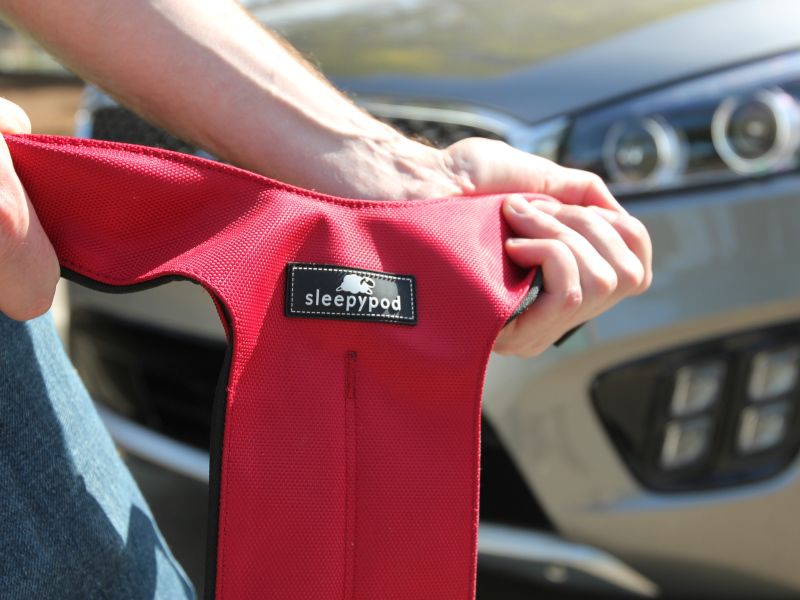 Photo by TJ Keon
All Sleepypod harnesses are easy to install.
Dom quietly tolerated the harnessing process as we buckled him into the 2016 Kia Sorento with no fuss. We noticed that the Sleepypod installs like any other harness that you slip through a dog's front legs, then buckle at the neck and back. Securing the harness with the seat belt is as easy as slipping the belt through two loops on the back of the harness and buckling it in. 
Dom is a 1-year-old American Staffordshire terrier mix waiting to be adopted at Labradors and Friends Dog Rescue.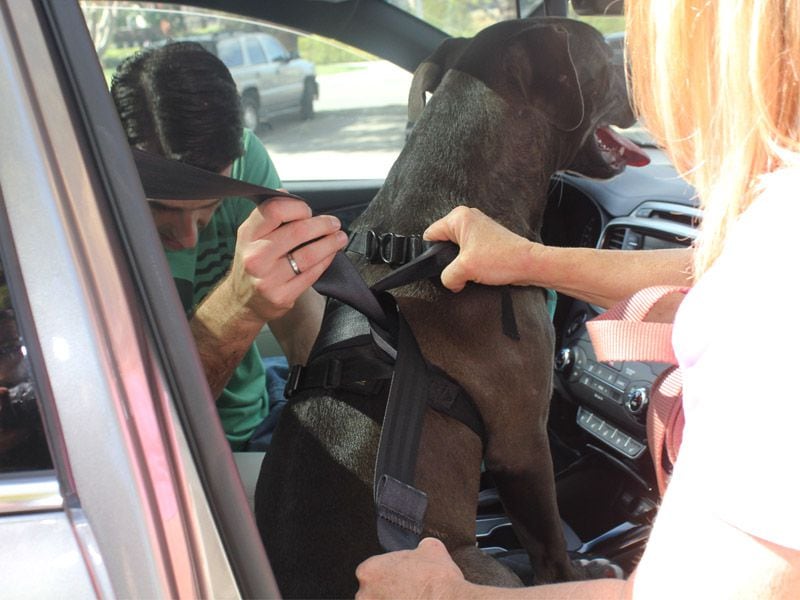 Sleepypod harnesses are both comfortable and flexible.
Even though the Sleepypod is heavy-duty, it is in no way cumbersome to the animal. In fact, if your dog can wear a regular harness, the Sleepypod should be no problem whatsoever. As you can see in the photo above, this rambunctious pup getting ready to go for a ride in the 2016 Ford C-Max Energi had no problem jumping and playing while wearing the harness.
Dom, a 1-year-old American Staffordshire terrier mix. For his adoption information, visit Labradors and Friends Dog Rescue.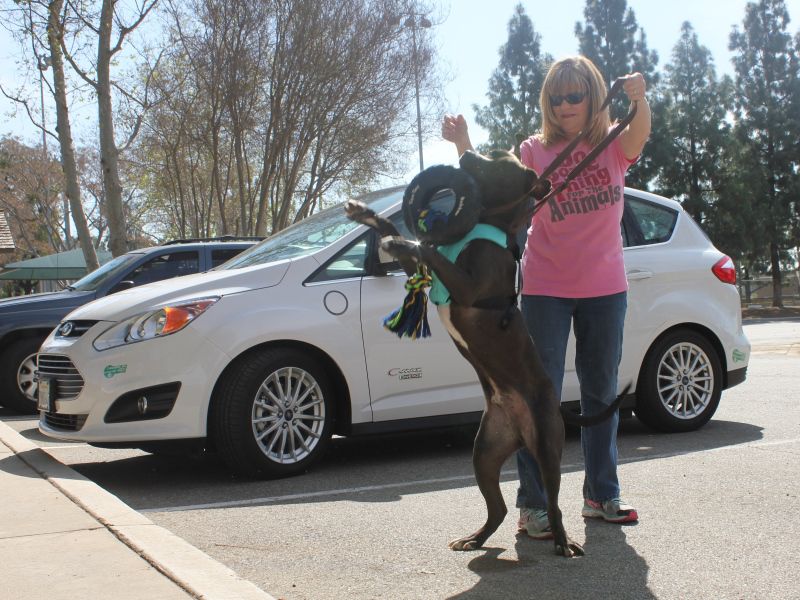 Photo by Annie Kang
Sleepypod harnesses can be used with most leashes.
Both of the Sleepypod Clickit harnesses we tested come with clipping points for a leash, which makes transitioning the dog from inside the 2016 Kia Sedona to outside, a breeze. 
Braxton, a 1-year-old German Sheperd. She is waiting for a loving home at German Sheperd Rescue of Orange County.
Photo by Annie Kang
The Fort Knox of harnesses - no Houdini's here.
If you have a dog that is as agile as Houdini for getting out of harnesses, then the Clickit Utility provides the best solution for keeping the dog buckled in. The combination of the lap/shoulder belt and the LATCH system make the Sleepypod the Fort Knox of dog car harnesses. The 2016 Kia Sedona's second row has two easy-to-see tether anchors, comfortably accommodating Collin and China.
Collin and China are buckled in and ready for a ride in the 2016 Kia Sedona. China is a 1 1/2-year-old lab mix and Collin is an 11-month-old lab mix. Both are awaiting a loving at Labradors and Friends Dog Rescue.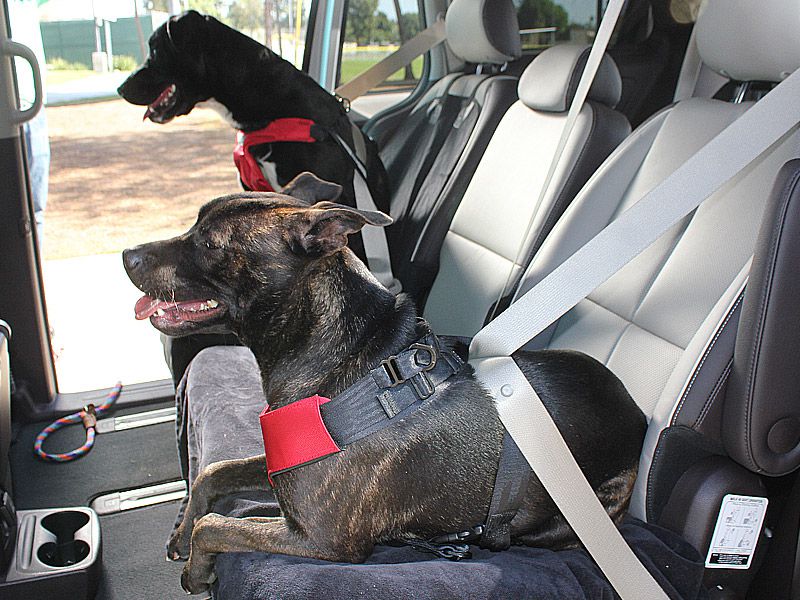 Photo by Annie Kang
Sleepypods still allow for a face full of wind.
Let's face it: The one thing a dog most looks forward to in life is sticking his head out of the car window - like Dom does here in this 2016 Kia Sedona. Well now you can rest easy knowing that a good car harness will keep your best buddy safe and still allow him to feel the wind in his face and let his tongue flap in the breeze.
Dom enjoys his ride in the 2016 Kia Sedona. Get information on how to adopt Dom at Labradors and Friends Dog Rescue.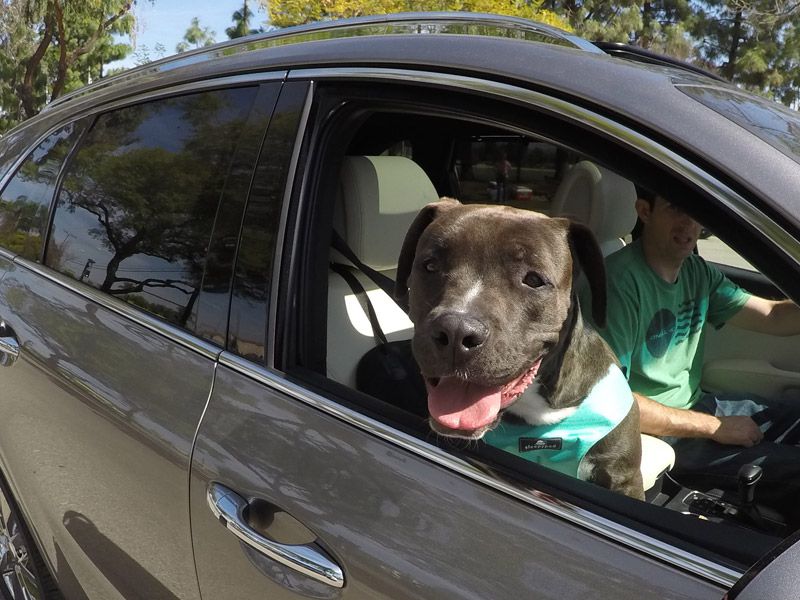 Photo by TJ Keon
Two are better than one: Multiple dogs can travel together.
The ease of installation and the short amount of time it takes to buckle a dog in means you can safely strap multiple animals in your vehicle. For example, Blossom and Jasper get buckled into the 2015 Subaru Outback with ease.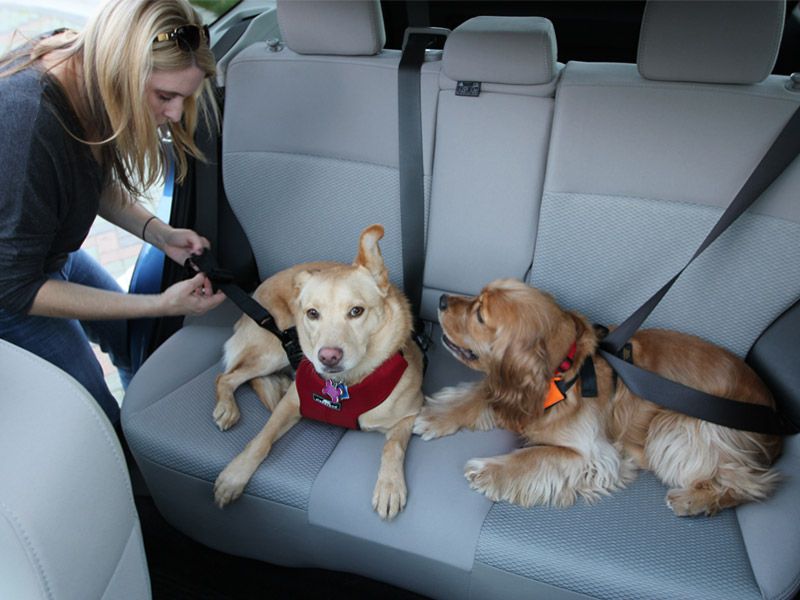 Pet safety is a choice, not a mandate.
As of this writing, there are no laws or mandates when it comes to pet safety and automobiles. But the Center for Pet Safety has picked up the gauntlent and taken it upon itself to educate the public. 
Bullet, a 2-year-old German Sheperd, takes a pit stop during a road trip. To adopt him, visit the German Sheperd Rescue of Orange County.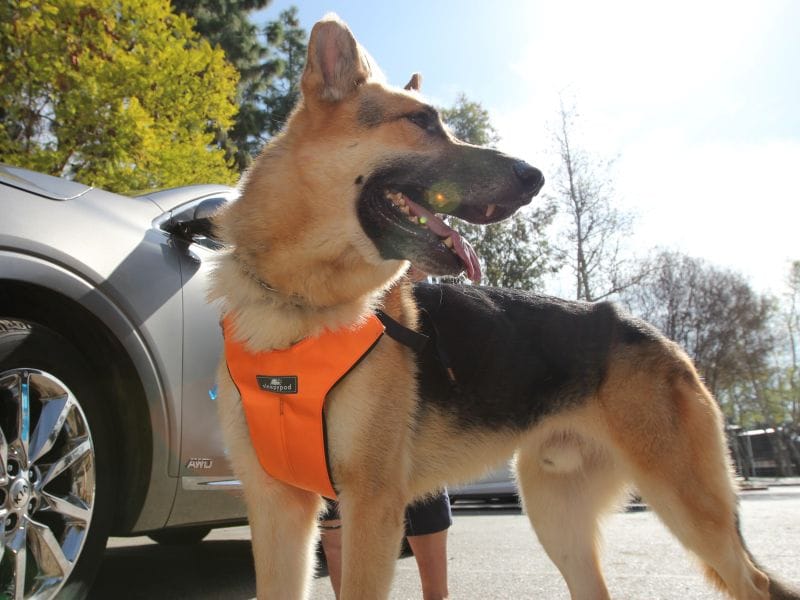 Photo by TJ Keon