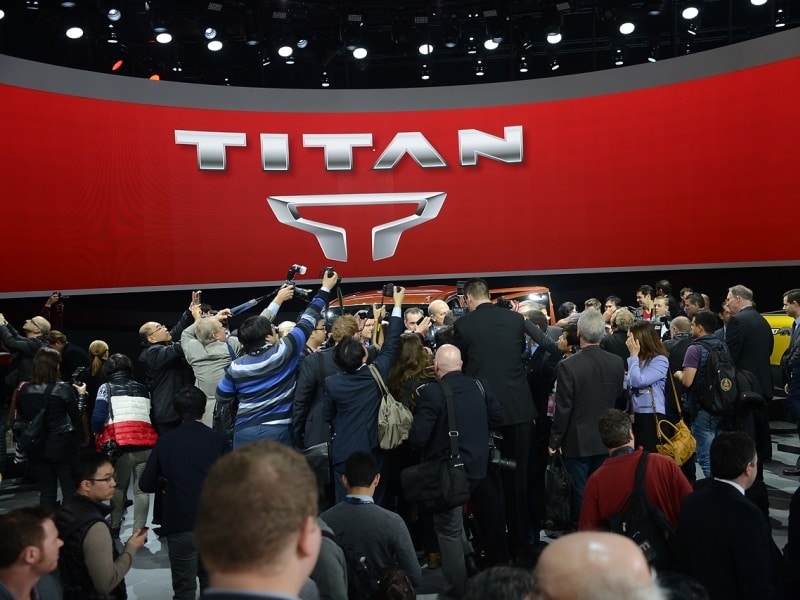 2015 detroit auto show
The North American International Auto Show, also known as the Detroit Auto Show, still holds a leading position as the most "Internationaly acclaimed" of the American auto shows. To keep that position solid, the show attracts some pretty monumental car and truck launches each year from around the globe - both concept and production vehicles. 
From fast to technologically advanced, to just plain stunning, the reveals were impressive. We've identified the most impressive of the bunch after reflecting on the show - enjoy! 
Buick Avenir Concept
The Buick Avenir concept stole the show the night before it even opened with a dramatic off-site unveil that proved Buick is still stirring the drink at General Motors when it comes to global sales and prestige. The Avenir is, in a word, 'gorgeous,' and while this full-size sedan is entirely a styling exercise – although we are told it's powered by a direct-injected V-6 and uses a nine-speed automatic transmission – we're glad Buick brought it on stage. We don't have much hope for a production model, but sources at Buick say that some Avenir cues will find their way onto the next-generation Buick LaCrosse flagship.
>See more Concept Cars from the 2015 Detroit Auto Show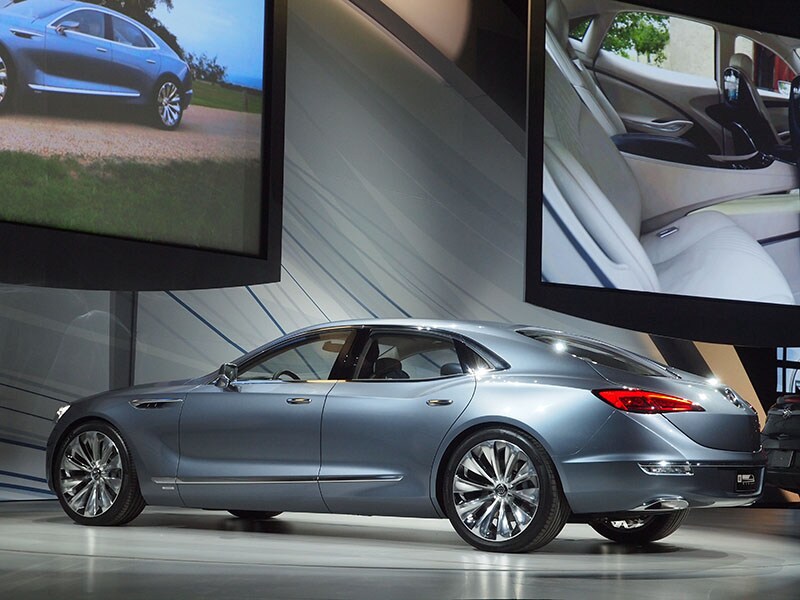 Ford GT Concept
It's the supercar sequel we've all been waiting for – and Ford promises we'll get it next year.  The Ford GT moves away from its retro styling roots to present a fully-modern design that is inspired by, rather than modeled after, the company's racing heritage.  The mid-engine Ford GT features a 3.5-liter twin-turbo EcoBoost V-6 that's good for more than 600 horsepower, and it also offers a significant amount of carbon fiber in its structure, along with a seven-speed dual-clutch automatic transmission.  The GT is a stunning achievement for the Blue Oval, and one that should shake up the world stage for current exotic players like Ferrari and Lamborghini. Ford promises that the GT will go on sale next year at a price yet to be determined. 
>See more Concept Cars from the 2015 Detroit Auto Show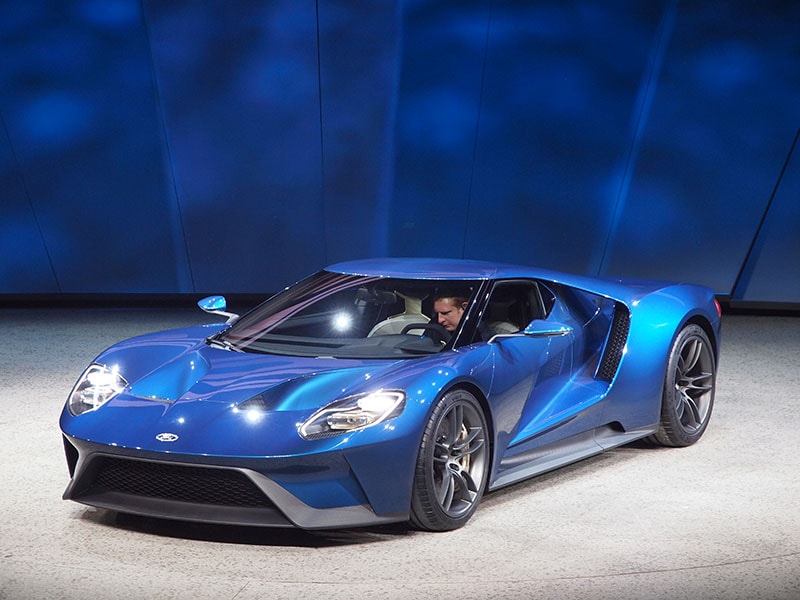 2016 Nissan Titan XD
Showcasing a 5.0-liter turbodiesel V8 from Cummins that delivers some 555 lb.-ft. of torque, the 2016 Nissan Titan XD spearheads the next generation of Nissan full-size pickups—although the XD actually breaks new ground with proportions between those of typical full-sizer and an HD pickup. Of course, the 2016 Nissan Titan roster will feature more traditional, gas-engined models as well, albeit with non-traditional truck touches like today's most popular driver assistance and connectivity technologies, along with an expressive "anatomical" design. Other highlights will include an innovative "Utili-trak" cargo management system and premium LED illumination. The main changes we notice is in Nissan's thinking about full-size pickups, with the automaker going all-in on the XD model that will be able to haul up to 12,000 lbs. and boast a payload of 2,000. 
>See more Trucks from the 2015 Detroit Auto Show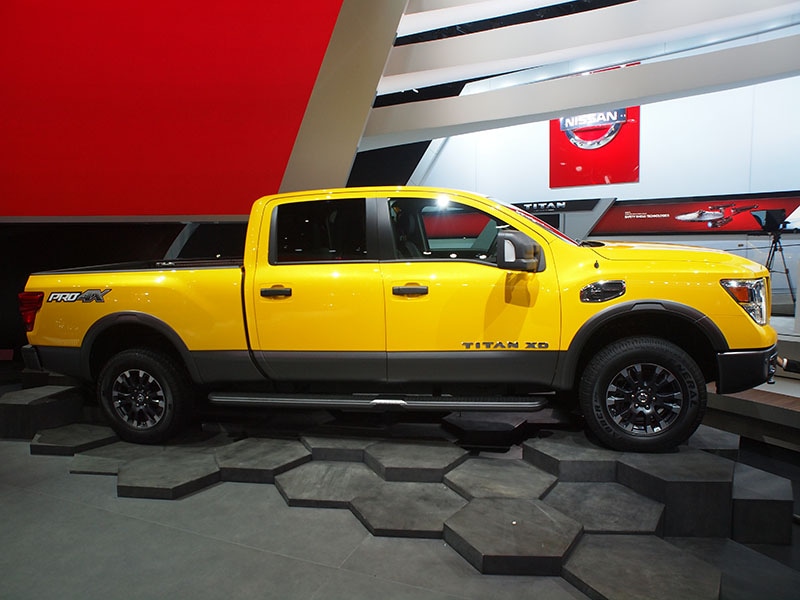 2015 Alfa Romeo 4C Spider
The only thing better than a mid-engine sports coupe is a mid-engine roadster - at least, that's the philosophy guiding the new 2015 Alfa Romeo 4C Spider. The Spider chops the top off of the well-received 4C coupe, and while the resulting shape might not be as sexy as the original it's certainly exciting to look at it. It's probably going to be almost as fun to drive, too, as the 4C Spider maintains the 237 horsepower, 1.75-liter turbocharged four-cylinder engine debuted by its fixed-roof sibling. This power is fed to the rear wheels via a six-speed dual-clutch automated manual transmission, and the Alfa Romeo also comes with a carbon fiber tub as well as minimal modifications to its body structure to accommodate the fabric top. The result is a minimal 22 lb weight gain compared to the coupe, which should preserve the car's fantastic handling prowess.
>See More Sports Cars from the 2015 Detroit Auto Show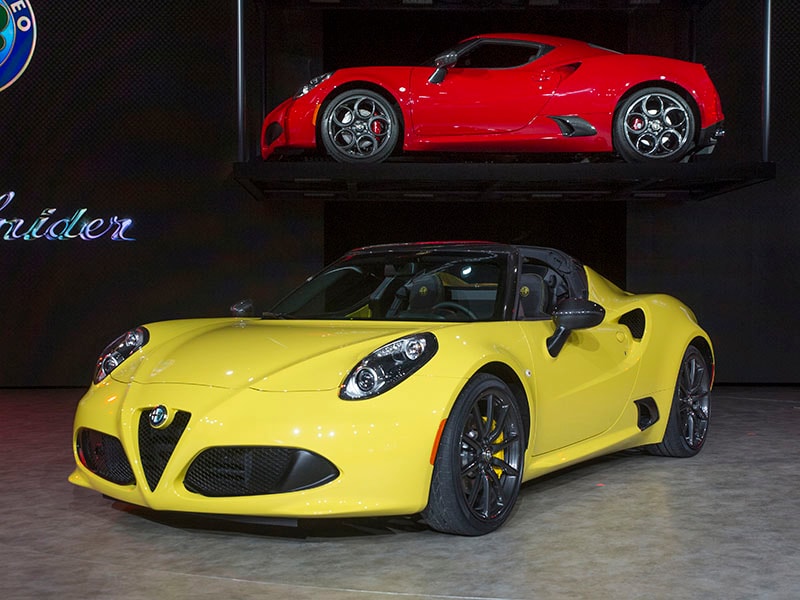 2016 Mercedes-Benz GLE450 AMG 4MATIC Coupe/Mercedes-AMG GLE63 S Coupe 4MATIC
The four-door coupe craze has finally hit Mercedes-Benz's SUV line-up with the 2016 Mercedes-Benz GLE-Class Coupe. Think of it as a truncated sibling to the M-Class and you've got the general idea of what the GLE-Class Coupe looks like – albeit with more muscular fenders and a stubbier hood. Although the sloping roof makes it a bit harder to squeeze into the back seat the Mercedes-Benz trumps its BMW X6 competitor in terms of cargo space, which makes it more practical than its first impression would seem to indicate. The GLE450 AMG 4MATIC Coupe features a 3.0-liter, twin-turbo V-6 that's good for 362 horsepower, while the GLE63 S Coupe 4MATIC ups the ante to 577 horsepower from a twin-turbo 5.5-liter V-8. All-wheel drive is standard with either model, as is a seven-speed automatic transmission, and a full range of luxury gear can be installed across the GLE-Class Coupe family. The new GLE450s will come out in late Summer of 2015 and pricing has not yet been announced. 
>See more Crossovers & Wagons from the 2015 Detroit Auto Show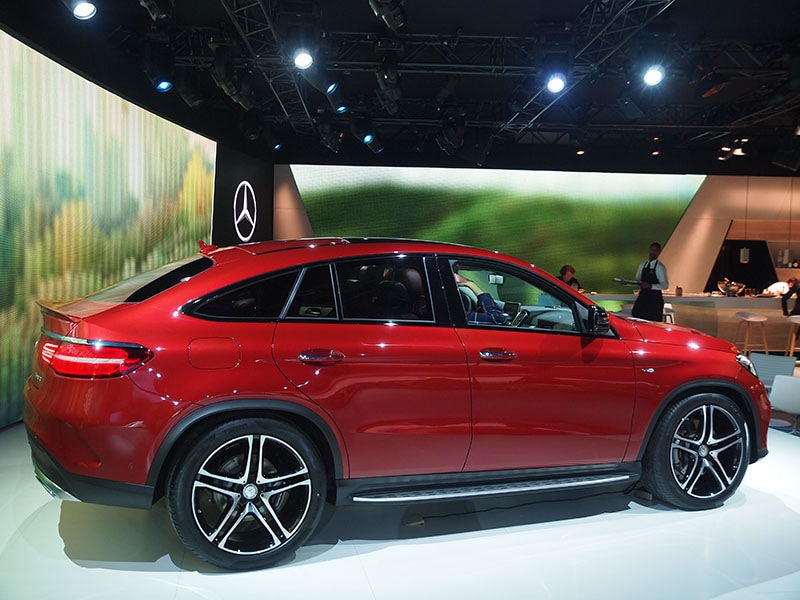 2017 Ford F-150 Raptor
The 2016 Ford F-150 Raptor roars onto the scene sitting on a ruggedized version of the same all-new platform that underpins the standard 2015 Ford F-150. The Raptor sheds both its SVT branding as well as its eight-cylinder engine, swapping in a 3.5-liter EcoBoost V-6 that has been tuned to produce more than the outgoing mill – so for those of you keeping score at home that means more than 411 horses and 434 lb-t of torque. An ever bigger surprise is the new 10-speed automatic transmission that comes standard with (and is exclusive to) the Raptor, which pairs with four-wheel drive and a next-generation Terrain Management system to handle the rough stuff. Fox Racing shocks, a wider track and body, and a 500 pound weight loss compared to the 2015 SVT Raptor complete the new model's package. The new Raptor will be available in Fall of 2015 and pricing is not yet known. 
>See more Trucks from the 2015 Detroit Auto Show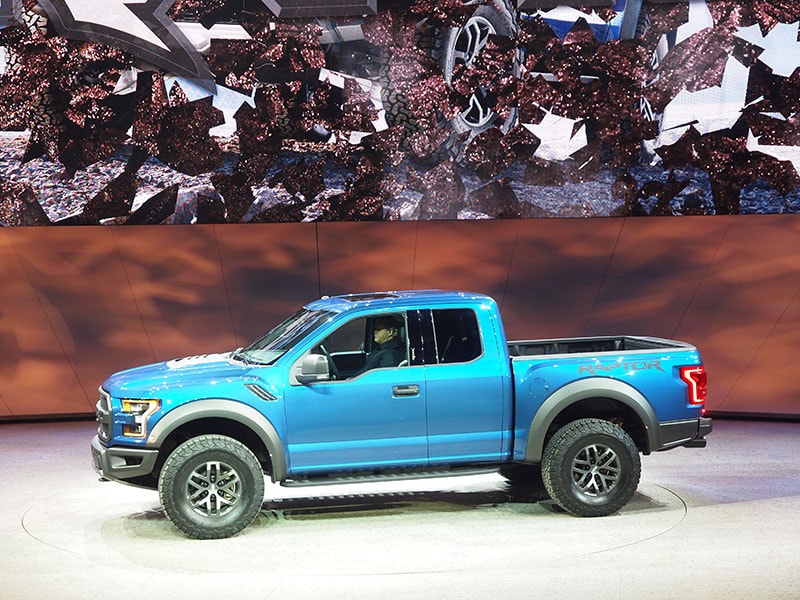 2015 Audi Q3
The two-row Q5 crossover has become the best-selling entry for the four-rings brand, and the company no doubt hopes some of that mojo rubs off on the compact 2015 Audi Q3, which is a few inches shorter than even the new A3 sedan. Still, the 2015 Audi Q3 will reward drivers with a dynamic driving experience and the same levels of premium equipment as any Audi of any size. Among the highlights: quattro all-wheel drive, Bang & Olufsen audio, MMI navigation with voice control, MMI touch with handwriting recognition, Audi connect for cutting-edge connectivity technology, and a 2.0-liter, turbocharged engine that serves up 200 hp, 207 lb.-ft. of torque and EPA grades of 20 mpg city/29 mpg highway/23 mpg combined. The 2015 Audi Q3 is on sale now starting at $32,500. 
>See more Crossovers & Wagons from the 2015 Detroit Auto Show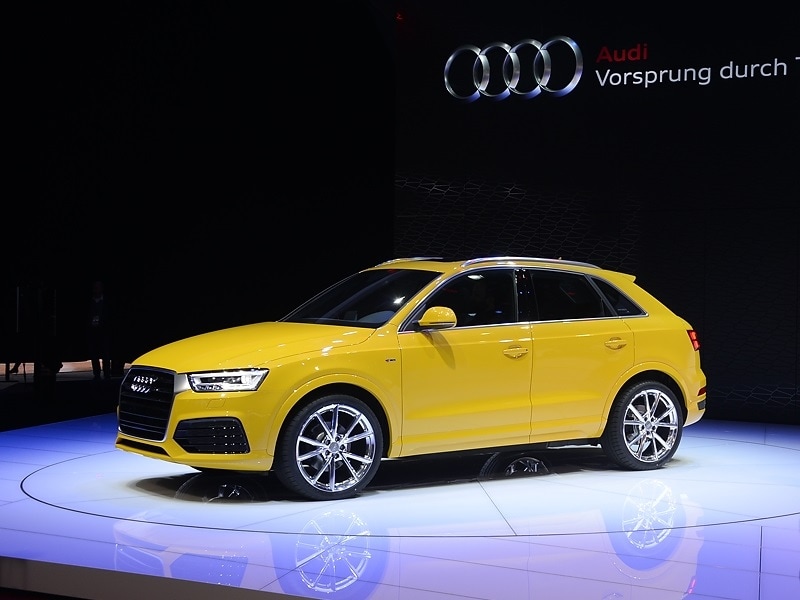 2016 Volvo S60 Cross Country Sedan
Remember the AMC Eagle? Or more recently, the Subaru Legacy Outback sedan from the 1990s? The 2016 Volvo S60 Cross Country offers the same kind of rugged-looking, jacked-up styling and all-wheel drive capability as the Volvo XC70 Cross Country wagon, only without the added practicality of an extended cargo area. If this sounds a bit like a product niche no one was asking for, we tend to agree with you – although the argument could be made that the S60 Cross Country sedan is Volvo's answer to the four-door crossover 'coupes' that have been emerging from Germany. Power is derived from the same 2.5-liter, 250 horsepower five-cylinder turbo engine that motivates the standard S60 sedan. The Volvo S60 Cross Country rides 2.5 inches taller than the regular S60 sedan, and also offers all-wheel drive plus a more outdoorsy look. It will be in dealerships in summer of 2015 and pricing is yet to be announced. 
>See more Sedans & Luxury Cars from the 2015 Detroit Auto Show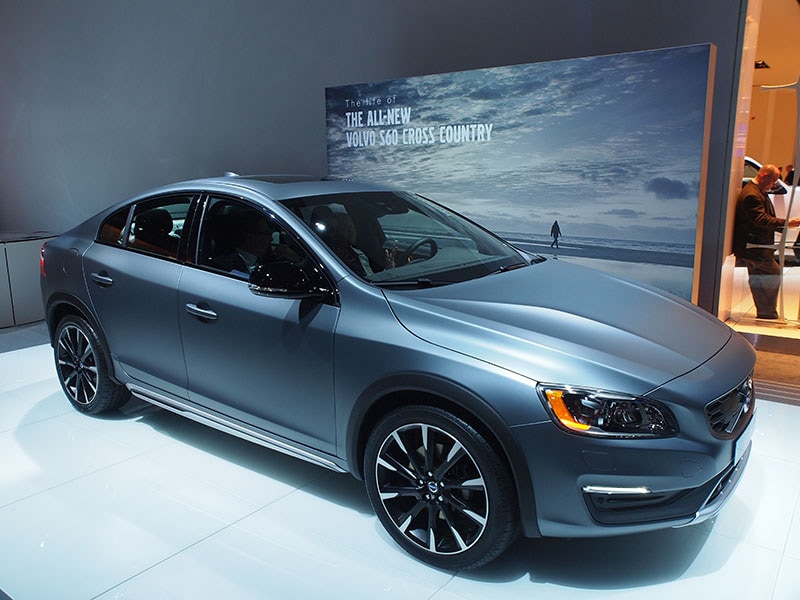 2016 Chevrolet Volt
The 2016 Chevrolet Volt represents the second generation of the Bowtie Brand's innovative extended-range electric vehicle, and this new model amps up performance, efficiency, style and more.
It's all newly redesigned, but the key upgrade is a next-gen Voltec propulsion system with a two-motor electric drive, 18.4-kWh battery pack and 1.5-liter gas engine that runs on regular fuel and delivers an estimated 41 mpg in combined travel. The Voltec setup then serves up some 50 miles of all-electric driving capability, backed up another 350 or so miles from that gas engine; but GM predicts owners will go an average of 1,000 miles before having to fill up. The 2016 Chevrolet Volt also will be faster and quieter than the current model, while further debuting the Regen on Demand regenerative-braking technology. The new Volt will become available during the second half of this year and pricing is yet to be determined.
>See more Alternative Fuel Cars  from the 2015 Detroit Auto Show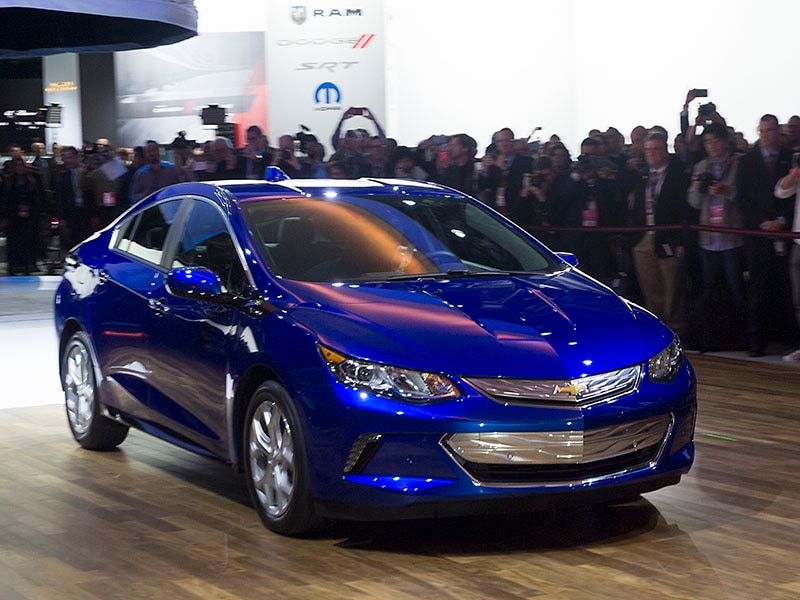 2016 Range Rover HSE Td6 Diesel
The big news for Land Rover at this year's Detroit auto show is the introduction of diesel engines for its priciest sport-utility vehicles, including the Range Rover. For 2015, the Range Rover HSE will be offered with Jaguar Land Rover's 254-hp, 3.0-liter turbocharged diesel V-6, and Land Rover claims efficiencies in fuel economy of 32 percent, resulting in 28 mpg on the highway. The resulting range is a whopping 658 miles per tank—at 23.5 gallons full—making it possible to drive from New York to Detroit without stopping to fill up.
Aside from the addition of the diesel engines to the lineup, the Range Rover remains the luxurious, sophisticated SUV that we know and love to drive. An 8-speed automatic transmission remains standard. Land Rover says that the Range Rover HSE Td6 diesel will be available this fall and pricing has not yet been announced.
>See more SUVs  from the 2015 Detroit Auto Show