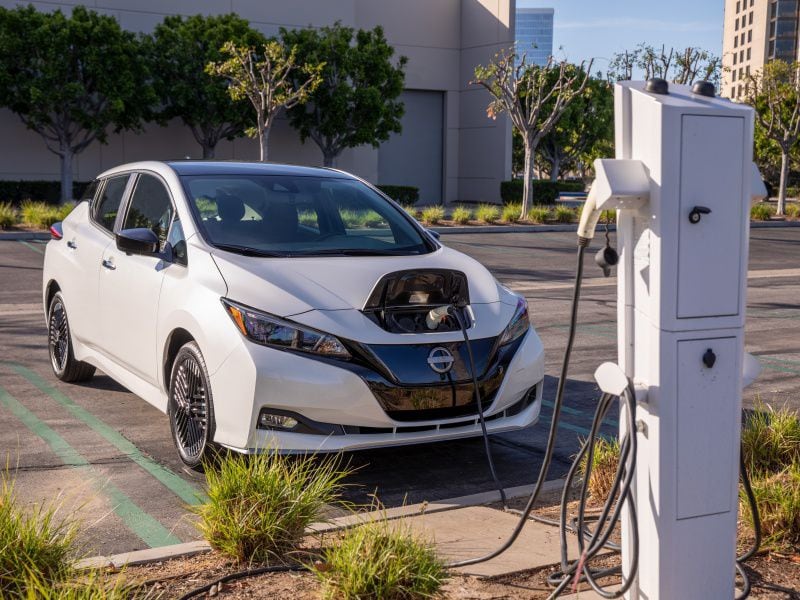 2023 Nissan Leaf ・ Photo by Nissan
Yes, the world seems to be turning toward EVs, but they are still so expensive. How do you find an affordable EV amid all the clutter? That's why we've constructed this list of the best affordable EVs. Of course, one person's definition of affordable might seem very expensive to someone else. So in this context, affordable means that examples of each of these vehicles can be purchased new for less than $45,000. Some on the list are considerably less costly than that, while others in heavily "loaded" form will top $50,000. But every model on this list is a great value in an EV.
Chevrolet Bolt EV
Amidst the sea of new battery-electric vehicles, the Chevy Bolt EV is a substantial bargain. It is good-looking and very roomy for its abbreviated length. While it is one of the shortest vehicles on the American market, it doesn't feel cramped of confined. Its powertrain isn't the most modern among EVs, but the credentials are strong. It uses a single electric motor driving the front wheels. The powertrain is rated at 200 horsepower and 266 pound-feet of torque, about the same as the Hyundai Kona EV and stronger than the Mini Hardtop SE, and the base Nissan Leaf. Power for the Bolt's motor comes from a 65-kilowatt-hour lithium-ion battery pack. It would be nice to have shorter charge times, but pushbutton-operated Regen on Demand allows the Bolt EV to convert kinetic energy from deceleration into energy that is stored in the battery pack. For 2023, the Bolt EV is EPA-rated at 259 miles of range per charge, more than double the range of the MINI Hardtop SE, and better than the base Nissan Leaf.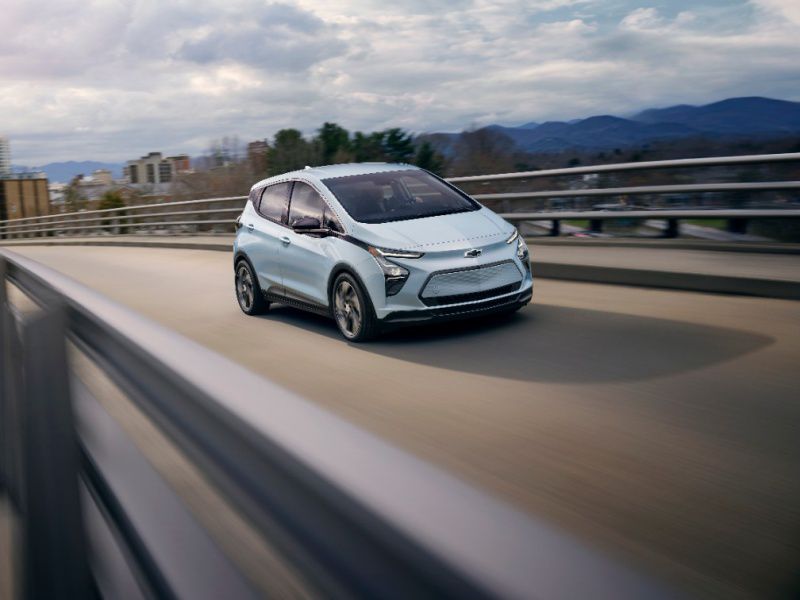 Photo by Chevrolet
Chevrolet Bolt EUV
The 2023 Chevrolet Bolt EUV is the "SUV" version of the Bolt EV. And "SUV" is in quotes because the two vehicles offer virtually the same amount of interior space, and both are front-drive vehicles. There are no Bolts with all-wheel drive. Compared to the Bolt EV hatchback, the Bolt EUV is longer, slightly taller, and offers more rear-seat legroom. The Bolt EUV uses the same powertrain as the Bolt EV — a single electric motor offering 200 horsepower and 266 pound-feet of torque, very similar to the powertrains in the Hyundai Kona EV and the Kia Niro EV. The Bolt EUV has a 65-kilowatt-hour lithium-ion battery pack. The Bolt EUV is EPA-rated at 247 miles of range per charge. The battery pack can accept as much as 37 miles of range per hour of charging when using 240-volt 48-amp charging unit.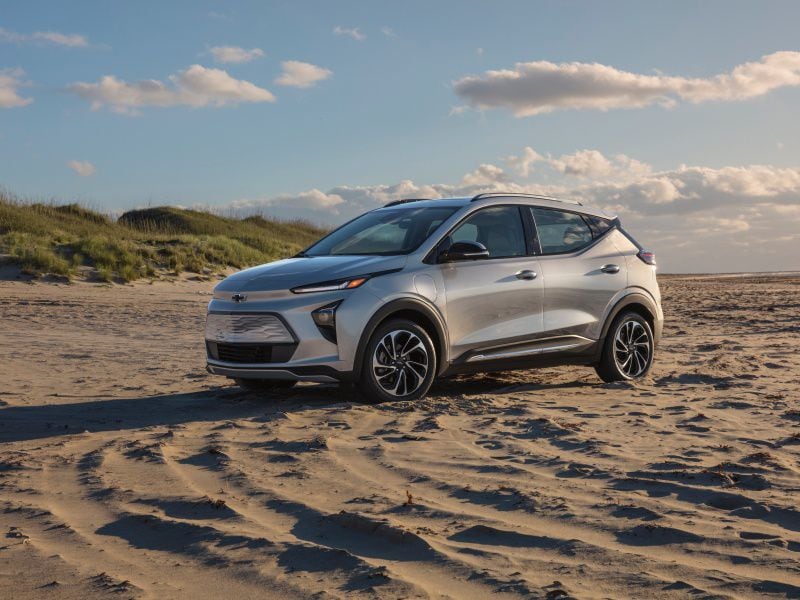 Photo by Chevrolet
Kia EV6
The Kia EV6 is a five-passenger vehicle that splits the difference between hatchback and crossover sport-utility. Built on the new Electric-Global Modular Platform that Kia shares with Hyundai, the EV6 has a wheelbase as long as the Kia Telluride. It offers expansive interior space, a flat floor, and a slightly elevated driving position. A variety of powertrain choices are available. The most affordable is the base Light trim that is rear-drive and powered by a single electric motor. It has a 58.0 kilowatt-hour nickel-cobalt-manganese battery pack that delivers an EPA-rated 232 miles of range on a full charge. The Wind and GT-Line trims are available in rear-drive and dual-motor all-wheel-drive form. With their 77.4 kWh battery packs, the rear-drive Wind and GT-Line trims have longer range — 310 miles — than their all-wheel-drive siblings. The Kia EV6 GT-Line with dual-motor all-wheel-drive has a 74 kW front AC electric motor and a 165 kW rear AC electric motor for a combined 320 horsepower. Range on a charge is estimated at 274 miles, and Kia says it will accelerate from zero to 60 miles per hour in 4.6 seconds.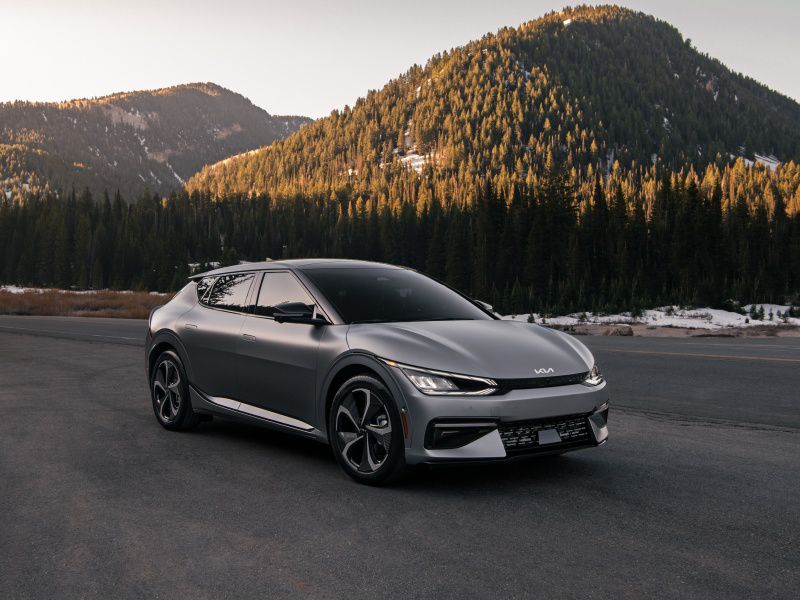 Photo by Kia
Hyundai Ioniq 5
You wouldn't know it by looking at them, but the Hyundai Ioniq 5 and the Kia EV6 are very similar vehicles from a mechanical standpoint. Both share the same dedicated EV platform and offer similar powertrain options. The most affordable Ioniq 5 is a standard range, rear-drive version. It has a 168-horsepower electric motor driving the rear wheels. Its 58 kWh lithium-polymer battery pack gives it 220 miles of range. The Ioniq 5 S with rear drive and a 225-horsepower electric motor has a range of 303 miles from its 77.4 kWh battery. The top-level all-wheel-drive Ioniq 5 has front and rear electric motors that have a combined 320 horsepower. Hyundai says the Ioniq 5 can go from a 10% charge to 80% charge in 18 minutes when using an 800-volt fast charger.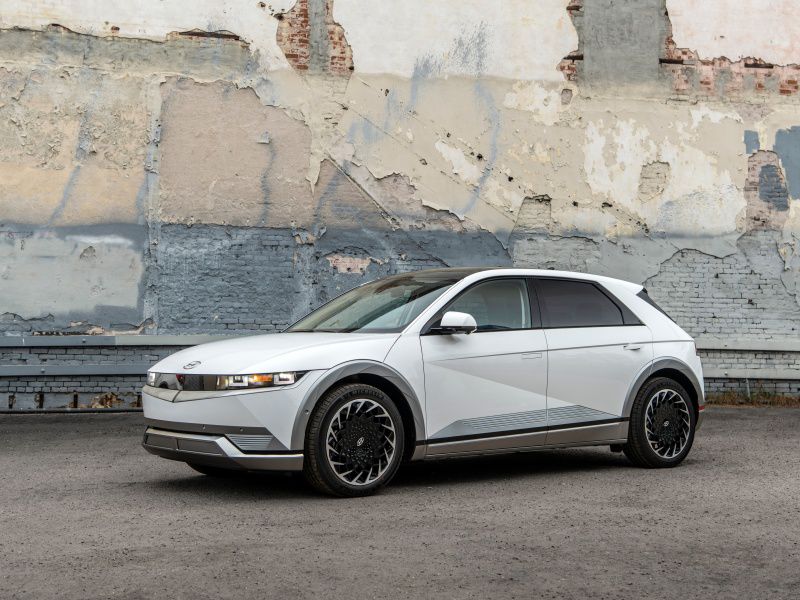 Photo by Hyundai
Toyota bZ4X
The Toyota bZ4X isn't just hard to type; it is also a new rival to the Hyundai Ioniq 5 and Kia EV6. Like both those vehicles, it wavers between hatchback and crossover SUV. But unlike the latest Korean EVs, it uses front-drive architecture as its basis, although all-wheel-drive is offered as well. In front-drive form, the futuristic bZ4X uses a single electric motor producing 201 horsepower. Interestingly, the all-wheel-drive version doesn't offer much more total horsepower. With one electric motor driving the front wheels and another driving the rears, it delivers 214 horsepower. The front-drive bZ4X XLE offers EPA-estimated range rating of up to 252 miles. All-wheel drive diminishes range to 228 miles. Toyota says fast charging will bring the bZ4X from 10 percent to 80 percent in about 30 minutes. The interior of the bZ4X offers a futuristic dash and steering wheel layout.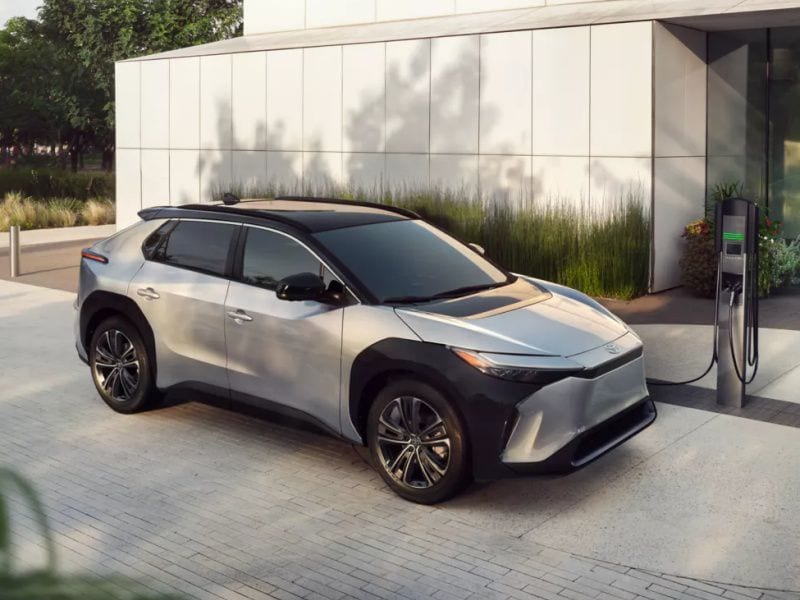 Photo by Toyota
Nissan Leaf
For 2023, the Nissan Leaf has a simpler lineup. It is available in two grade levels — Leaf S and the Leaf SV Plus. Both versions of the five-passenger hatchback have a new grille shape and front bumper molding. Headlight styling has also been revised and SV Plus models have new five-spoke 17-inch aluminum-alloy wheels. The 2023 Leaf S is equipped with a 40-kWh lithium-ion battery and 110-kW electric motor that delivers 147 horsepower, 236 lb-ft of torque, and up to 149 miles of range. The 2023 SV Plus has a larger-capacity 60-kWh lithium-ion battery and a 160-kW electric motor that produces 214 horsepower and 250 lb-ft of torque. In SV Plus trim, the Leaf has a range of up to 212 miles on a charge. Using the Quick Charge Port, the Leaf S can be charged up to 80 percent in 40 minutes, while the SV Plus can be charged up to 80 percent in 60 minutes using the same procedure.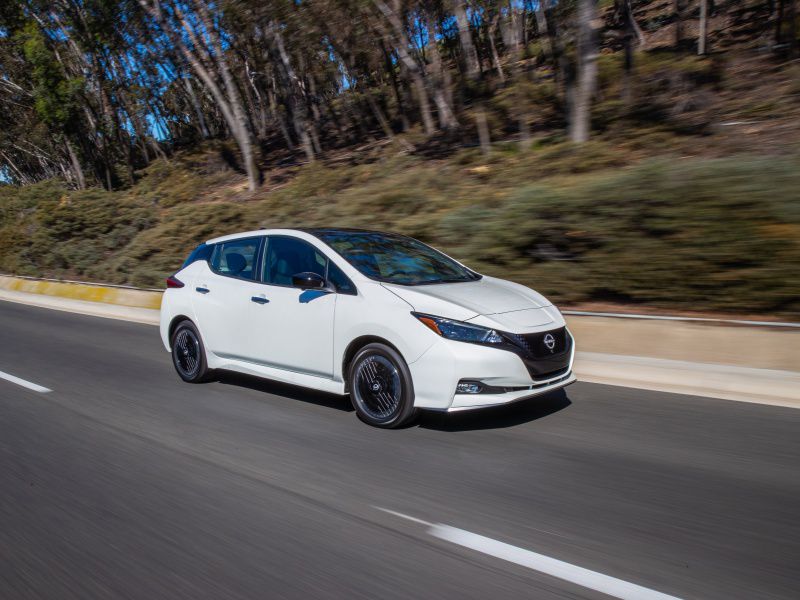 Photo by Nissan
Volkswagen ID.4
The Volkswagen ID4 brings a European sensibility to the now hotly competitive affordable EV space. Like its rivals from Hyundai, Kia, Toyota, and Nissan, it balances on the line between hatchback and crossover SUV. But subjectively, it seems more like a crossover than the competitors. In its most affordable form, it is a rear-drive vehicle with a single electric motor offering 201 horsepower. Choosing an all-wheel-drive model nets you an additional motor for the front wheels and 295 total horsepower. In this form, the ID.4 is a blast to drive. The least expensive ID.4 offers just 208 miles of range on a charge. Maximum range hovers around 275 miles. We like the ID.4's subdued interior.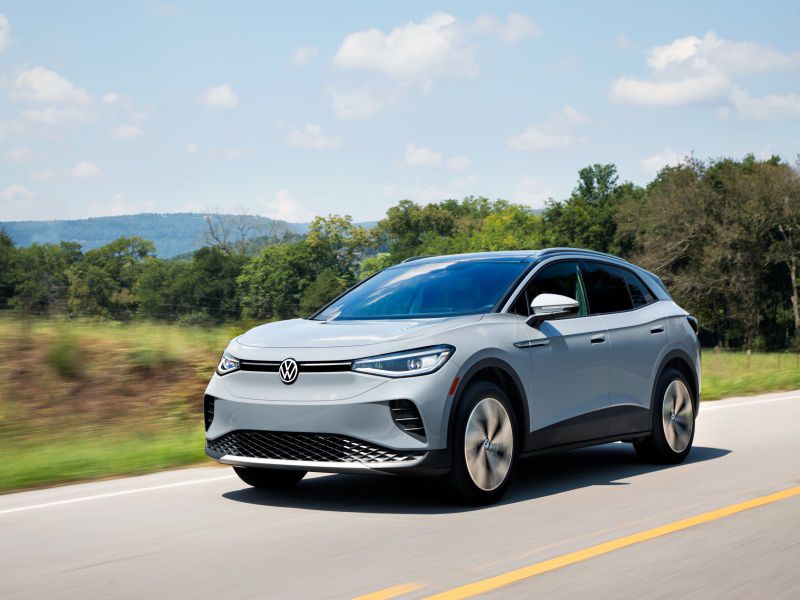 Photo by Volkswagen
Hyundai Kona EV
The Hyundai Kona Electric has the positive attributes of the conventionally powered small crossover plus the benefit of zero emissions. Recently, Hyundai smoothed out the previous Kona Electric's distinctive looks with a revised front end that is not nearly as weird. With a small footprint and quick acceleration, the Kona Electric seems well-suited to city life. Its 258 miles of range on a charge is solidly in the middle of its competitive set. While the Kona EV's single permanent-magnet synchronous electric motor develops 201 horsepower (150 kW) and 291 lb-ft of torque. The motor drives the front wheels drawing on power stored in a 64 kWh lithium-ion battery pack. The battery system is liquid-cooled and operates at 356 volts. Despite its short length, the Hyundai Kona EV offers a large cabin and good cargo-carrying ability. With the rear seats in use, it delivers a robust 19.2 cubic feet of cargo space.
Photo by Hyundai
Kia Niro EV
Like the Hyundai Kona, the Kia Niro is a handy-sized crossover that is offered in battery-electric form and with hybrid and plug-in hybrid powertrains. Its contemporary small crossover body offers good interior and cargo space. The Niro EV has a 64 kWh lithium-ion battery and a 201-horsepower electric motor, a powertrain it shares with the aforementioned Hyundai Kona EV. For the 2023 model year range has been improved from 239 miles to 253 miles and quicker charging has been added. Kia says the Niro can replenish from a 10 percent charge to an 80 percent charge in under 45 minutes. With its high horsepower and torque, the Niro EV is the high-performance version of the model.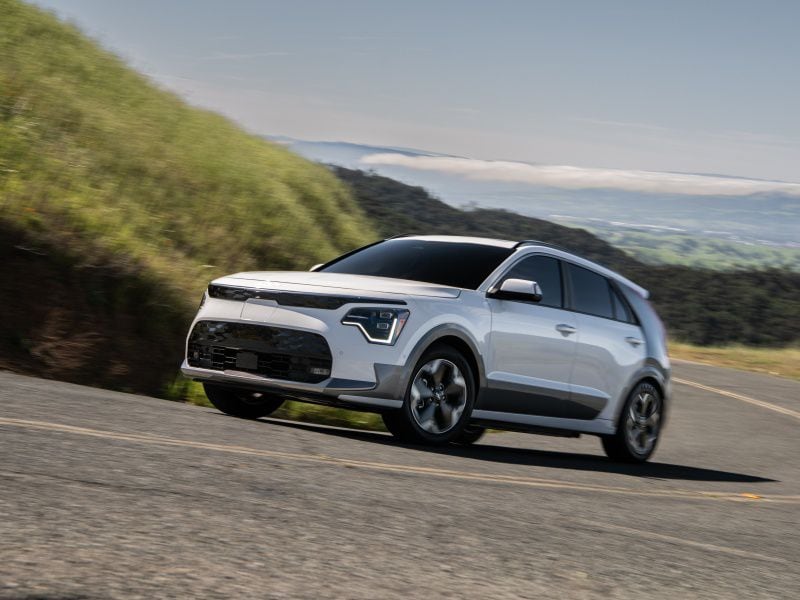 Photo by Kia
Mini Hardtop SE
While road trips might prove a challenge, those looking for an affordable commuter with a mind of its own will find the Mini Hardtop SE battery-electric hatchback appealing. The Hardtop SE doesn't offer the 250+ mile range some oaths list do, but it scores well on price. If you drive less than 100 miles on an average day, its limited range won't be an issue most of the time. The car has a different philosophy than many others on this list. Instead of using a bigger more expensive battery pack, the Mini SE has a 28.9 kWh battery. The car only offers 114 miles on a full charge, but the benefits are lower cost and less weight. With 181 horsepower and 191 pound-feet of torque, acceleration is entertaining. The hatchback will sprint from zero to 60 mph in just over 6 seconds, beating the 201-horsepower Chevy Bolt. In other words, the Hardtop SE feels like a Mini.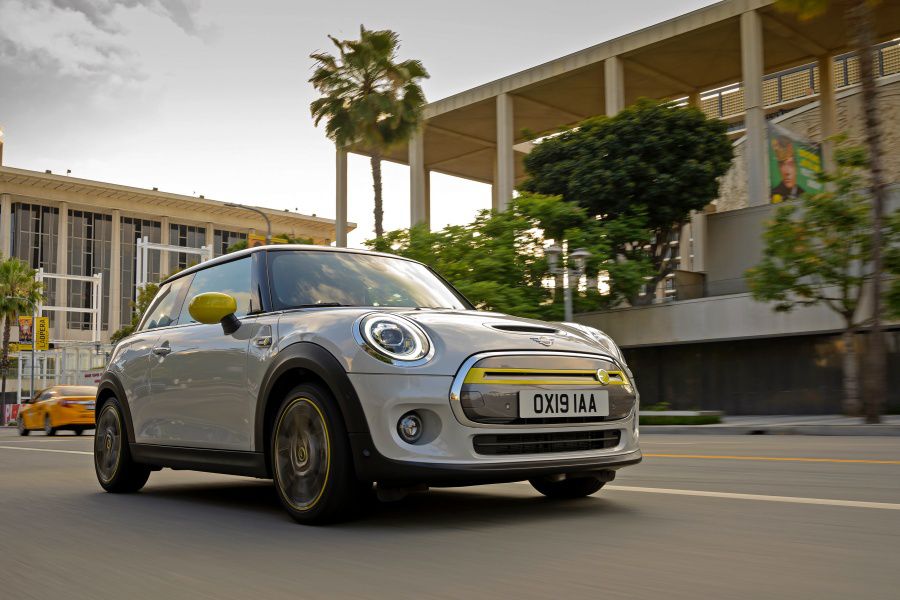 Photo by MINI