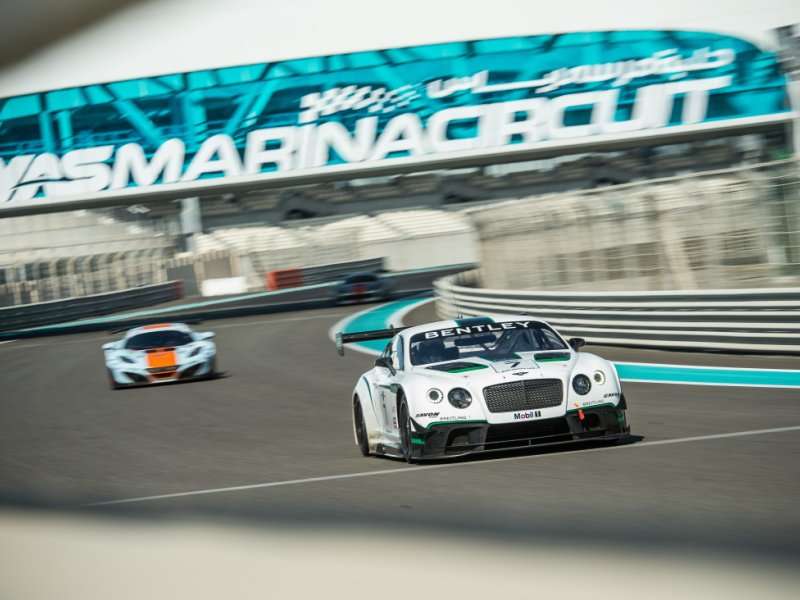 It has been ten years since Bentley racecar scored a LeMans victory, so when the brand introduced the Continental GT3 Racecar last September, it came as a bit of a surprise - Bentley was back. This past week, the Continental GT3 flexed its muscle in the Middle East, proving the stately British firm's still got it.
Bentley took the Continental GT3 to the Gulf 12 Hours of Abu Dhabi race at the Yas Marina Circuit. The Continental GT3 completed the first six hours of the race in third place. In the closing hours, however, it fought bitterly with a Ferrari 458 GT3 from Kessel Racing to hold the position. The Ferrari eventually gained the upper hand, taking third place away from the Bentley. When the checkered flag waved, the Continental GT3 came in fourth place.
"In running an all-new car for the first time, our main goal today was to finish the race and be consistent. We've achieved this, and then to finish fourth in a race with such established competition is extremely encouraging. We leave Abu Dhabi with confidence that we will have a reliable and competitive package for 2014, when the hard work really starts," said Bentley's Director of Motorsport, Brian Gush.
"Today has been amazing. All three of us found that we could really push the car to the limit, and when we realised we were on for a good result it encouraged us to really test its abilities. It's given us a lot to look forward to in the Blancpain series next year," said Guy Smith, one of the drivers for the race.
The real test for the Continental GT3 begins next April as it will take part in the 2014 Blancpain Endurance Series.