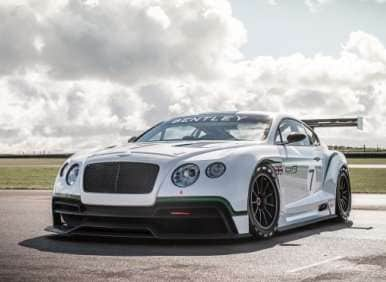 Bentley isn't a company people typically associate with professional motorsports - despite competing as recently as 2003 at Le Mans - but there was a time when the automaker was the brand of choice for distinguished gentlemen looking to turn in impressive lap times at their local circuit, or win a world-spanning rally event.  In recognition of its racing history, Bentley brought the Bentley Continental GT3 Concept to the L.A. Auto Show as a preview of what might soon be making a tour of circuits around the world.  Even more interesting: Bentley might actually make this all-out racer available to the general public.
What's New for the Bentley Continental GT3 Concept:
First race car based on the Continental platform
Only Continental model to not offer all-wheel drive
Almost 2,000 lbs lighter than production Continental GT Speed
Car will run in GT3 series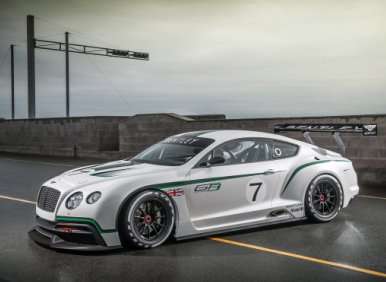 New Bentley Continental GT3 Concept: Styling and Design
The Bentley Continental GT3 Concept was unquestionably one of the most attractive cars at the 2012 L.A. Auto Show, with the already sexy lines of the Continental made that much more appealing through the introduction of revised aerodynamics (complete racing body kit including sills, splitter, and enormous rear wing) as well as a side exit exhaust and subtly flared fenders.  Inside, the car's significant luxury has been laid to waste, with a stripped-bare interior offering racing seats, competition-oriented instrumentation, and a full roll cage in order to protect the driver.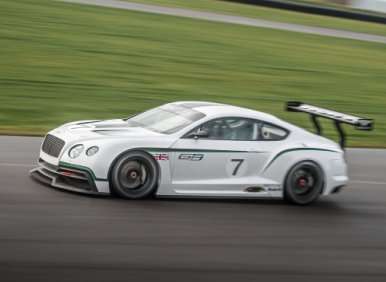 New Bentley Continental GT3 Concept: What's Under the Hood
Bentley has yet to decide what, exactly, will be powering the Bentley Continental GT3 Concept when it hits the track in 2013.  Although the production Continental GT Speed comes with a 6.0-liter, 12-cylinder engine generating 616 horsepower, Bentley is uncertain as to whether it will crib the same motor for the GT3 car or instead go with an eight-cylinder mill.  Total output will most likely drop below that of the GT Speed in order to remain within FIA specifications, and the eight-speed automatic transmission offered by the road car will be swapped for a sequential transmission.
New Bentley Continental GT3 Concept: What Autobytel Thinks
Remember when we said that the Bentley Continental GT3 Concept would be made available to the average Joe Millionaire?  Well, there are a few caveats: namely, you have to be running a race team that is going to enter the car in GT3 competition.  Bentley will be most likely fielding a factory team of its own in the series, where it will face off against rivals Ferrari, McLaren, Mercedes-Benz, Porsche, and Audi.  The return to motorsports should do a great deal to raise Bentley's profile amongst well-heeled fans, sponsors, and team owners in the world of GT3 racing, and it also serves to underline the fact that the British-by-way-of-Germany brand can trace a long and distinguished history throughout the sport.