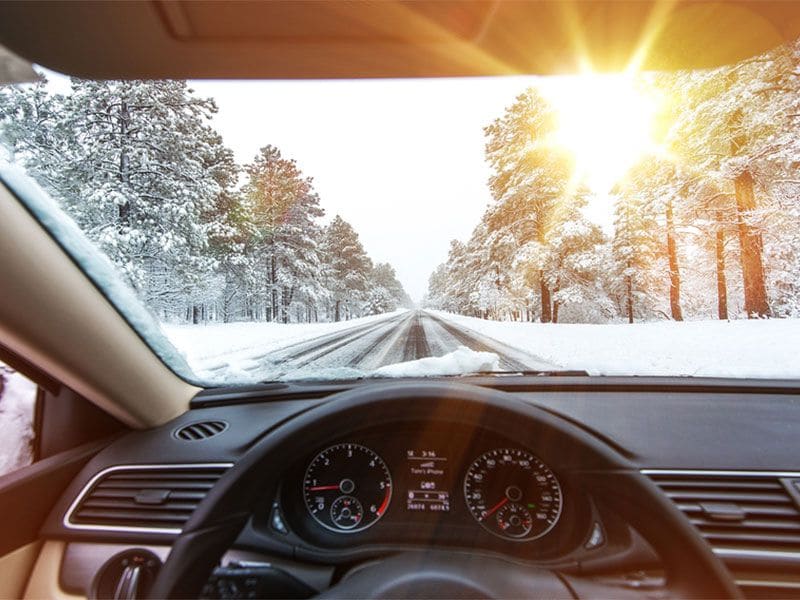 Icy Road Winter Drive ・ Photo by Bigstock
With winter looming ahead, you may be preparing for the season by switching out your wardrobe and planning for your upcoming holiday travel. But, there is one very important task that you shouldn't overlook: Ensuring your car is ready for winter. Just by adding a few simple tasks to your to-do list, you can keep yourself and your loved ones safer, and your car better protected.
Meguiar's and Prestone, two popular car care product manufacturers, have come to the rescue by compiling a list of how to prepare for driving in winter weather. With just three things to do, you can avoid accidents and injury and make your car ready for winter in no time.
With winter weather comes rain, ice and snow, and you'll want to make sure that your tires have plenty of tread to keep you from slipping on the road. In addition to inspecting the tread, you should also look for bald spots or bulges on the tire. Finally, don't forget to check the tire pressure to ensure steady handling.
You definitely need to take a look at your vehicle's fluid levels to keep your engine from freezing. First, inspect your cooling system to make sure the antifreeze is free of debris and contaminants. If your antifreeze levels are low, Prestone recommends their 50/50 Prediluted Antifreeze/Coolant, which will protect internal parts of your car and prevent destructive corrosion. Prestone also suggests checking your vehicle's brake fluid and steering fluids, as braking and steering are crucial when it comes to extreme winter conditions.
Although this may seem like a no-brainer, keeping your vehicle's windows and lights clear is essential during rain and snow, not to mention during the longer, darker nights. It's essential to keep all the windows clean with a quality glass cleaner. Meguire's recommends their Smooth Surface Clay Kit to strip off any bonded dirt and debris from your car, especially on the windshield and windows. Drivers in colder parts of the country should also keep an ice scraper in their cars. You can also pick up Prestone's De-Icer windshield washer fluid to remove ice and frost. The fluid will protect your windshield from deep cold freezing temperatures as well. Proper maintenance of your headlights and tail lamps are equally important for the winter weather, too. Your lights not only illuminate the roads when you're behind the wheel, but they also make you visible to other drivers sharing the road with you. If your lights are cloudy, Meguiar's recommends the Two Step Headlight Restoration Kit to remove "cataracts" and maximize your headlight's brightness for the best visibility.
Please, be prepared and keep yourself and others safe by taking the above steps to ready your car for winter weather. It's estimated that 70% of drivers will not be prepared this season — it's too easy to not be one of them.