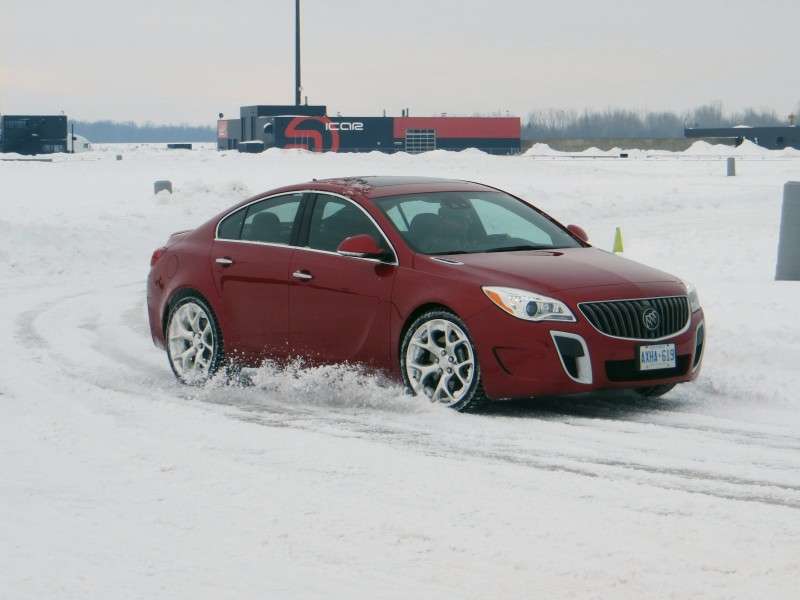 To most people, driving out onto the middle of a frozen body of water might seem like the single dumbest thing you can do in an automobile.  And yet, there I was, snug behind the wheel of a 2014 Buick Regal GS AWD, sitting dead center over the Ottawa River and plotting my next angle of attack on the icy expanse that lay broad and open before me.  You see, not only was I driving a four-door sedan over top of the black water of the Ottawa, but I was in fact planning on sliding across it at 50 miles an hour in a four-wheel drift, electronic nannies switched off and wheels frantically scrambling for purchase on the slick, glass-smooth surface below.
These are the kind of desires – deep, dark desires – that one has when piloting Buick's latest turbocharged all-wheel drive sport sedan across a privately-maintained ice bridge that might as well be the Wild West in terms of enforceable speed limits or on-road decorum.  Quebec's northwestern corner's lax attitudes towards on-ice shenanigans had me tapping into the Buick Regal GS AWD's 259 horsepower and 295 lb-ft of torque at will, sending the car spinning and sliding from one snow-covered shoreline to the other over and over as though a pair of demented Herb Brooks clones stood on either bank with a megaphone shouting 'Again!  Again!'
All-Weather, All The Time
Hoonish?  Maybe.  Fully sanctioned by General Motors?  Of course.  In fact, only that morning after convening in Montreal for the first leg of our trek to Montebello, Quebec (a journey that would involve the pleasant stereotypes of both dog sledding and ice fishing), we had been briefed on the hands-off nature of the ice bridge's administrators.  AKA, the guy sitting in the shack at the edge of the waterline, who watched me and my drive partner with amusement as we took turns exploring the lack of friction that a completely frozen river has to offer.
Of course, we weren't sent off in the Regal GS AWD to simply pin the throttle on the ice and create our own private version of Mr. Toad's Wild Winter Ride.  No, there were other, equally entertaining activities awaiting us the next day at the ICAR winter driving facility that would further demonstrate the all-weather prowess imbued into the Buick's redesign.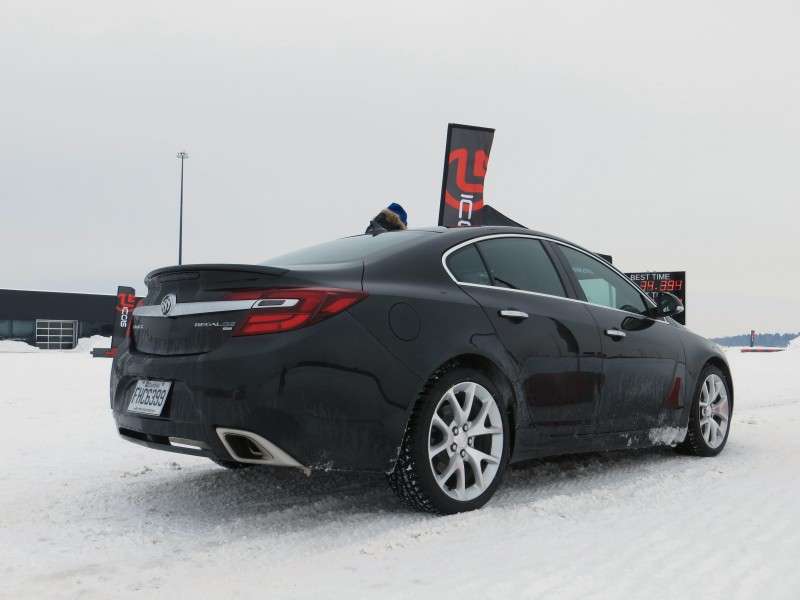 Santa's Turbocharged Sleigh
GM is proud of the all-wheel drive system that now underpins the 2014 edition of the Buick Regal GS, and understandably so.  The model now offers four-wheel traction that makes extensive use of the General's eLSD technology, which shuttles power not just backward and forward between the car's two axles, but also side-to-side at the rear in order to cling to as much grip as possible when laying down the power produced by its revised 2.0-liter engine.  There's no 'typical' torque split for the Regal GS' all-wheel drive system, as it continually redistributes power based on where it will do the most good for the current driving conditions.
This move to a sophisticated, performance-oriented 'on-demand' type all-wheel drive has allowed the Regal GS to step into the lofty world of premium rides like the Audi A4, which has long boasted of its own quattro system's prowess at beating winter conditions.  Combined with the HiPer front strut technology, quick steering, and adaptive shock damping that are standard with the GS (and adjustable via the GS and Sport buttons on the dashboard), Buick has significantly expanded the appeal of what was already a compelling, and affordable, sport sedan package.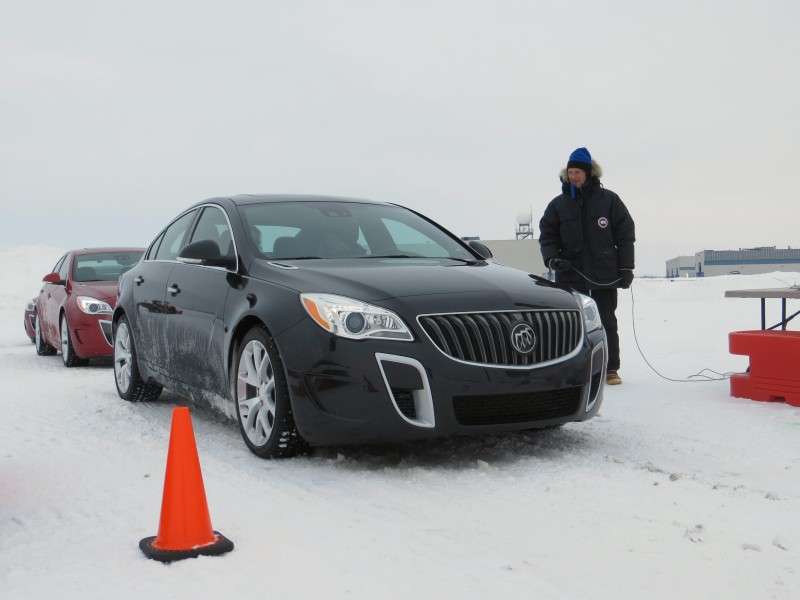 ICAR Hooliganism Drives The Point Home
Comparing an Audi to a Buick might seem hyperbolic – at least, until you drive the car in its natural element, when everything becomes illuminated.  The driving instructors at the ICAR facility, located at Mirabel's decommissioned white elephant of an airport, combined their talents to put together a set of cold-weather challengers for the 2014 Buick Regal GS AWD, including two skid pads linked in a figure eight, a timed autocross course, and a mile-long snow track that hid the concrete barriers at its perimeter behind deceptively soft-looking piles of white stuff.
The Buick Regal GS was all too willing to pick up the gauntlet that lay on the iced-over surfaces at ICAR, deftly demonstrating a respectable willingness to slide through the skid pad with stability and traction control disabled for maximum driving pleasure.  The autocross course proved to be the biggest challenge, as I was presented with the kind of low-grip conditions at the starting line, through its wide hairpin, and in the stop box that defied conventional 'disable StabiliTrak' wisdom and instead called for me to work with the car's electronic systems in order to maximize forward momentum and minimize time wasted sideways.
The snowed-in 'road' course proved to be the best demonstration of the Buick Regal GS AWD's fighting spirit.  With a long enough straightaway to allow the turbocharged motor under the hood to breathe deep, and several very quick interconnecting corners challenging the sedan's willingness to change direction while still remaining connected to the tarmac, I was able to test the limits of adhesion with a comfortable margin for error provided by the presence of apex-eating snow banks.  Even though selecting the option of all-wheel drive cancels out the Regal GS' available six-speed manual transmission in favor of a six-speed automatic, I came away impressed by the vehicle's dynamics at speeds and in conditions far outside its normal operating envelope.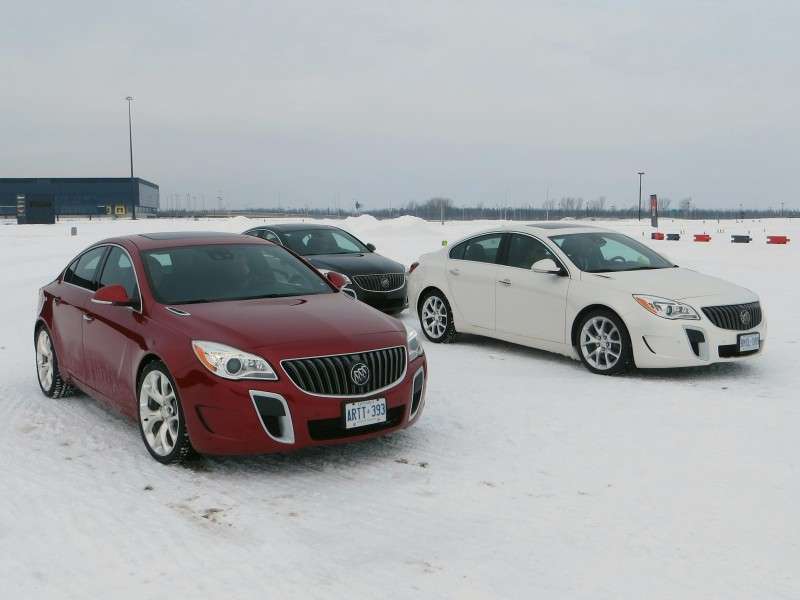 Beating Back Winter - And Europe's - Chill
Beating Back Winter - And Europe's - Chill
The 2014 Buick Regal GS AWD defies convention by being better than it has to be at processing the wintry mix of salt, ice, slush, and snow that so many of us have to deal with for several months of the year.  It does this not by numbing its on-pavement handling with an understeer-laden all-wheel drive system, but rather by complementing its already enjoyable on-road personality with an advanced traction assist that enhances, rather than interferes with, the car's handling.  You don't need to blaze across a frozen lake or river to understand just how sharp the Regal GS AWD's reflexes have become with this most recent generation of the car – but it certainly doesn't hurt.  And who knows: maybe you'll get lucky out there like we did and catch dinner while you're at it.