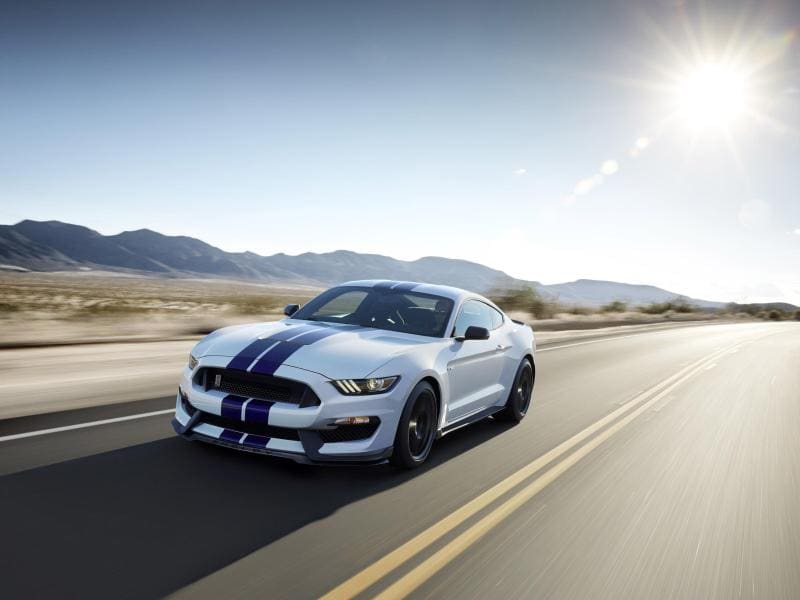 There will be a new kid on the block at the next Barrett-Jackson auction in Scottsdale, Ariz., where the first retail 2015 Ford Mustang Shelby GT350 will be sold to help raise money for the JDRF—known as "a leader in the search for an end to type 1 diabetes." The event is scheduled for January 17, 2015, with live coverage of the Shelby auction provided by the Velocity cable network and bidders battling for one of the most hotly anticipated muscle cars of the modern era. 
First shown at this year's Los Angeles Auto Show, the next-gen Shelby GT350 is, of course, based on the brand-new 2015 Ford Mustang that is at dealerships now. However, Ford engineers then deployed a wide range of upgrades to ensure the new car would be able to build on the performance traditions of the original Shelby GT350 that was first introduced in 1965. Providing an ideal case in point: The 5.2-liter V8 engine that will deliver at least 500 hp and 400 lb.-ft. of torque for Shelby drivers, backed by a premium flat-plane crankshaft.
Per Ford: "The 180-degree, flat-plane layout permits a cylinder firing order that alternates between cylinder banks, reducing the overlap of exhaust pressure pulses. When combined with cylinder-head and valvetrain advancements, this permits better cylinder breathing, further extending the performance envelope of the V8."
In fact, the 2015 Ford Mustang Shelby GT350 will pack the most powerful naturally aspirated Ford production engine ever released, with that output then complemented by the Blue Oval's "most track-worthy" braking system and an advanced MagneRide damping setup.
Added Steve Ling, North America car marketing manager for Ford: "The all-new Shelby GT350 is a thrilling, world-class car. From the all-new independent suspension— a first for a Shelby, to the powerful engine and superb brakes, this car is simply amazing. Just as the Shelby GT350 did in 1965, we expect this new-generation pony car to demonstrate Ford Motor Company continues to lead the world in innovation and performance."
Note: The first 2015 Ford Mustang Shelby GT350 will be lot No. 3008 at the upcoming Barrett-Jackson auction in Arizona, with potential bidders urged to visit www.Barrett-Jackson.com for more information about the event.