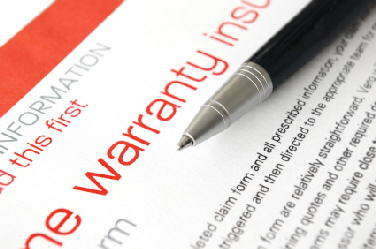 Though it may be hard to digest, the potential downfall of at least one of Detroit's Big 3 is a real possibility. If such a tragedy were to take place, the ramifications would affect much more than your next new car purchase. Of chief concern to many consumers who currently own or are looking to buy a domestic vehicle is warranty coverage. It's a valid concern – if the OEM supplier no longer exists, how do you get OEM parts and service? While nothing is guaranteed, it is likely that any ensuing scenario of the auto meltdown will leave drivers with their warranty coverage intact. For a little more detail, here is how the following scenarios might affect your auto warranty:
First off, it's important to note that GM has stated "bankruptcy is not an option." Chrysler and Ford have similar views on the subject. So while it's fair to say that domestic automakers will fight tooth and nail to stay out of Chapter 11, that doesn't mean it's not a possibility. In such an event, GM also claims that they have "set aside funds to take care of warranty obligations."
Another point worth noting is that bankruptcy likely would not mean the elimination of the brand. The most likely bankruptcy package that would result is something known as prepackaged Chapter 11. Under such a filing, the company would still be able to continue doing business, but would simply receive renegotiated contracts and reduced debt obligations. In this scenario, warranty coverage would almost certainly not be affected in the slightest. This is because the ability to honor warranties can be negotiated through the Chapter 11 proceedings.
Okay, so Chapter 11 is the likely bankruptcy proceeding. Is it still possible for an automaker to be forced to file Chapter 7 bankruptcy and cease to exist altogether? Yes, and such an outcome may be a bit more worrisome to warranty holders. However, the likelihood remains that OEM parts and servicing will still be accessible and warranties will still be honored.
While not a certainty, precedents for afterlife auto warranties do exist. Most recently, Isuzu has announced that they will cease North American passenger vehicle sales. Despite this fact, Isuzu parts and service support centers will remain and warranties will be honored. In the case of both Isuzu and the Detroit Three, this would likely be achieved by transforming specific auto dealerships into pure service centers rather than closing them altogether.
The rumor mill reports that Chrysler and General Motors have been kicking around the idea of merger or buy out. In the end, it ended up being Fiat who acquired a significant share of Chrysler. Combining assets may prove to be a requirement for several troubled automakers, but what does that mean for your warranty coverage? Regardless of which brand overtakes the other, warranties for both should remain unaffected. This is because a buyout wouldn't just pertain to new auto sales, but parts and servicing as well.
However, a complete buyout by one automaker of another would likely affect the number of locations available to receive warranty services. Some or all of the absorbed company's dealerships could be closed. If GM were to have acquired Chrysler, this would have meant you could have ended up visiting a GM dealership to have warranty work performed on your Chrysler vehicle.
Another rumor floating around is that Chrysler may be looking to sell off its Jeep brand to another company. In such a scenario, the outcome would function in much the same way as a complete corporate buyout. The buyer would be required to purchase parts and service functions and warranties would contractually transfer to the new owner. Unlike a complete buyout, however, dealership and warranty service locations would largely stay unchanged. This is because the brand would continue to sell new vehicles, resulting in the continued necessity of most or all of current dealership outlets.
A discontinued vehicle brand would likely see warranty services transferred to parts and service centers at a different brand outlet. For example, when General Motors discontinued the Oldsmobile brand in 2004, warranties continued to be accepted and honored at GM dealerships. Similarly, the death of the Plymouth brand in 2001 simply required Plymouth owners to visit a Chrysler dealership to receive warranty parts and services.