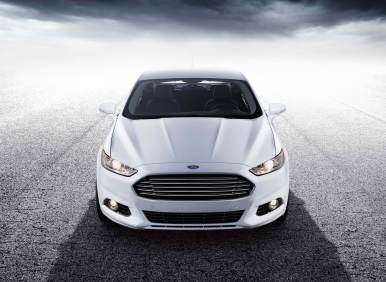 It's so far, so good for the all-new 2013 Ford Fusion: Introduced just days ago at the North American International Auto Show in Detroit, Ford's completely redesigned midsize sedan has now been named "Best in Show" by the team from AutoWeek. It's a rare honor for a relatively mainstream product, but the new Fusion will boast a rare combination of technology advantages even when compared to equally all-new rivals like the Toyota Camry and Chevrolet Malibu.
For one thing, the Fusion will offer four different powertrain choices, including a naturally aspirated I4, two EcoBoost I4s, a next-gen hybrid system and—expected to drive the most fuel-efficient midsize vehicle in the world—a plug-in hybrid setup. And staying true to Ford's commitment to fuel-economy leadership, the Fusion is targeting best-in-class EPA marks for internal combustion, hybrid and plug-in hybrid propulsion systems.
The 2013 Fusion's new 1.6-liter EcoBoost engine is slated to achieve 26 mpg city/37 mpg highway, which compares to ratings of 25/35 for the non-hybrid Camry and 25/37 for the Malibu Eco—and remember, the Chevy requires GM's eAssist system to garner numbers that high.
With its own all-new Atkinson-cycle I4 engine and advanced lithium-ion batteries, the Fusion Hybrid is looking forward to marks of 47 mpg city/44 mpg highway. The best the Camry Hybrid can do is 43/39; the Hyundai Sonata Hybrid is even further behind the Fusion, with EPA ratings of 35/40; that's a massive 12-mpg advantage for the Ford in city driving.
The Fusion Energi plug-in hybrid—America's first mainstream midsize sedan with plug-in capabilities—is aiming to attain 100 MPGe (miles per gallon equivalent), which is higher than the ratings of 94 MPGe for the Chevy Volt and 87 MPGe for the Toyota Prius plug-in hybrid.
The 2013 Fusion will offer a slew of high-tech goodies as well, including a lane-keeping system, active park assist, adaptive cruise control and a blind-spot alert system. Everything is then wrapped up in a stunning and stylish new exterior that also helped the car take home this year's prestigious EyesOn Design Award in Detroit. But the reinvented Fusion has impressed even tougher judges, too.
"I've been with the company for 13 years," said J Mays, Ford chief creative officer, "and I can truly say this is the best car ever to come out of the design and engineering center in Dearborn. We are delighted for the entire global design team, because this really was a global effort."