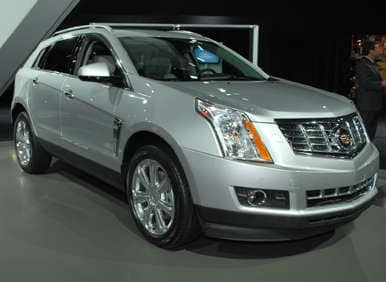 Hot on the wheels of its biggest monthly sales gain in more than 35 years, Cadillac has earned the title of "Highest Satisfaction Premium Brand" in AutoPacific's 2013 Vehicle Satisfaction Awards (VSAs). The most satisfying vehicle in this year's survey? The 2013 Cadillac SRX, which also was ranked as most satisfying in the Luxury Crossover SUV segment and claimed the overall Light Truck crown as well. In fact, it was a pretty good performance all the way around for General Motors, since the consumer-based recognition program further rated Buick as the "Highest Satisfaction Popular Brand" and Chevy was one of just three brands to have three category leaders.
On the other hand, the other two were Toyota and Lexus, giving Toyota Motor Company the most VSA winners of any automaker as a whole—and the 2013 Lexus LS460 was singled out as the leading car in the 17th edition of AutoPacific's annual auto-satisfaction rankings.
What they all have in common, according to George Peterson, president of AutoPacfic: "Vehicles that score highest in the Vehicle Satisfaction Awards are delivering value and satisfaction across a wide range of attributes. The winners perform well in 51 separate categories that objectively measure the ownership experience."
And the full list of those winners includes:
Lexus LS460—Luxury Car
Hyundai Genesis—Aspirational Luxury Car
Lexus ES—Luxury Mid-Size Car
Toyota Avalon—Large Car
Kia Optima—Mid-Size Car
Acura ILX—Premium Compact Car
Nissan Sentra—Compact Car
Chevrolet Sonic—Economy Car
Chevrolet Corvette—Sports Car
Hyundai Veloster/Dodge Challenger (tied)—Sporty car
Toyota Avalon Hybrid—Hybrid Car/EV
Chevrolet Silverado HD—Heavy Duty Pickup
Ford F-150—Light Duty Pickup
Infiniti QX56—Luxury/Large SUV
Jeep Grand Cherokee—Mid-Size SUV
Cadillac SRX—Luxury Crossover SUV
Ford Flex—Large Crossover SUV
Toyota Highlander—Premium Mid-Size Crossover SUV
Mazda CX-5—Mid-Size Crossover SUV
Kia Sportage—Compact Crossover SUV
Chrysler Town & Country—Minivan
Lexus RX450h—Hybrid/EV Crossover SUV