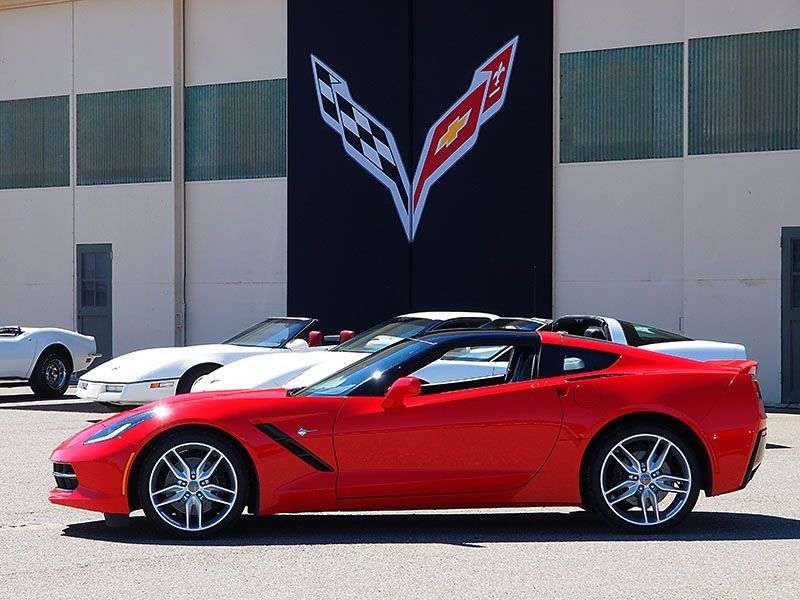 The 2014 Chevrolet Corvette Stingray has added another big-time piece of hardware to the ol' trophy case: Automobile Magazine's 2014 Automobile of the Year Award. The news comes only a few days after the all-new Stingray was named Performance Car of the Year by Road & Track, and at this stage in the game, it also has to be considered the leading candidate for the North American Car of the Year Award—among others.
But while Automobile Magazine's decision looks like a no-brainer now, recognizing the 2014 Chevy Corvette Stingray with its top honor "was not a foregone conclusion," according to the publication's Joe Lorio. After all, as Lorio and other experts have been quick to mention, past iterations of the Corvette—despite offering plenty of bang for the buck—haven't always looked as good on the road as they do on paper. It's a far different story with the car's seventh generation, though. Whatever their qualms about past models, Loria et al. also have been just about unanimous in praising the new Stingray's entire package.
"[W]ith newfound sophistication and user-friendliness, the C7 should melt all the barriers that have kept away so many driving enthusiasts," according to Lorio. "This is not just a car for the Corvette faithful but instead spreads the gospel to a new, wider audience."
In fact, the 2014 Chevy Corvette Stingray represents such a complete advance over past models that Automobile Magazine also named the car's chief engineer—Tadge Juechter—its 2014 Man of the Year.
The Texas-born Juechter has more than 35 years of experience with General Motors, including almost 20 years working exclusively on the Corvette, and those real-world skills are backed by an education that includes both aerospace and mechanical engineering degrees from Stanford. Needless to say, every bit of his background went into creating the 2014 Chevy Corvette Stingray, which Automobile's Jason Harper noted is "a clear manifestation of what happens when a post-bankruptcy General Motors gets out of its own way and allows an effective leader to oversee a dedicated team."
The 2014 Chevy Corvette Stingray is currently at dealerships with an MSRP that starts at $51,000.