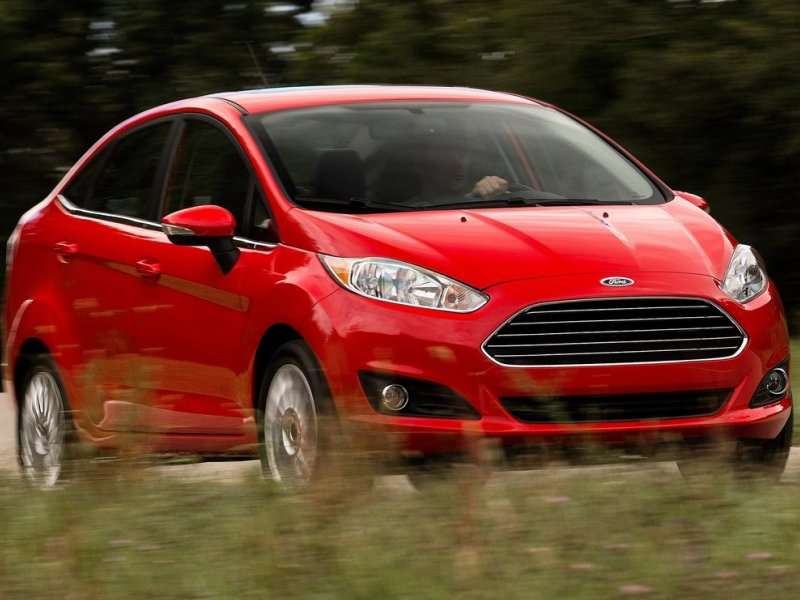 Let's get right down to brass tacks here: Official EPA fuel-economy grades are being revised downward for a number of Ford Motor Company products, including multiple configurations of the 2014 Ford Fiesta and 2013-2014 Ford C-Max, Ford Fusion Hybrid and Lincoln MKZ. Further, the plug-in hybrid C-MAX Energi and Fusion Energi also lose a few miles off of their all-electric driving ranges.
Said Alan Mulally, Ford president and CEO: "Ford is absolutely committed to delivering top fuel economy and accurate information. We apologize to our customers and will provide goodwill payments to affected owners. We also are taking steps to improve our processes and prevent issues like this from happening again."
And it's that word "processes" that's really the key here. As was the case when Ford had to reduce the EPA ratings of the C-MAX last year, a big part of the issue with the 2014 Ford Fiesta, etc., has to do with the arcane testing processes behind the EPA's fuel-economy ratings—which, as most folks no doubt realize, are not based on real-world vehicle performance. For example, as Ford points out, the EPA allows automakers to use "engineering models" for data, under the assumption that those models "normally are more reliable and consistent than physical vehicle tests, which can exhibit variability."
Now, Ford does perform "real" tests on a routine basis to validate its models, and it was during one of those evaluations that it first discovered the errors at hand. More specifically—and to provide a good example of just how abstruse fuel-economy testing really is—the automaker noted that it found a problem in how it calculated "Total Road Load Horsepower (TRLHP) … a vehicle-specific resistance level used in vehicle dynamometer testing," as well as concern with "how we correlate wind tunnel results into the TRLHP model."
But as noted by Raj Nair, Ford group vice president, Global Product Development: "This is our error. When we see an issue, we address it. That is why we notified EPA and lowered the fuel economy ratings for these vehicles."
It's also why owners of any affected 2014 Ford Fiesta or other impacted vehicles will receive goodwill payments from the automaker, based on the changes in fuel-economy grades detailed on the following page.
Fuel-efficiency Changes and Payments for the 2014 Ford Fiesta and Others
Ford's customer-satisfaction payments will be based on the "estimated average fuel cost of the difference between the two fuel-economy labels" and range from $125 for certain lessors of the 2014 Ford Fiesta to $1,050 for purchasers of the 2013-2014 Lincoln MKZ Hybrid. For more info, Folks can call Ford at 1-866-436-7332 or go online to www.Ford.com/mpglable or www.Lincoln.com/mpglable.
As for the fuel-economy ratings themselves, the affected vehicles and new EPA grades (with changes in parentheses) are below:
2014 Ford Fiesta with 1.0L I3 engine and manual—31/43/36 (-1/-2/-1)
2014 Ford Fiesta with 1.6L I4 engine and auto—27/37/31 (-2/-2/-1)
2014 Ford Fiesta SFE with 1.6L I4 and auto—28/38/32 (-2/-3/-2)
2014 Ford Fiesta with 1.6L I4 and manual—28/36/31 (+1/-2/0)
2013-2014 Ford C-MAX—42/37/40 (-3/-3/-3)
2013-2014 Ford Fusion Hybrid—44/41/42 (-3/-6/-5)
2013-2014 Lincoln MKZ Hybrid—38/37/38 (-7/-8/7)
Also, the all-electric driving ranges for the Ford C-MAX Energi and Ford Fusion Energi, which are the plug-in versions of the C-MAX and Fusion Hybrid, slip from 21 miles to 19 miles.