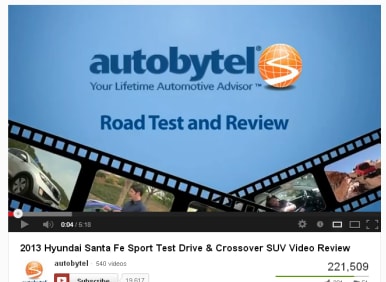 Your Lifetime Automotive Advisor continues to remain at the forefront of the online shopping experience, with Autobytel recently announcing that its YouTube channel had generated more than 15 million views—with No. 15,000,000 coming on April 26. It's a reflection of both how important video research is for today's shoppers, as well as the quality of Autobytel's efforts themselves.
"Without question, video content is key in helping online consumers find the car that's right for them," said Michelle Naranjo, editor-in-chief of Autobytel Inc. "Internet car buyers don't have the luxury of a physical walk around or test drive when they're researching vehicle information online. Car videos provide a virtual experience that's closest to actually being in a showroom or behind the wheel."
And in the current marketplace, the opportunity to see vehicle videos is more important than ever.
"Our data shows that over 50 percent of consumers switch from one brand to the next even after they submit a quote request to buy a particular vehicle," said Jeffrey Coats, president and CEO of Autobytel. "Up until the week they sign on the dotted line, today's car buyers are active shoppers who want video content to help them make the right decision, which is why Autobytel offers hundreds of quality new car videos online."
You can see for yourself by checking out our 2013 Hyundai Santa Fe Sport Test Drive & Crossover SUV Video Review, which Naranjo says is among the most popular on Autobytel's current playlist. But viewers also should note that Autobytel goes beyond standard reviews to include video exclusives like an interview with Harlan Charles, product manager for the all-new 2014 Chevy Corvette Stingray, and a visit to 86FEST to celebrate the Scion FR-S, Subaru BRZ and Japan's Toyota AE-86.
For more info or to subscribe to the Autobytel YouTube channel, please visit: http://www.youtube.com/user/autobytel.