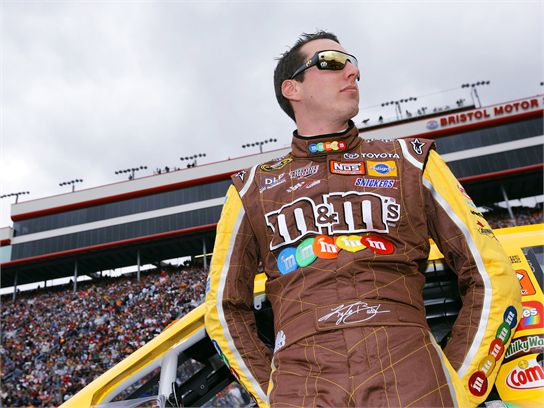 Kyle Busch is currently tearing up NASCAR as one of its hottest drivers. Just this past Saturday Busch took home first place at a Nationwide Series event held at the Texas Motor Speedway, dusting veterans such as Jeff Burton and Tony Stewart. When Kyle isn't hitting the track, he finds time to support the Kyle Busch Foundation, which is dedicated to providing essential tools to less fortunate children throughout the country. Did we mention Kyle Busch is only 22 years-old?
A 1970 Volkswagen Beetle.
Yes, these days I'm driving a Lexus GS 460.
I race whatever kind of car I can get my hands on, but my main ride is the No. 18 M&M'S Toyota Camry for Joe Gibbs Racing.
I like putting wheels on my cars. Those are always fun to pick and choose, they show off your style. I put wheels on most of the vehicles I have.
My dream car is a Saleen S7. It's a pretty cool little car.
I hear you. I love looking at them, hopefully one day I'll be able to buy one.
We don't know which sounds stranger, a 22 year-old in a Lexus or a NASCAR driver in a Lexus. That said, the Lexus was probably a gift from Toyota, and having just driven the super-fast Lexus IS F ourselves, perhaps a stock-car driving 22 year-old in a Lexus is not so strange after all. As to the Saleen S7? We're kind of wondering if he has the cash flow for it already and is just holding back. Either way, great pick.
Check back on Autobytel soon for more Autobytel With..., and for your daily fill of celebrities and their cars check out Celebrity Car Parade.
By Mary Buckheit, ESPN; Staff Photos by Chris Trotman/Getty Images for NASCAR, Lexus, Saleen, Inc.