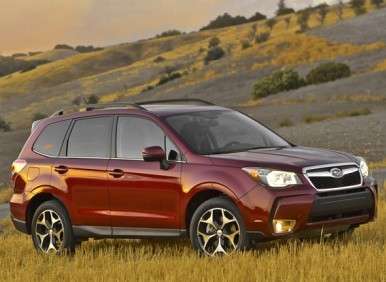 The all-new 2014 Subaru Forester will bring the brand's No. 2 seller from 2012 back as a next-generation model this spring, with a price that starts at $21,995 for the 2.5i model. The new MSRP marks a $700 premium (about 3.3 percent) over the price of admission to the 2013 Forester, but customers can expect a much higher percentage of new content and features, including enough in the way of powertrain improvements to help the 2014 Subaru Forester reach EPA marks of 24 mpg city/32 mpg highway/27 mpg combined. Those are best-in-class marks, enabled by combining a 2.5-liter four-cylinder boxer engine—capable of unboxing 170 hp and 174 lb.-ft. of torque—with a new six-speed manual transmission.
Also in the motor mix is an all-new performance powertrain in the 2014 Subaru Forester 2.0XT. Here, drivers will enjoy a 2.0-liter four-cylinder boxer engine that's been turbocharged to top out at 250 hp and 258 lb.-ft. of torque and also boasts direct injection and Subaru's Dual Active Valve Control System to ensure efficient energy delivery. When fitted with the turbo unit, the 2014 Subaru Forester naturally gets a hi-po transmission as well. In this case, Subaru's latest Lineartronic CVT—which can be programmed to deliver six- and eight-speed manual shifting capabilities courtesy of a new three-mode Subaru Intelligent Drive (SI-DRIVE) system.
The  MSRP of the 2014 Subaru Forester 2.0XT begin at $27,995.
The 2014 Subaru Forester will bring its share of next-gen technologies, too, including the automaker's new STARLINK connectivity system and EyeSight suite of electronic driver-assistance features, and more info about the vehicle can be found here: http://www.autobytel.com/subaru/forester/news/2014-subaru-forester-preview-la-auto-show-114275/.