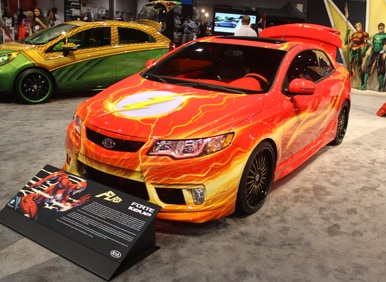 The SEMA Show in Las Vegas, Nevada is the prime spot for manufacturers and aftermarket tuners to see how many eyeballs they can snag with cool concepts, outrageous custom one-offs, and innovative performance vehicles.  The 2012 SEMA Show was no different, with thousands of vendors and OEMs making the pilgrimage to the desert in order to see and be seen.
We've put together a list of 10 of the hottest SEMA cars that we came across during our time at the show.  It was hard to pick just 10, given that there were hundreds of impressive vehicles on display at the event, but we've whittled things down to give you a taste of the Las Vegas action from this past year's event.
See more exclusive coverage of 2012 SEMA Show in Autobytel's SEMA section, or catch some of the action on video on the Autobytel YouTube channel.
10 Hottest SEMA Cars - 01 - Chevrolet COPO Camaro Convertible
Last year's Chevrolet COPO Camaro was hailed as a bold move from General Motors to not only touch on an important aspect of its corporate history (the COPO ordering system that allowed dealerships to assemble some truly devastating street and drag cars in the 1960s) but also put together an appealing motorsports package for serious racers.  This year, Chevrolet decided that less is more and brought only the second convertible edition of the 2012 COPO Camaro to SEMA.  With the first COPO Convertible sitting in a museum, the last of the current model year's run - #69 of 69 built - will be auctioned off in order to benefit the American Heart Association.  The 550 horsepower, supercharged COPO Camaro Convertible features a full roll cage and slick tires to go with its searing orange paint job.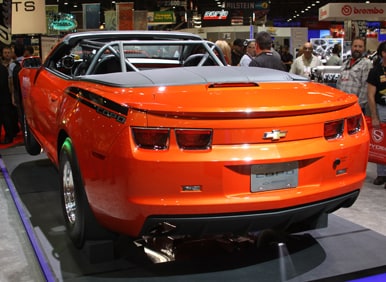 10 Hottest SEMA Cars - 02 - Ford Mustang Cobra Jet Concept
Not to be left out of the drag party, Ford Racing introduced the twin-turbo version of its Ford Mustang Cobra Jet concept.  The 5.0-liter V-8 underneath the hood of the Mustang Cobra Jet Concept is aided and abetted by a pair of Borg-Warner turbos that feature almost no lag.  The twin-turbos replace the supercharger found on past versions of the Cobra Jet, and the entire setup is aimed at professional drag racing teams seeking a turn-key package.  Ford Racing was mum about the final horsepower figures produced by the twin-turbo design, but one could assume that the vehicle's drivetrain is available in a range of different outputs.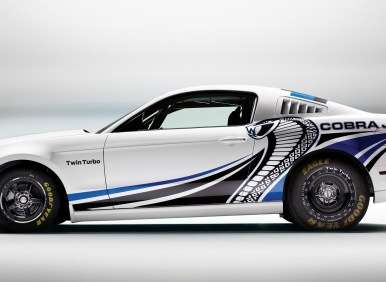 10 Hottest SEMA Cars - 03 - Kia's We Can Be Heroes Justice League Fleet
Superheroes are always welcome at an event like SEMA, where their bright, gaudy costumes fit right in with the candy paint and neon lights.  Kia and DC Entertainment unveiled a set of five "We Can Be Heroes" charity editions of its most popular youth-oriented vehicles, each one paired with a member of the Justice League of America.  Batman, Green Lantern, Cyborg, Aquaman, and the Flash lent their color schemes and logos to an Optima sedan, a Soul crossover, a Forte 5-Door, a Rio 5-Door and a Forte Koup, respectively.  The well-executed show cars did an excellent job of bringing out the individual personalities of all five comic book characters.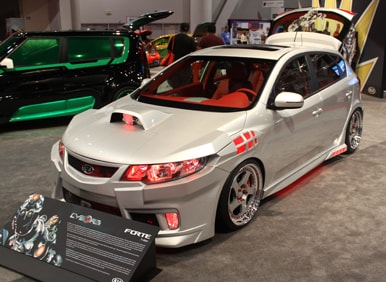 10 Hottest SEMA Cars - 04 - ICON Dodge D200 Reformer Series
ICON is known for making ultra-pricy, ultra-capable off-road rigs based on classic platforms, and at SEMA 2012 the company stepped out of the ordinary to rescue the Dodge D200 crew cab pickup from obscurity and give it an unusual turn in the spotlight.  The ICON Dodge D200 Reformer Series has been given a host of modern upgrades that bring out its big, beefy styling and enormous road (on and off) presence.  The truck is motivated by a 5.9-liter Cummins turbodiesel V-8 that produces just under 1,000 lb-ft of torque, and it towered over those around it from the vantage point of its 4.5-inch lift and 37-inch BFG tires.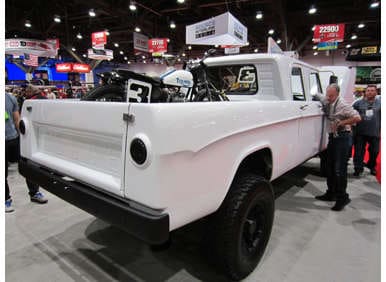 10 Hottest SEMA Cars - 05 - 1940 Ford Coupe
It might seem unusual to get excited about what for all intents and purposes looks like the 'before' shot on the wall of your local paint shop, but the 1940 Ford Coupe on display at Ford's massive chunk of SEMA real estate is notable for the fact that it can be ordered directly from the manufacturer.  A boon to classic car fans unable to find rust-free shells, the 1940 Ford Coupe is all-steel and comes complete for under $12,000.  Ford offers a variety of configurations in order to accommodate the various drivetrain needs of builders.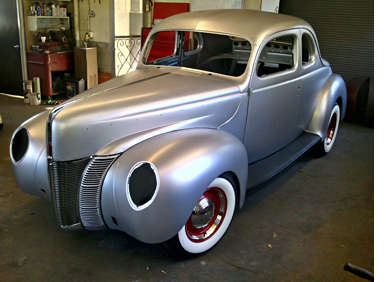 10 Hottest SEMA Cars - 06 - Hyundai Cosworth Genesis Racing Series Concept
Hyundai wasn't shy about bringing a raft of Veloster and Genesis Coupe concept cars to SEMA, but the one that caught our eye was the Hyundai Cosworth Genesis Racing Series concept.  What set this model apart was its lack of a power-adder, shrugging off forced induction in order to develop 389 horsepower and 325 lb-ft of torque from its 3.8-liter all-motor V-6.  In addition to breathing on the engine, Cosworth also outfitted the Genesis Coupe with new suspension components, brakes, and a full body kit that gives a track-ready look.  The interior of the Cosworth Genesis Racing Series Concept is equally snazzy thanks to the installation of sport seats and a full Cosworth trim kit (including steering wheel, shift knob, and pedals).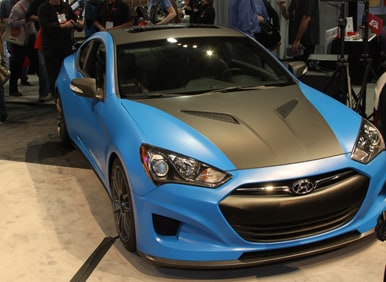 10 Hottest SEMA Cars - 07 - Legacy Power Wagon
Can you tell we've got a thing for big, brutal trucks?  Not to be outdone by ICON, Legacy Classic Trucks resurrected a Dodge Power Wagon by giving it a choice of either a four-cylinder Cummins turbodiesel engine or a 425 horsepower Chrysler V-8 engine.  Available in two and four-door configurations, the Power Wagon looks like it was designed to chew up and spit out the roughest terrain imaginable while remaining true to the OEM-styling of the original version of the pickup.  Retail pricing for the Legacy Power Wagon starts at $114,000 and shoots up all the way to $185,000 for fully built models.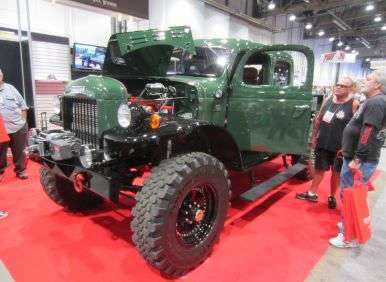 10 Hottest SEMA Cars - 08 -Toyota Dragquoia
The least likely drag vehicle at SEMA 2012 hailed from the Toyota display, of all places.  Antron Brown, one of the most successful Top Fuel competitors in NHRA, helped Toyota with its Dream Build initiative by putting together a 'Dragquoia' - that is to say, a version of the full-size sport-utility vehicle destined to rip down the 1320.  Outfitted with a 650 horsepower, supercharged V-8 engine and enormous drag slicks, the Dragqouia had 1,600 lbs of weight sliced out of its platform in order to improve its chances of running in the nine-second range on the quarter mile.  The Dragquoia is absolutely ludicrous - and exactly what one wants to see when walking across the SEMA show floor.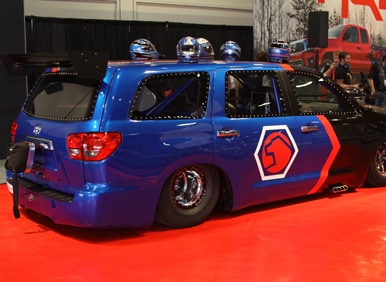 10 Hottest SEMA Cars - 09 - Hurst Edition Trans Am
There was no shortage of Camaros-cum-Trans-Ams at the 2012 SEMA Show, but chances are if you're in the mood to be nostalgic for the departed Pontiac you would be quite happy to slip behind the wheel of a model featuring the Screaming Chicken decal proudly emblazoned on the hood.  Latching on to a nugget of Trans Am history forever recorded for posterity by the Smokey and the Bandit films, Trans Am Depot brought their Hurst Edition Chevrolet Camaro conversion to whet the appetites of Pontiac fans.  A trick suspension system, shaker hood, a Hurst shifter and of course optional T-tops helped draw further attention to the black-and-gold Trans Am replica - which is also available with a full range of performance upgrades.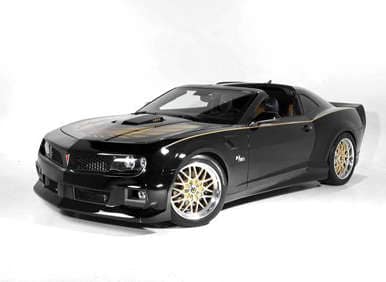 10 Hottest SEMA Cars - 10 - HPD CR-Z Concept
You could argue that it's the CR-Z that Honda should have built right from the beginning: a lightweight, performance-focused hatchback that could have been available alongside the hybrid version for customers who still remember the glory days of the original Honda CRX.  The Honda Performance Division's CR-Z Concept car took the battery-assisted drivetrain found in the standard CR-Z and slapped on a supercharger in order to squeeze out 185 horsepower and 169 lb-ft of torque - just about enough to make the Hyundai Veloster Turbos in your neighborhood sit up and take notice.  A revised chassis and braking system help to add additional flare to a car that, if ever produced, would add a dose of much-needed adrenaline to the Honda lineup.