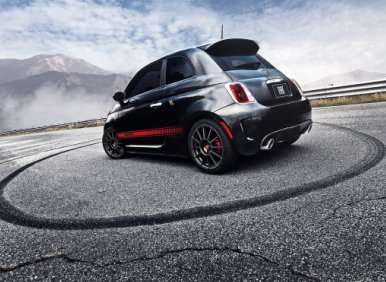 Before one can generate a list of the best MPG sports cars for 2012, one must define a "sports car." According to Merriam-Webster's dictionary, a sports car is "a low, small, usually 2-passenger automobile designed for quick response, easy maneuverability, and high-speed driving." Boy, it sure would be easier to identify a sports car without the word "usually" inserted into this definition.
With this guideline in mind, we'll toss out the sport coupes and sedans that are based on family and luxury models, as well as spoilered and kitted hatchbacks that can carry adults in the back seat. That leaves 2-seaters and 2+2 models designed to go fast and have fun.
Based on these parameters, the following list of high MPG sports car for 2012 includes the 5 models boasting the highest combined fuel economy ratings, with the thriftiest of the bunch appearing on the last page. Enjoy, and if nothing else, this round-up of the best MPG sports cars for 2012 proves that sometimes you can have your cake, and eat it, too.
Best MPG Sports Cars for 2012: Audi TT (tie)
Available as a 2+2 TT Coupe or a two-seat TT Roadster, this Audi is the only all-wheel-drive model to make our list of the best MPG sports cars for 2012.
The 2012 Audi TT is equipped with a direct injected, turbocharged, 2.0-liter four-cylinder engine generating 211 horsepower and 258 lb-ft. of torque. That might not sound like much motive force, but when you consider where and how the power peaks – torque is slathered across the rev range starting at just 1,600 rpm, and horsepower picks up where the twist start to leave off at 4,300 rpm – it's easy to conclude that the TT is always ready to romp.
Audi's six-speed S-tronic dual-clutch automated manual transmission feeds power to all four wheels in a 40/60 front-to-rear split courtesy of Quattro all-wheel-drive, and aluminum Audi Space Frame technology keeps the TT's curb weight down to as little as 3,153 pounds. The result is a four-season sports car that delivers 26 mpg in combined driving and 60 mph in 5.3 seconds.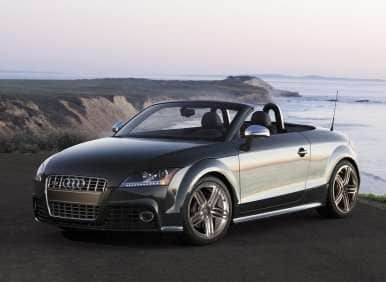 Best MPG Sports Cars for 2012: Mercedes SLK250 (tie)
When you think of a sports car, something like the 2012 Mercedes-Benz SLK roadster certainly springs to mind. It's low to the ground, equipped with two seats, and comes with a power retractable hardtop that stows in the trunk. Now, thanks to the SLK250's direct injected and turbocharged 1.8-liter four-cylinder engine, you can think of the SLK when you're wondering about the best MPG sports cars for 2012, too.
The 2012 SLK250 relies on 201 horsepower and 229 lb-ft. of torque for entertainment value, and Mercedes claims this Benz roadster accelerates to 60 mph in 6.5 seconds. Buyers can stick with the standard six-speed manual gearbox, or opt for a seven-speed automatic transmission with paddle shifters. Either way, power is delivered to the rear wheels and the SLK250 is expected to get 26 mpg in combined driving, tying the Audi TT.
We talked about how the Audi is a true four-season automobile, and this Mercedes comes close thanks to the power retractable hardtop, heated front seats, and available Airscarf system which pumps warm air through the seatback to a vent at neck level, making it realistic to enjoy the SLK with the top down on a chilly day.
Best MPG Sports Cars for 2012: BMW Z4 sDrive28i
BMW bests its cross-town rivals when it comes to building high MPG sports cars for 2012 – by a single mile per gallon in combined driving. At the same time, the 2012 BMW Z4 sDrive28i also makes a whole bunch more power than the Audi or Mercedes, thanks to its direct injected, turbocharged, 2.0-liter four-cylinder engine's 240 horsepower and 260 lb-ft. of torque.
Like the Audi and Mercedes, the BMW's turbo four features peak torque spread across a wide rev range, but in the Z4, the 260 lb-ft. kicks in at an impressively low 1,250 rpm and doesn't give up until 4,800 rpm, right about the spot in the power curve where peak horsepower takes the reigns. BMW's claimed acceleration to 60 mph bests the Benz by a full second, but isn't quite up to matching the Quattro-driven – and lighter – Audi in the stoplight drag race.
The Z4 sDrive28i can be equipped with a six-speed manual gearbox or an eight-speed automatic transmission. Either way, the roadster is rated to get 27 mpg in combined driving.
A power retractable hardtop is standard equipment, and like all BMWs, the Z4 comes with four years or 50,000 miles of free scheduled service. Its base price, however, is thousands of dollars higher than the TT or SLK. What price performance? About $5,000 to $10,000, based on this trio of German sports cars.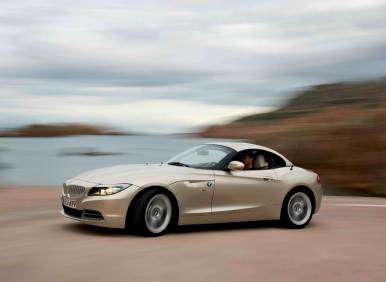 Best MPG Sports Cars for 2012: Mini Cooper S and John Cooper Works
Like tickets for a major league baseball game, the farther away from a traditional sports car we get and the higher the average fuel economy number, the cheaper the seats on this list of high MPG sports cars for 2012. In the #2 slot we find a gaggle of Mini Coopers – the Convertible, the Coupe, the Hardtop, and the Roadster – all equipped with seating for either two or four people.
First up, the Cooper S models, which have a direct injected, turbocharged, 1.6-liter four-cylinder engine delivering 181 horsepower and 177 lb-ft. of torque to the front wheels through a six-speed manual or six-speed automatic transmission, the latter equipped with paddle shifters. Fuel economy averages 30 mpg with row-'em-yourself gears, and 29 mpg with the automatic.
Let's discuss torque for a moment. Torque is critical to a fun-to-drive feeling, and the Cooper's 177 lb-ft. is available from 1,600 rpm all the way to 5,000 rpm. Furthermore, Mini includes an "Overboost" function that bumps torque up to 192 lb-ft. for short bursts of extra speed. Yeah, you might say that no front-wheel-drive car can be a sports car, but clearly you haven't driven a Cooper S. Or a John Cooper Works (JCW).
The JCW gets a bunch of extra go-fast goodies, including more power. The Mini JCW is putting 208 horsepower and 192 lb-ft. of torque to the ground through a six-speed manual gearbox. With Overboost engaged, torque output measures 207 lb-ft. The result is a small car with big speed, one that gets to 60 mph in as little as 6.1 seconds and can hit 149 mph under the right conditions. Better yet, the EPA says the Mini Cooper JCW models return 28 mpg in combined driving.
Buyers can add the John Cooper Works package to any Mini model, but the ones we've elected to include on this list of high MPG sports cars for 2012 are the two-seat Coupe and Roadster, and the 2+2 Convertible and Hardtop models. Prices start at $24,000, and rise spectacularly thanks to a diverse range of extra-cost options and accessories.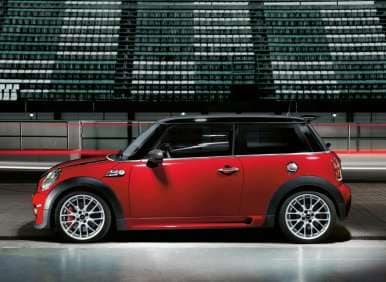 Best MPG Sports Cars for 2012: Fiat 500 Abarth
We could argue for hours whether or not the Fiat 500 Abarth qualifies as a sports car, but since this is our list of best MPG sports cars of 2012 and not yours, we get to make the rules. Besides, Catrinel Menghia is too seductive to resist.
Let's be clear: the 500 Abarth is rooted in a history of racing success, named after a man known for creating "small but wicked" cars that proved exceptionally competitive in European road racing. So despite its base price of $22,700 and its ability to get 31 mpg in combined driving, the 2+2 Fiat 500 Abarth meets the sports car standard.
To create the Abarth, a turbocharged 1.4-liter four-cylinder engine is installed under the stubby little hood, cranking 160 horsepower and 170 lb-ft. of torque to the lightweight 2,515-lb. car's front wheels through a five-speed manual gearbox equipped with Torque Transfer Control. The power curve isn't as broad as the other cars on this list of high MPG sports cars of 2012, but the little Fiat is sprightly nonetheless.
In addition to the turbo motor, the 500 Abarth benefits from a lowered suspension with stiffer spring rates, improved lateral stiffness, increased negative camber, and Koni Frequency Selective Damping front shocks. Additionally, the Abarth gets quicker steering, performance braking components, and lightweight wheels wrapped in available Pirelli P Zero summer tires.
Still questioning the Fiat's inclusion on this list of high MPG sports cars for 2012? The 500 Abarth's seats have pass-throughs to make it easier to install a five-point harness. If that's not the mark of a legitimate sports car, what is?