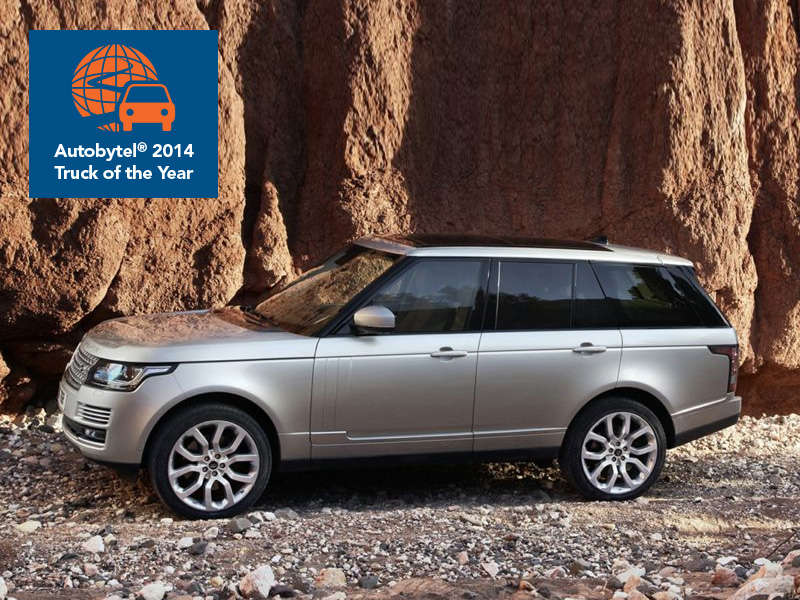 The Autobytel 2014 Truck of the Year award is the truck SUV that garners the highest respect and votes from our editors and honors the overall winner out of the sub-categories. Our 2012 winner was about brawn bettered by fuel economy and power with the EcoBoosted Ford F-150. Last year highlighted how important luxury has become in the truck and SUV marketplace with the Mercedes-Benz GL easily winning. For 2014, the winner is a combination of all of these qualities: the 2014 Land Rover Range Rover melds luxury with capability and a little kick of improved MPGs through better design.
Here's some more from Autobytel editors on their Land Rover Range Rover experiences:
goes." - Benjamin Hunting, 2014 Land Rover Range Rover Supercharged Review
- Lyndon Conrad Bell, 2014 Land Rover Range Rover HSE Review
Also see an Autobytel video review of the Land Rover Range Rover and a full exclusive photo gallery of the history of Land Rover.
More of the Autobytel 2014 Car, Truck and category of the Year winners can be found by browsing the collection below.
 Autobytel 2014 Car of the Year
 Autobytel 2014 Truck of the Year
 Autobytel 2014 Compact Car of the Year
 Autobytel 2014 Convertible of the Year
 Autobytel 2014 Sedan of the Year
 Autobytel 2014 Luxury Car of the Year
 Autobytel 2014 SUV of the Year
 Autobytel 2014 Luxury SUV of the Year
 Autobytel 2014 Crossover of the Year
 Autobytel 2014 Sports Car of the Year
 Autobytel 2014 Alternative Fuel Car of the Year
 Autobytel 2014 Pickup Truck of the Year
 Autobytel 2014 Minivan of the Year
 2014 Jaguar F-Type
 2014 Land Rover Range Rover
 2014 Ford Fiesta ST
 2014 Jaguar F-Type
 2014 Mazda6
 2014 Audi S8
 2014 Jeep Grand Cherokee
 2014 Land Rover Range Rover
 2014 Subaru Forester
 2014 Chevrolet Corvette Stingray
 2014 BMW i3
 2014 Ram 1500
 2014 Honda Odyssey