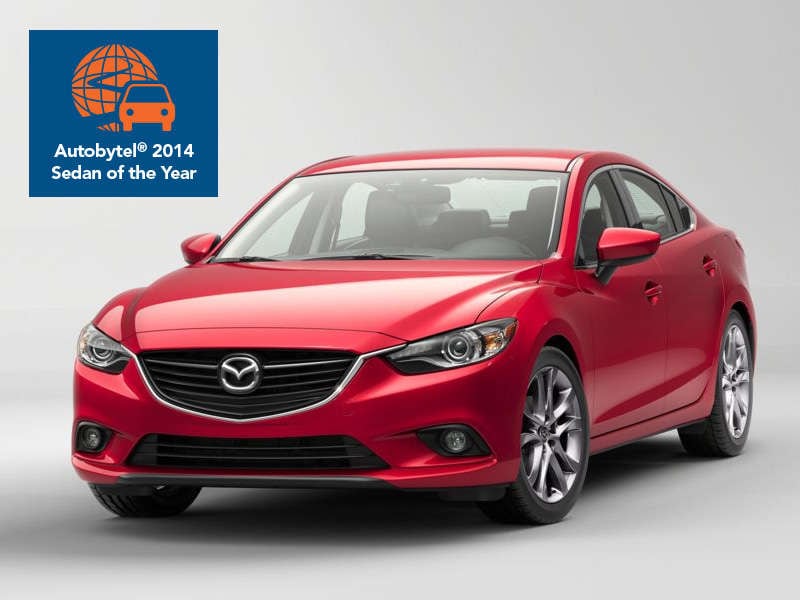 A couple of interesting things happened on the way to the final votes of the Autobytel 2014 Sedan of the Year. First, this year's winner handily topped the #2 and #3 cars, both being what are referred to as "aspirational luxury cars," showing how well this family-oriented winner is built. The second thing is that I recalled that in last year's Sedan of the Year article I wrote:
The sedan segment has a lot of competition but we are raising our glasses to 3 upstart sedans; all-new competitors that will leave the Honda Accord and Toyota Camry to those afraid of trying on something new. To see more about this year's Autobytel Sedan of the Year and why the two next-top fared so well, read on.
Autobytel 2014 Sedan of the Year: Mazda Mazda6
The winner of the Autobytel 2014 Sedan of the Year is the 2014 Mazda Mazda6. That quote about the Ford Fusion I wrote last year might be familiar to those who shopped for a Fusion in 2013, only the last part about "except the one who wants a diesel" was removed for use in dealership brochures and websites. The reason that the diesel part was included was to point out that the award-winning Ford sedan was not going to be produced in a diesel variant, despite the fact that the Fusion and the Mazda6 were developed together when Mazda was still under Ford's heavy investment. Ford and Mazda have definitely gone their seperate ways.
Welcome to 2014: With its global platform, highly fuel-efficient, low-liter, naturally-aspirated gas powered and diesel powered engines, there's a Mazda6 for every driver who loves to drive, except the one or two who want a hybrid or an electric plug-in.
The 2014 Mazda6 is a 4-door family sedan that has a modern styling and starts under $21K.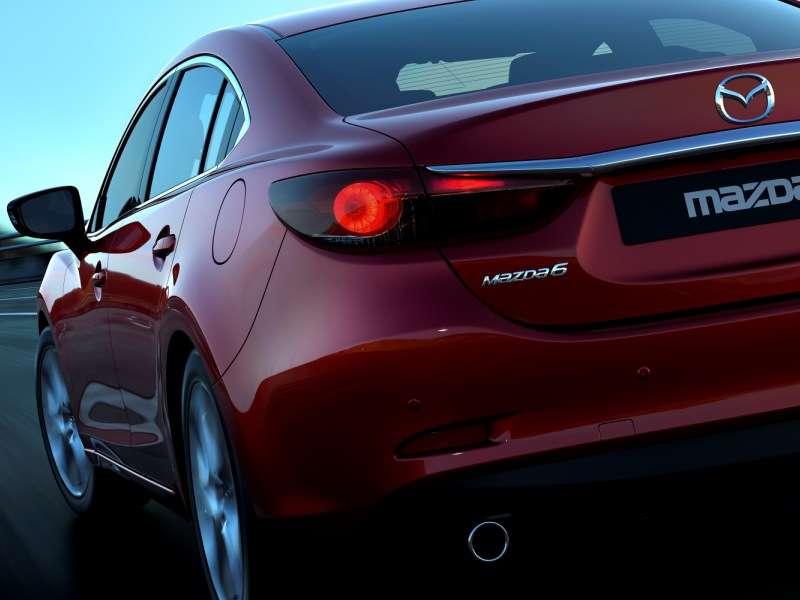 Autobytel 2014 Sedan of the Year Finalist: Kia Cadenza
The all new Kia Cadenza is truly one of those cars that perplexed the most discerning critics. A brand that was once considered a bargain basement, practical MPG maker was handing a full sized luxury sedan to those who seek luxury at a lower price. It is now the brand's flagship sedan, and with reason.
Between the details and the design, the Kia Cadenza offers features that are far and above what Kia has ever offered before and they are executed well, starting at about $35K. That price with bells and whistles will get you into a base Mercedes-Benz C-Class or a base Cadillac ATS. Well played, Kia.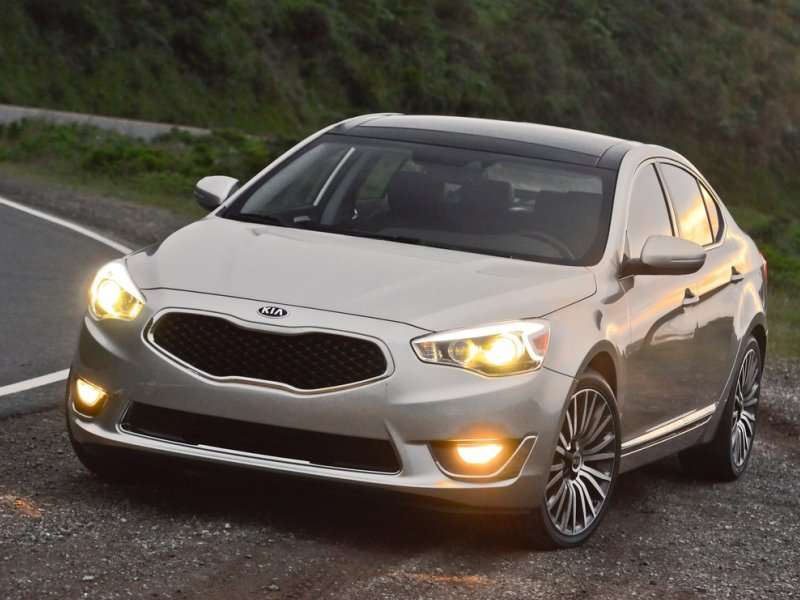 Autobytel 2014 Sedan of the Year Finalist: Buick Regal GS
We loved the 2013 Buick Regal GS but it had some issues. Little things like all of that power in a front-wheel drive car that wanted to have fun but couldn't quite handle the torque, and the infotainment system that literally gave me a panic attack every time I went to change a radio station because there were 5 buttons that all worked differently for the same function. But for 2014, that all changed, and we are so grateful for it that the Regal GS is one of our top 3 sedans for 2014.
Now available in an all-wheel drive variant with massively improved infotainment design, the 2014 Regal GS is attainable luxury that just feels great when you drive it, sit in it, or even just look at it.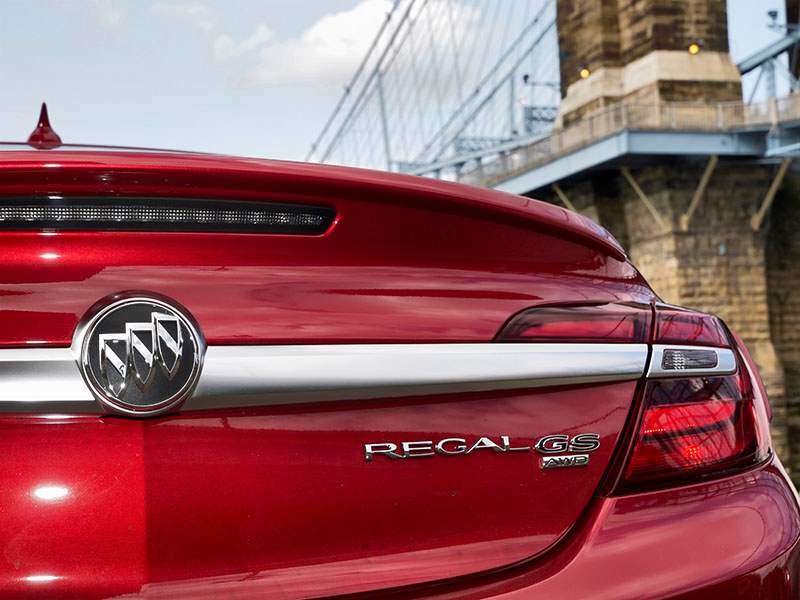 Autobytel 2014 Awards
The editorial team of Autobytel has chosen the previous vehicles as the best of what we have seen in the category for 2014, and while there are many others in this class that probably deserve some kudos as well, we'd love to hear which you would choose for yourself. Let us know on the Autobytel Twitter or the Autobytel Facebook page.
More of the Autobytel 2014 Car, Truck and category of the Year winners can be found by browsing the collection below.
 Autobytel 2014 Car of the Year
 Autobytel 2014 Truck of the Year
 Autobytel 2014 Compact Car of the Year
 Autobytel 2014 Convertible of the Year
 Autobytel 2014 Sedan of the Year
 Autobytel 2014 Luxury Car of the Year
 Autobytel 2014 SUV of the Year
 Autobytel 2014 Luxury SUV of the Year
 Autobytel 2014 Crossover of the Year
 Autobytel 2014 Sports Car of the Year
 Autobytel 2014 Alternative Fuel Car of the Year
 Autobytel 2014 Pickup Truck of the Year
 Autobytel 2014 Minivan of the Year
 2014 Jaguar F-Type
 2014 Land Rover Range Rover
 2014 Ford Fiesta ST
 2014 Jaguar F-Type
 2014 Mazda6
 2014 Audi S8
 2014 Jeep Grand Cherokee
 2014 Land Rover Range Rover
 2014 Subaru Forester
 2014 Chevrolet Corvette Stingray
 2014 BMW i3
 2014 Ram 1500
 2014 Honda Odyssey