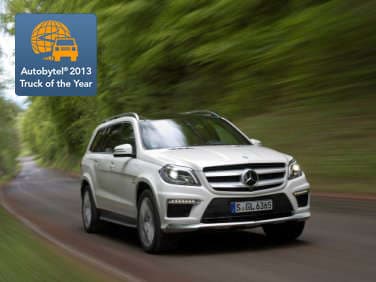 It may seem a bit strange to have a Luxury SUV to be voted as the Autobytel 2013 Truck of the Year instead of a Pickup Truck but that is the way that the voting went with the editorial team and their choice was the 2013 Mercedes-Benz GL-Class. The approval of the refreshed German hauler was so great that it was voted the highest of all of the truck platform categories this year.
Here is some of what we have had to say about the 2013 Mercedes-Benz GL-Class:
"They say you can't mess with success, and Mercedes certainly hasn't done anything to knock down its best-in-class seller. In fact, it's only gotten much much better." - Jeff Glucker, 2013 Mercedes-Benz GL-Class Review, Autobytel
"We were given a chance to drive the Mercedes-Benz GL-Class both on and off-road and came away with the impression that this is one big SUV that has a lot to offer well-heeled family buyers." - Benjamin Hunting, 2013 Mercedes-Benz GL-Class First Drive, Autobytel
"I'd put it at the top of the list of luxury SUVs." - Ron Doron, 2013 Mercedes GL-Class Video Review, Autobytel's YouTube Channel
The editorial team of Autobytel has chosen the previous vehicles as the best of what we have seen in the category for 2013, and while there are many others in this class that probably deserve some kudos as well, we'd love to hear which you would choose for yourself. Let us know on the Autobytel Twitter or the Autobytel Facebook page.
See the Autobytel 2013 Car of the Year and the Autobytel 2013 Truck of the Year.
See More of Autobytel's Picks for the Year:
 Autobytel 2013 Compact/Coupe Car of the Year
 Autobytel 2013 Convertible of the Year
 Autobytel 2013 Sedan of the Year
 Autobytel 2013 Luxury Car of the Year
 Autobytel 2013 SUV of the Year
 Autobytel 2013 Luxury SUV of the Year
 Autobytel 2013 Crossover of the Year
 Autobytel 2013 Sports Car of the Year
 Autobytel 2013 Alternative Fuel Car of the Year
 Autobytel 2013 Pickup Truck of the Year
 Autobytel 2013 Van/Minivan/Wagon of the Year
 2013 Scion FR-S and Subaru BRZ
 2013 Volkswagen Beetle Convertible
 2013 Ford Fusion
 2013 Cadillac ATS
 2013 Jeep Wrangler
 2013 Mercedes-Benz GL-Class
 2013 Hyundai Santa Fe Sport
 2013 Porsche Boxster S
 2013 Ford C-Max Hybrid
 2013 RAM 1500
 2013 Mazda MAZDA5