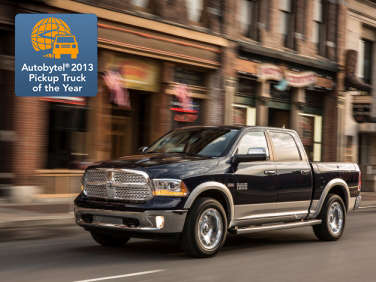 The Autobytel 2013 Pickup Truck of the Year seemed like a forgone conclusion at the start of voting, with one vehicle in particular having wowed our team since its introduction.  There were, however, a few surprise contenders that emerged from the woodwork to make a serious run at the Truck of the Year award, and it wasn't until the last ballot was counted that we were able to identify once and for all the model that we had collectively decided as our pick for 2013.
Read on to learn about the three finalists for Autobytel 2013 Pickup Truck of the Year.
Autobytel 2013 Pickup Truck of the Year: RAM 1500
The 2013 Ram 1500 was given an update for the current model year that only helped to cement its status as one of the class-leading full-size pickup trucks on the market.  Goodies like LED tail lights and a revised grille were nice, but it was the introduction of a new V-6 base engine as well as an available air suspension system and a redesigned frame that really caught our attention.  Throw in a host of new comfort and convenience features and its clear that Ram isn't resting on its laurels with this impressive pickup.  The Ram can be had in 305 horsepower (3.6-liter V-6), 310 horsepower (4.7-liter V-8) and 395 horsepower (5.7-liter V-8) editions, and it also comes with the availability of eight and six-speed automatic transmissions and a 10,450 maximum towing capacity.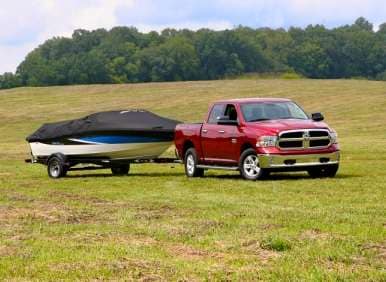 Autobytel 2013 Pickup Truck of the Year Finalist: 2013 GMC Bi-Fuel CNG Sierra 2500HD
The 2013 GMC Bi-Fuel CNG Sierra 2500HD is more than just another heavy duty pickup truck - it's one that can run on either gasoline or compressed natural gas, with owners able to select which fuel they want to burn with the flip of a switch.  Featuring a combined range of 650 miles, the dual-fuel trucks run about $11k more than a comparable gas-only version, but offer cleaner tailpipe emissions plus reduced operating costs over their lifetimes without having to seek out an aftermarket conversion.  The Bi-Fuel Sierra is motivated by a 6.0-liter V-8 and comes with a full factory warranty.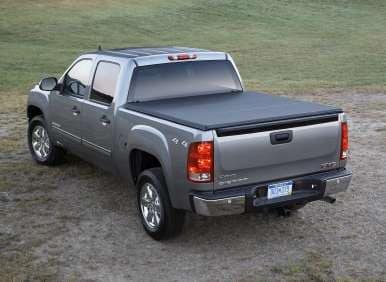 Autobytel 2013 Pickup Truck of the Year Finalist: 2013 Ford F-150 EcoBoost
The 2013 Ford F-150 EcoBoost continues to impress full-size truck buyers who never thought they would end up buying a twin-turbo pickup truck, let alone a six-cylinder model that could out-tow a V-8.  The Ford F-150 EcoBoost delivers 365 horsepower and 420 lb-ft of torque from its 3.5-liter V-6, and a six-speed automatic transmission sends that power to either the rear or all four wheels (if optional four-wheel drive is selected).  Fuel mileage for the EcoBoost model is sparkling given its output, showing as 16-mpg city and 22-mpg highway, proving that power and efficiency no longer have to be mutually exclusive in the truck world.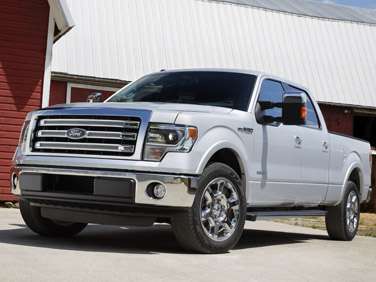 More Autobytel Winners for 2013:
The editorial team of Autobytel has chosen the previous vehicles as the best of what we have seen in the category for 2013, and while there are many others in this class that probably deserve some kudos as well, we'd love to hear which you would choose for yourself. Let us know on the Autobytel Twitter or the Autobytel Facebook page.
See the Autobytel 2013 Car of the Year and the Autobytel 2013 Truck of the Year.
See More of Autobytel's Picks for the Year:
 Autobytel 2013 Compact/Coupe Car of the Year
 Autobytel 2013 Convertible of the Year
 Autobytel 2013 Sedan of the Year
 Autobytel 2013 Luxury Car of the Year
 Autobytel 2013 SUV of the Year
 Autobytel 2013 Luxury SUV of the Year
 Autobytel 2013 Crossover of the Year
 Autobytel 2013 Sports Car of the Year
 Autobytel 2013 Alternative Fuel Car of the Year
 Autobytel 2013 Pickup Truck of the Year
 Autobytel 2013 Van/Minivan/Wagon of the Year
 2013 Scion FR-S and Subaru BRZ
 2013 Volkswagen Beetle Convertible
 2013 Ford Fusion
 2013 Cadillac ATS
 2013 Jeep Wrangler
 2013 Mercedes-Benz GL-Class
 2013 Hyundai Santa Fe Sport
 2013 Porsche Boxster S
 2013 Ford C-Max Hybrid
 2013 RAM 1500
 2013 Mazda MAZDA5