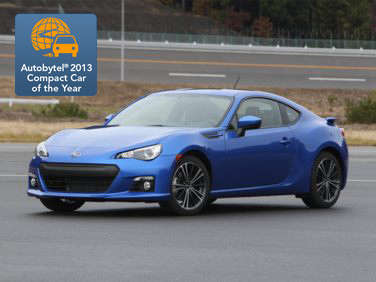 The Autobytel 2013 Compact / Coupe of the Year category reflects the strength of this year's crop of small cars.  For the first time in what seems like forever a pair of small rear-wheel drive imports battled it out for the top spot, alongside a domestic hot hatch that surprised almost everyone with its sheer competence, and a more practical entry that indicates that attractive style and design don't have to be relegated exclusively to expensive automobiles.
Read on to find out more about the four finalists for Autobytel Compact / Coupe of the Year.
Autobytel Compact / Coupe of the Year: 2013 Subaru BRZ / 2013 Scion FR-S
This year's Autobytel Compact / Coupe of the Year is shared between two vehicles, although it's not exactly a tie.  The 2013 Subaru BRZ and the 2013 Scion FR-S are essentially the same compact coupe, co-developed by both Subaru and Toyota and given slightly different suspension tuning and styling tweaks in order to set them apart from each other.  Why were we so enamored of the pair?  How about the lightweight, rear-wheel drive platform that they share, coupled with a willing 200 horsepower boxer four-cylinder engine and a willingness to turn a corner that has to be experienced to be believed.  Each of these cars has lived up to the hype surrounding their introduction.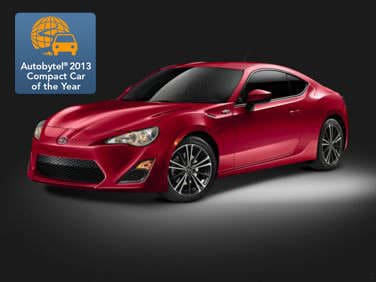 Autobytel Compact / Coupe of the Year Finalist: 2013 Ford Focus ST
The 2013 Ford Focus ST demonstrates what can happen when a domestic automaker imports one of its most respected European designs and sets it loose on the American market.  The Ford Focus ST features a turbocharged, 2.0-liter four-cylinder engine that sends 252 horsepower and 270 lb-ft of torque to the front wheels, and it also offers suspension tuning that gives it better than expected handling.  The Focus ST's driving dynamics and available Recaro seats indicate that Ford is serious about cracking open the compact performance segment and making a major statement - one that promises to be followed up by next year's Fiesta ST.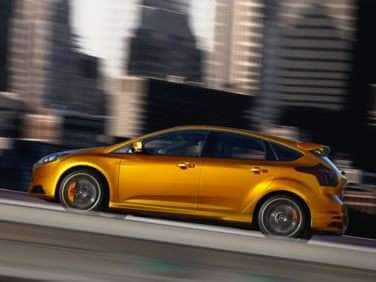 Autobytel Compact / Coupe of the Year Finalist: 2013 Hyundai Elantra GT
Although those two little letters appended to its name might suggest that the 2013 Hyundai Elantra GT is a hatchback mining the same spiritual vein as the Ford Focus ST, this affordable compact car is more about value and style than it is about performance.  Modestly priced and with a chassis that is a smidgen more lively than that afforded the Elantra sedan, the real story surrounding this Korean hatch is its top-notch interior design and materials, coupled with its excellent utility and attractive sheet metal.  Entry-level cars are now almost every bit the equal of their more expensive rivals when it comes to looking good, and the Elantra GT is one of the best of the breed in this regard.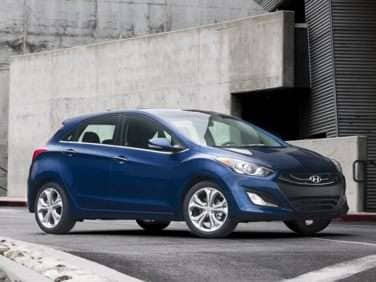 More Autobytel Winners:
The editorial team of Autobytel has chosen the previous vehicles as the best of what we have seen in the category for 2013, and while there are many others in this class that probably deserve some kudos as well, we'd love to hear which you would choose for yourself. Let us know on the Autobytel Twitter or the Autobytel Facebook.
See the Autobytel 2013 Car of the Year and the Autobytel 2013 Truck of the Year.
See More of Autobytel's Picks for the Year:
 Autobytel 2012 Compact/Coupe Car of the Year
 Autobytel 2012 Convertible of the Year
 Autobytel 2012 Sedan of the Year
 Autobytel 2012 Luxury Car of the Year
 Autobytel 2012 SUV of the Year
 Autobytel 2012 Luxury SUV of the Year
 Autobytel 2012 Crossover of the Year
 Autobytel 2012 Sports Car of the Year
 Autobytel 2012 Alternative Fuel Car of the Year
 Autobytel 2012 Pickup Truck of the Year
 Autobytel 2012 Van/Minivan/Wagon of the Year
 2013 Scion FR-S and Subaru BRZ
 2013 Volkswagen Beetle Convertible
 2013 Ford Fusion
 2013 Cadillac ATS
 2013 Jeep Wrangler
 2013 Mercedes-Benz GL-Class
 2013 Hyundai Santa Fe Sport
 2013 Porsche Boxster S
 2013 Ford C-Max Hybrid
 2013 RAM 1500
 2013 Mazda MAZDA5